For Creators
Lurkit's Last Week in Gaming: Back 4 Blood, GRIME, and more
Check out the biggest changes in gaming and Twitch viewership this week!
---
Last week was another hectic one on Twitch and just about everything changed from the week before. We saw new releases rise up, some notable games slow down, and other classics rise again.
Let's take a look at some of the most notable game performances on the platform last week.
Back 4 Blood Beta Takes Center Stage

The biggest news of the week was definitely the appearance of the Back 4 Blood beta. The game is a co-op shooter, made by the same developers of Left 4 Dead, and is seen as a successor. With a strong company and cult fanbase behind it, the game was touted to do well, let's see how the beta faired:
10.9 Million Hours Watched

74,524 Average CCV

422,909 Peak CCV

221,707 Hours Broadcast (Airtime)

1,510 Average Channels Live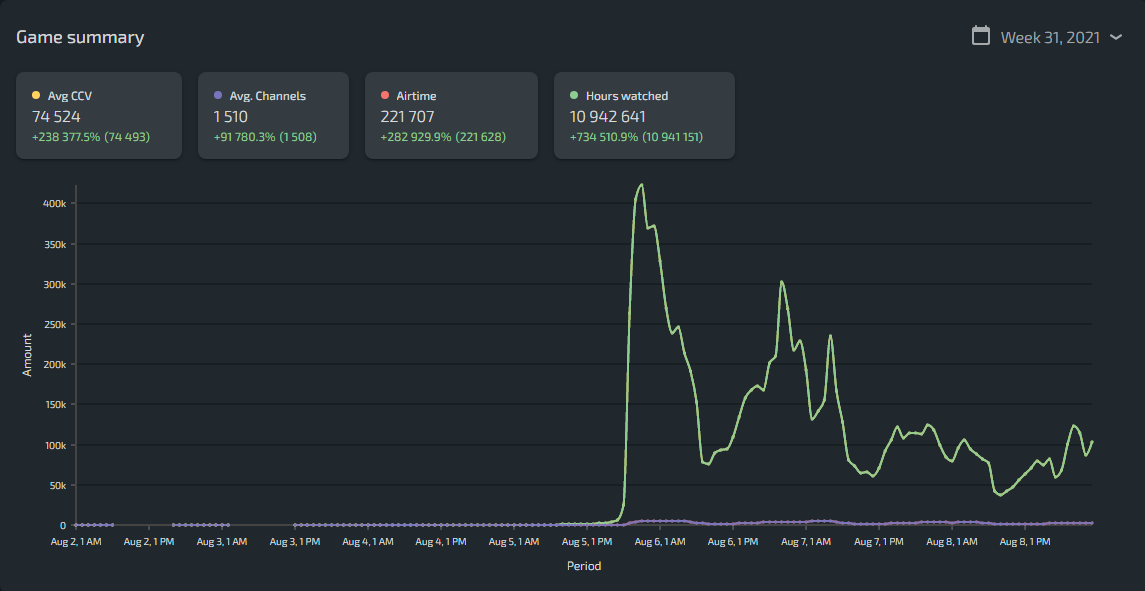 So far it seems the game is an absolute hit. The performance on Twitch was amazing, making it one of the most-watched games on the platform. This was no doubt backed by some of the biggest names on Twitch playing it, including xQc, Nickmercs, Summit1g, and many more.
However, the game did also look to start losing momentum (which is normal for any new game on Twitch), so it'll be interesting to see how well it does going forward, as well as during its official launch.
GRIME Starts Off Strong

Moving onto a full release and something much more indie, GRIME. The game is a 2.5D RPG, inspired by the likes of Metroid and Castlevania - a great one for fans of the classics. Being made by a small studio, it's always difficult to tell how the game would do on Twitch, but it seems to have had an impressive start:
622,000 Hours Watched

3,725 Average CCV

33,669 Peak CCV

5,971 Hours Broadcast (Airtime)

36 Average Channels Live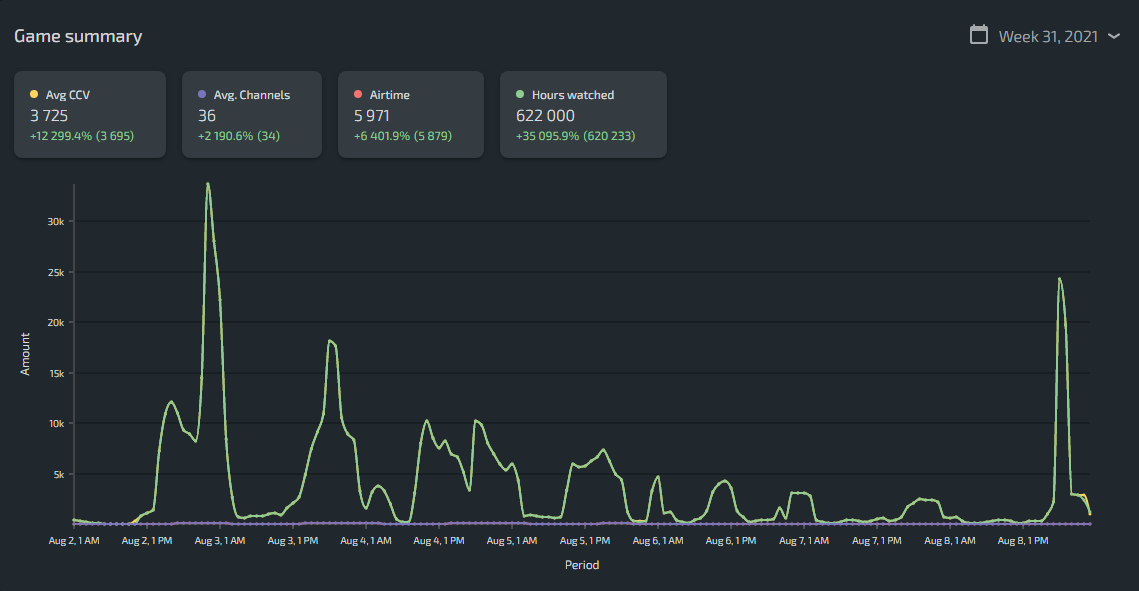 Overall, the numbers look good, especially for an indie studio. It's clear there was some interest in the game and it even peaked fairly high after launch.
However, as is always the case for these types of games, it has slowed down and a key question remains: What can GRIME do to maintain Twitch popularity?
Splitgate: Arena Warfare Sees Huge Boost

Another game based on the classics is Splitgate: Arena Warfare. This is an FPS that draws heavily on the Halo series, but also includes portals! It saw a huge popularity boost last week, let's take a look at it in more detail:
1.6 Million Hours Watched

9,631 Average CCV

60,060 Peak CCV

196,092 Hours Broadcast (Airtime)

1,167 Average Channels Live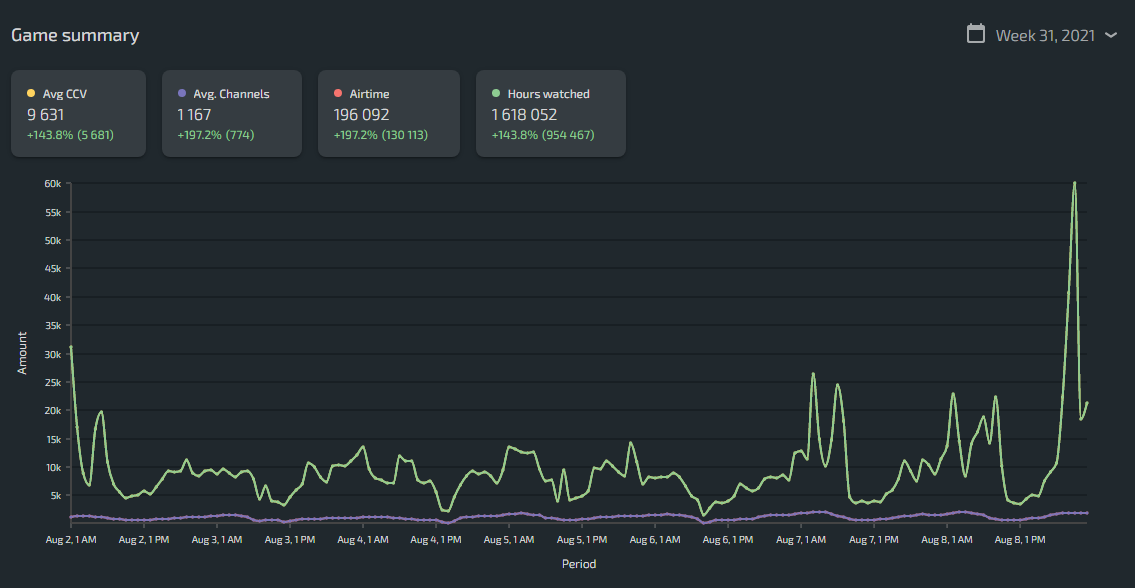 It was increases across the board for Splitgate, and very impressive ones at that. Hours Watched rose by 143.8%, while Airtime saw an increase of 197.2%.
This comes for multiple reasons. Firstly, there was a huge update, vastly increasing server stability, meaning more players could play, and much more smoothly. Secondly, there was a sizable influencer campaign, with names like xQc, Lirkit, FaZe Orba, Optic Maniac, and many more all checking out the game throughout the week.
It just goes to show the power of a solid influencer campaign, as viewership of Splitgate is through the roof.
Apex Legends Continues Strong Performances

In other shooter news, Apex Legends continued to hold a solid spot at the top of Twitch and even saw a strong increase of viewership.
22.9 Million Hours Watched

136,817 Average CCV

395,278 Peak CCV

1.1 Million Hours Broadcast (Airtime)

6,714 Average Channels Live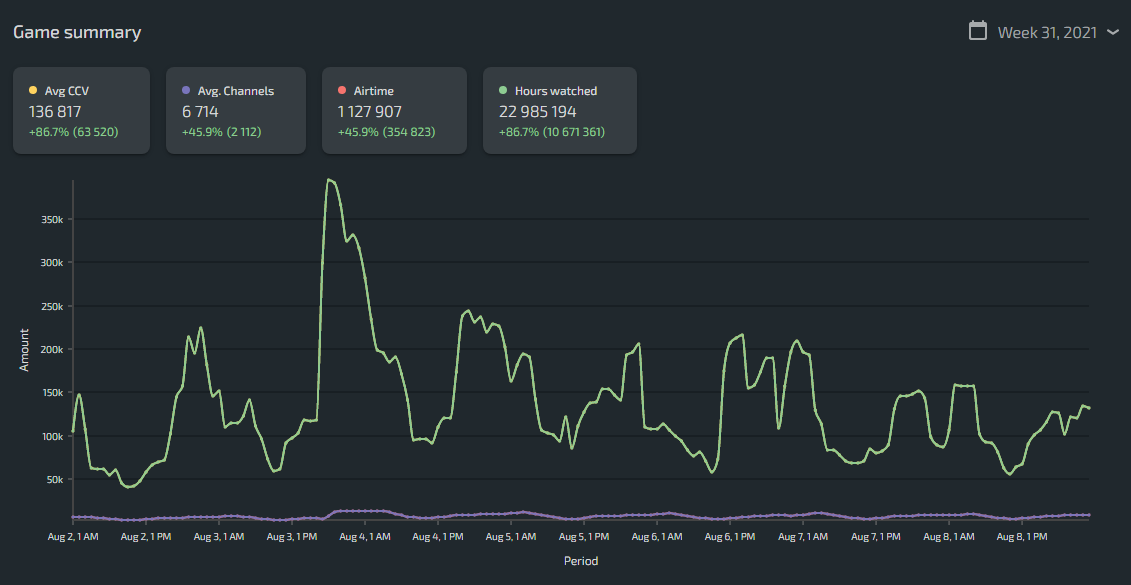 Overall, the game saw viewership rise on all fronts. Hours Watched saw the biggest increase at 86.7%, while Airtime also rose by 45.9%. This means there were both a lot more viewers, as well as more people streaming the game.
Interestingly enough, it also saw 1.1 Million Hours Broadcast, making it the second most-streamed game on Twitch.
Pokémon Unite Loses Steam Post-Launch

It's not all good news on Twitch, with Pokémon Unite losing steam fast and dropping heavily through the rankings. Let's take a look at its numbers:
3.1 Million Hours Watched

18,561 Average CCV

49,571 Peak CCV

99,273 Hours Broadcast (Airtime)

591 Average Channels Live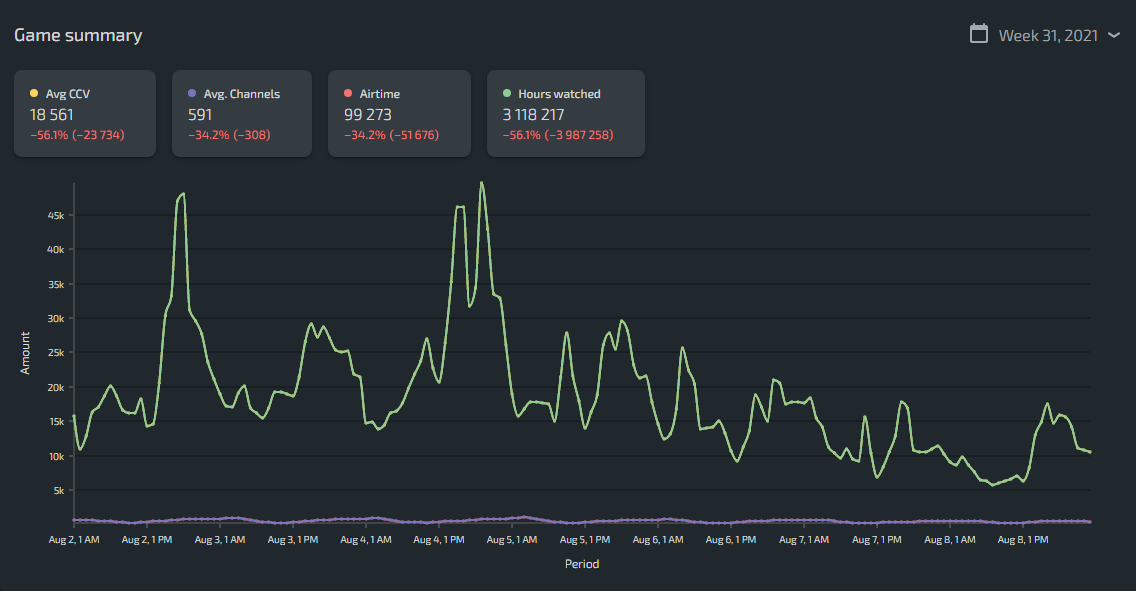 All of the game's numbers are trending heavily downwards. Hours Watched is down 56.1%, while Airtime is down 34.2%. This means both viewers and streamers are spending less time on the game on Twitch.
This could be for a variety of reasons, although with it being on Mobile and Nintendo Switch only, as well as losing its new-game appeal, things aren't looking great for it on Twitch.