Gaming insights
Lurkit's Last Week in Gaming: D&D Dark Alliance, Scarlet Nexus, more
Check out the biggest changes in gaming and Twitch viewership this week!
---
We saw another interesting week in gaming last week, with key releases piquing the interest of players around the world and leaving their mark on Twitch, while some old favorites began to regain ground.
Let's take a look at some of the biggest viewership changes that happened on Twitch last week.
Dungeons & Dragons: Dark Alliance Stalls After Big Launch

One of the biggest gaming events of last week was the launch of Dungeons & Dragons: Dark Alliance. The game entered the market with a massive wave of hype, being a spiritual successor to the successful Baldur's Gate games and appealing to D&D and RPG fans everywhere.
Let's take a look at how it fared on Twitch:
1.8 Million Hours Watched

11,243 Average CCV

162,107 Peak CCV

57,188 Hours Broadcast (Airtime)

340 Average Channels Live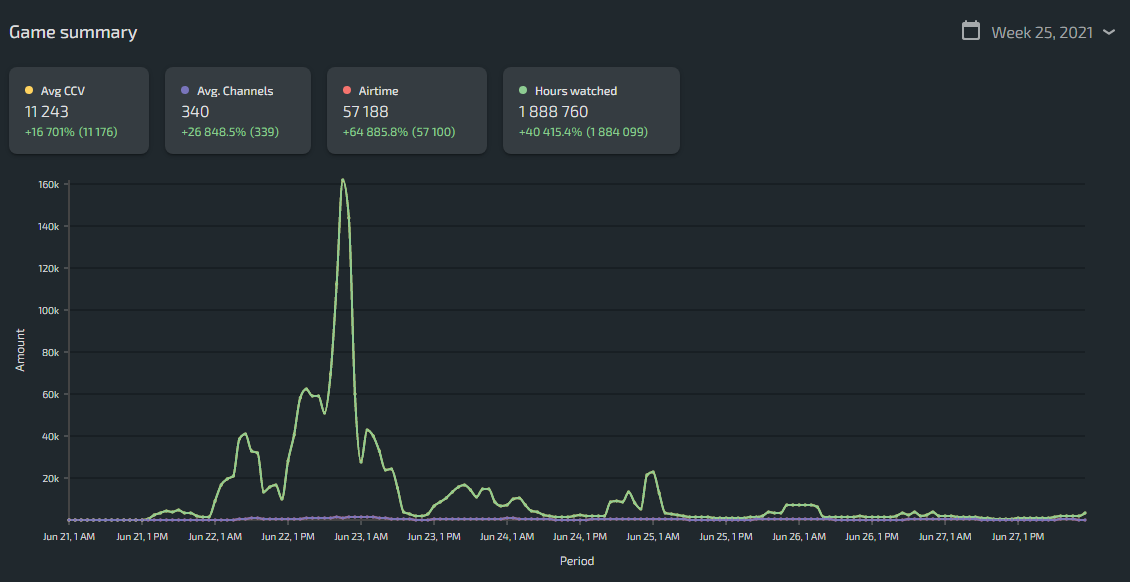 Overall the numbers point to a strong launch and the game did even take over Twitch on June 23, when it raked in a Peak CCV of 162,107. However, that quickly dropped and, looking at the viewership graph, it's clear the game has lost quite a lot of steam since then - barely breaking 1,000 Peak CCV on June 26 and 27.
There could be a variety of reasons for this, but, no matter what the reason is, D&D: Dark Alliance will need to do something to spice the game up and get people playing and watching again.
Scarlet Nexus See's Strong Release Week

Another new release also hit Twitch this week, with Bandai Namco finally making Scarlet Nexus available to all. The game is another RPG, but this time in a futuristic setting and with a focus on action. Here's how the game managed during its first week on the platform:
1.1 Million Hours Watched

8,062 Average CCV

39,481 Peak CCV

37,397 Hours Broadcast (Airtime)

257 Average Channels Live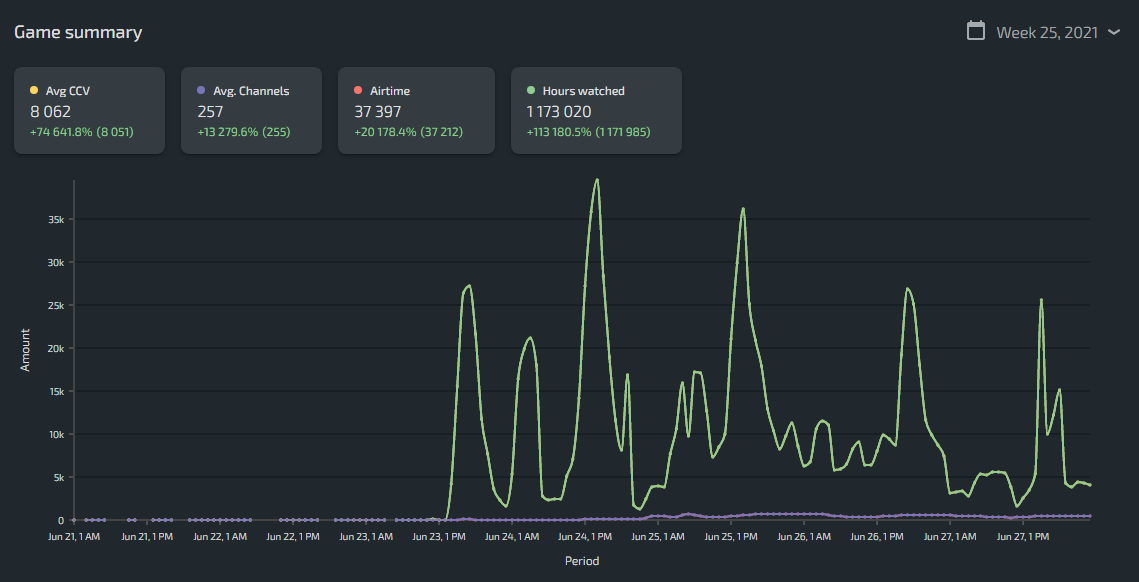 A solid launch made the game one of the biggest on Twitch, raking in over 1.1 Million Hours Watched in just 4 days, as well as 8,062 Average CCV and a Peak CCV of 39,481.
As expected, the game's viewership peaked on launch day, however, it does continue to see spikes in viewership at around the same time each day. This suggests that there is a key fanbase and Scarlet Nexus may see solid viewership for some time.
Final Fantasy XIV Gets Twitch Campaign Boost

While new games have been making headlines, old favorites have also been making waves. The ever-popular MMO, Final Fantasy XIV, saw a large increase in viewership in the last week, making it the third most popular MMO on Twitch.
1.5 Million Hours Watched

9,430 Average CCV

38,745 Peak CCV

92,313 Hours Broadcast (Airtime)

549 Average Channels Live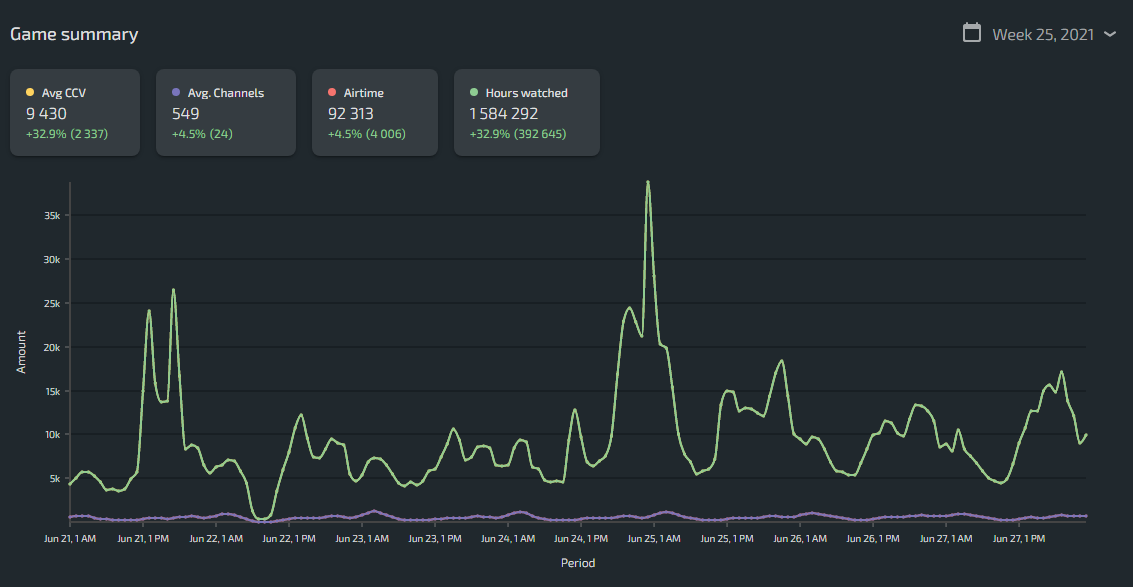 The biggest news here is the massive increase in Hours Watched and Average CCV, both rising by 32.9%. Meanwhile, Airtime only rose by 4.5%, which means that there was simply a large influx of viewers.
All this came from a very simple Twitch campaign launched by developers Square Enix, allowing players to earn limited-time in-game items just by watching streamers play the game, showing the effectiveness of influencer campaigns.
Among Us See's Surprise Viewership Growth

Another classic Twitch title that saw an increase in viewership was Among Us. The party game rose from the ashes to once again become one of the biggest games. Let's take a look at some of its numbers:
1.7 Million Hours Watched

10,515 Average CCV

60,226 Peak CCV

36,660 Hours Broadcast (Airtime)

218 Average Channels Live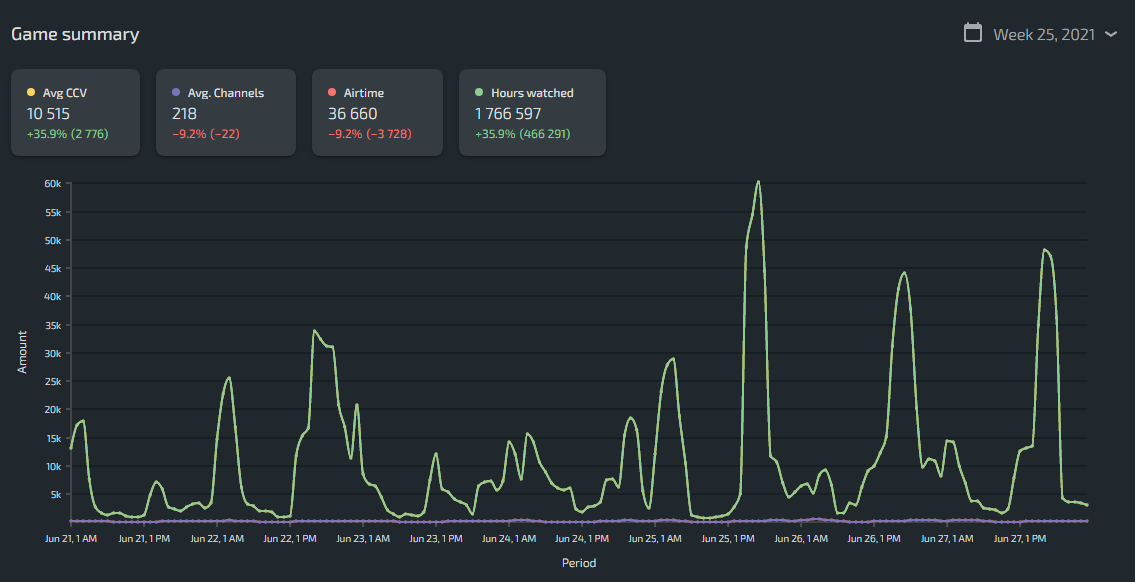 Interestingly enough, the game saw a 35.9% rise in Hours Watched, while both Average Channels Live and Airtime fell by 9.2%. This means there were fewer streamers but more viewers focusing on Among Us last week.
With Among Us, it's always hard to tell what the reason behind a rise or fall in viewership is, but it'll be interesting to watch the game going forward and seeing what kind of viewership trends it will experience.
Guilty Gear: Strive Struggles to Keep Launch Momentum

While some games have gained viewership, others have gone the other way. Despite a strong launch, Guilty Gear: Strive has been struggling, with its viewership numbers entering a downward trend.
1.6 Million Hours Watched

9,793 Average CCV

32,232 Peak CCV

42,791 Hours Broadcast (Airtime)

255 Average Channels Live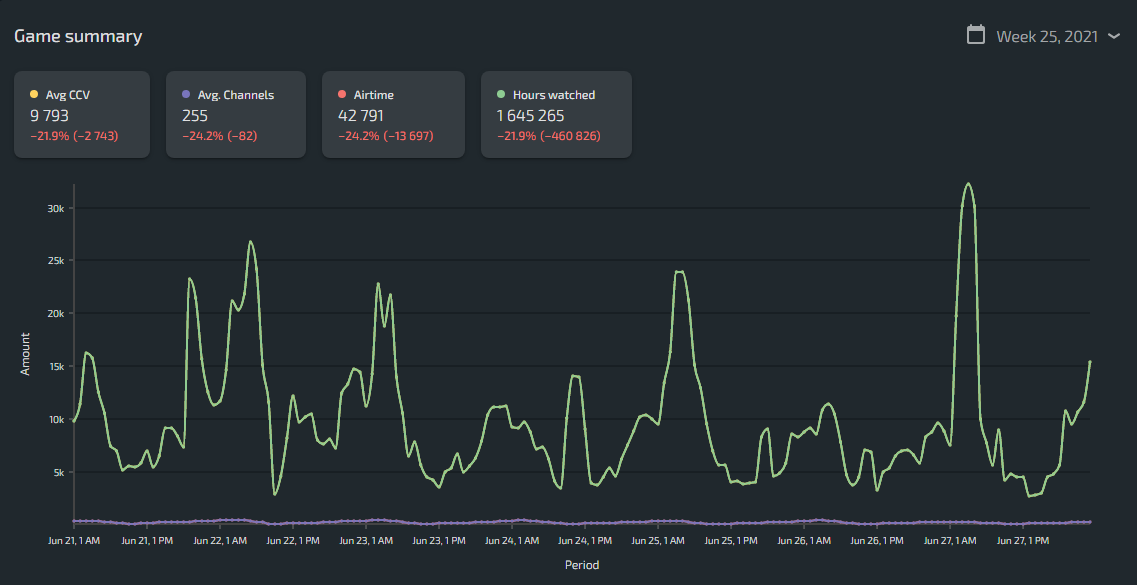 Overall, viewership for the game is actually still strong. 1.6 Million Hours Watched is nothing to scoff at and a Peak CCV of over 32,000 puts the game up there in terms of Twitch ranking.
However, all this is still 'in the red' for Guilty Gear. Average CCV and Hours Watched dropped by 21.9%, while Airtime dropped by 24.2% - this means there are both fewer viewers watching the game and streamers are less willing to invest time broadcasting the game. If things continue this way, then things aren't looking good for Guilty Gear on Twitch.