Insights
Lurkit's Last Week in Gaming: Escape From Tarkov, Final Fantasy XIV, more
Check out the biggest changes in gaming and Twitch viewership this week!
---
We saw June closeout and July kick off with a ton of viewership movement on Twitch. The last week seems to have been mostly affected by game updates, rather than new releases, with quite a few old favorites shaking things up due to some huge new patches.
Let's take a look at some of the biggest viewership changes that happened on Twitch last week.
Escape From Tarkov Gets Major Patch Boost

BattleState Games' Escape From Tarkov made the biggest headlines last week, with a huge update launching the game into one of the most-watched on the platform. Let's take a look at some of its numbers:
13.5 Million Hours Watched

80,834 Average CCV

279,993 Peak CCV

354,713 Hours Broadcast (Airtime)

2,111 Average Channels Live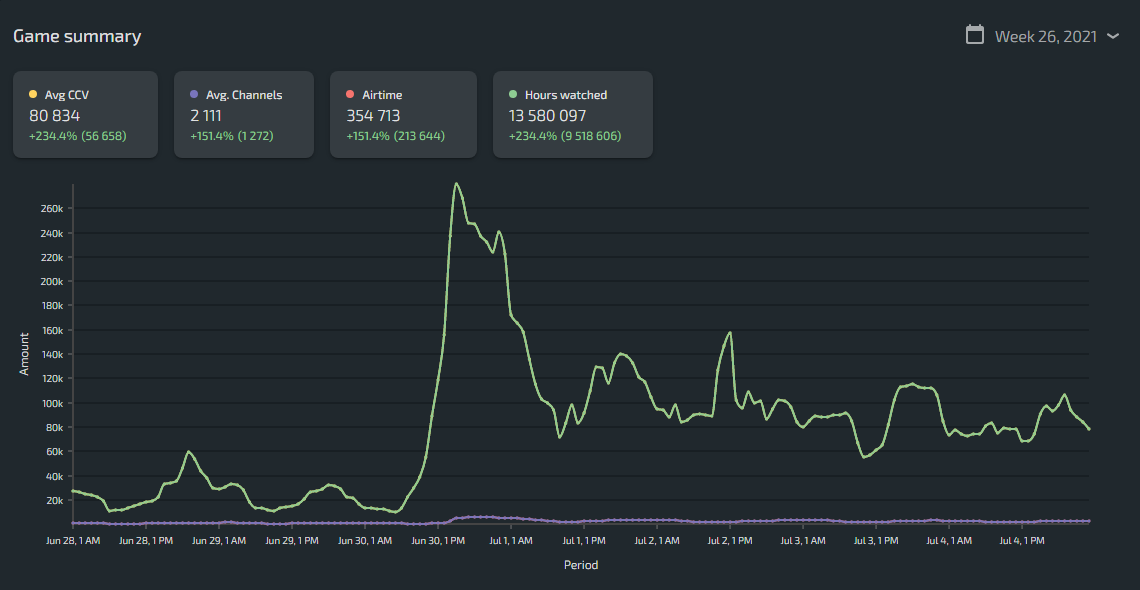 The game saw some huge numbers last week, including a 234.4% increase in Hours Watched, as well as a 151.4% increase in Airtime. This means that not only are there a ton more people watching, there are also many more streamers getting involved in the game.
It would seem that the latest update was much needed and brought a breath of fresh air into the game.
Asmongold Propels Final Fantasy XIV to The Top

Final Fantasy's success last week shows the strength of top-tier influencers on Twitch. The game saw a record week thanks to American streamer Asmongold moving away from World of Warcraft for the first time in a long time. Here's the impact he had on the game:
4.1 Million Hours Watched

24,797 Average CCV

215,755 Peak CCV

95,997 Hours Broadcast (Airtime)

571 Average Channels Live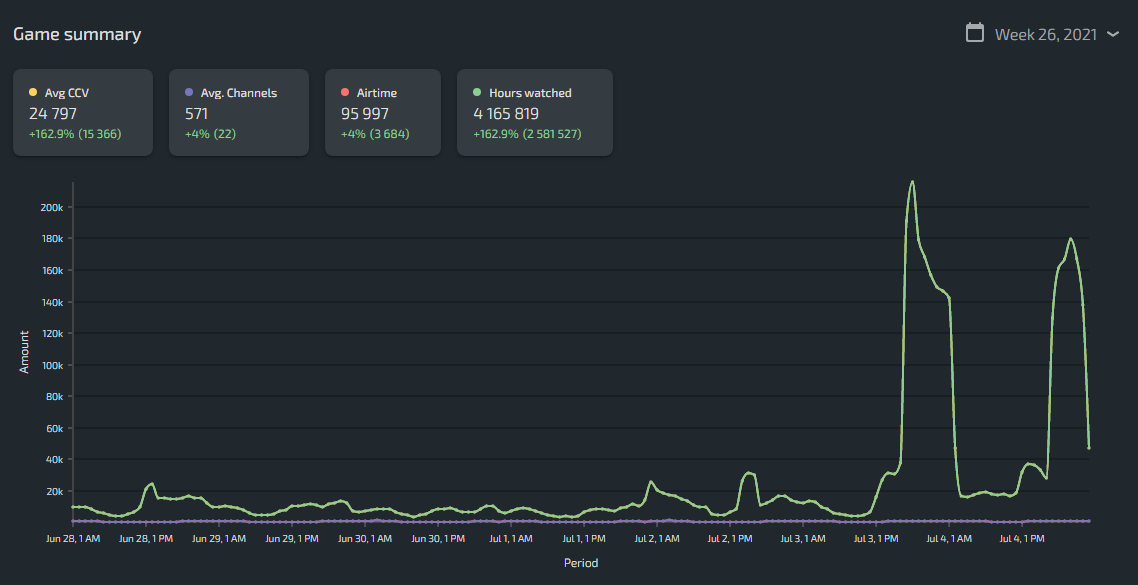 The most important thing to note here is the massive increase in Hours Watched and Average CCV, both rising by 162.9%, while Airtime only rose by 4%. This means that the massive increase in viewership was brought by just one major creator switching games and just goes to show the incredible following some of the biggest Twitch stars have and how they can almost individually shape the platform.
Black Desert Online Explodes Thanks to Game Overhaul

Another game that saw a strong viewership increase due to changes is Black Desert Online. The sandbox MMO blew up after a key set of changes, including notable in-game updates, as well as a special promotion, which made the game available for a record low $0.99. Let's take a look at some of its numbers:
1.8 Million Hours Watched

10,837 Average CCV

25,516 Peak CCV

46,905 Hours Broadcast (Airtime)

279 Average Channels Live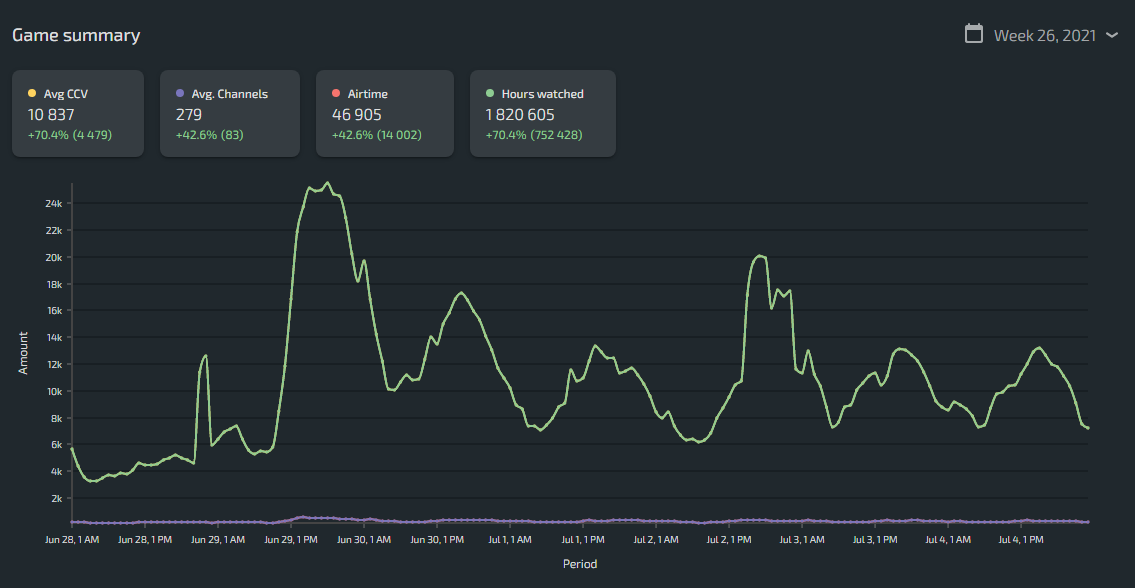 BDO saw an increase across the board, with Average CCV and Hours Watched rising by 70.4%, while Airtime also rose by 42.6%. This means there was increased interest both from broadcasting and viewing perspectives, likely generated by both new content, as well as lowering the barrier to entry by decreasing the cost of the game.
It will be interesting to see if the game can keep up the momentum and start to challenge other MMO's on Twitch, like Genshin Impact and Final Fantasy.
Sea of Thieves Begins to Sink

While we saw a few games succeed, some also did not have the best of weeks. One of these was Sea of Thieves, which is beginning to lose steam after a few strong weeks on the platform. Here's how it fared this week:
2.8 Million Hours Watched

16,899 Average CCV

38,767 Peak CCV

177,487 Hours Broadcast (Airtime)

1,056 Average Channels Live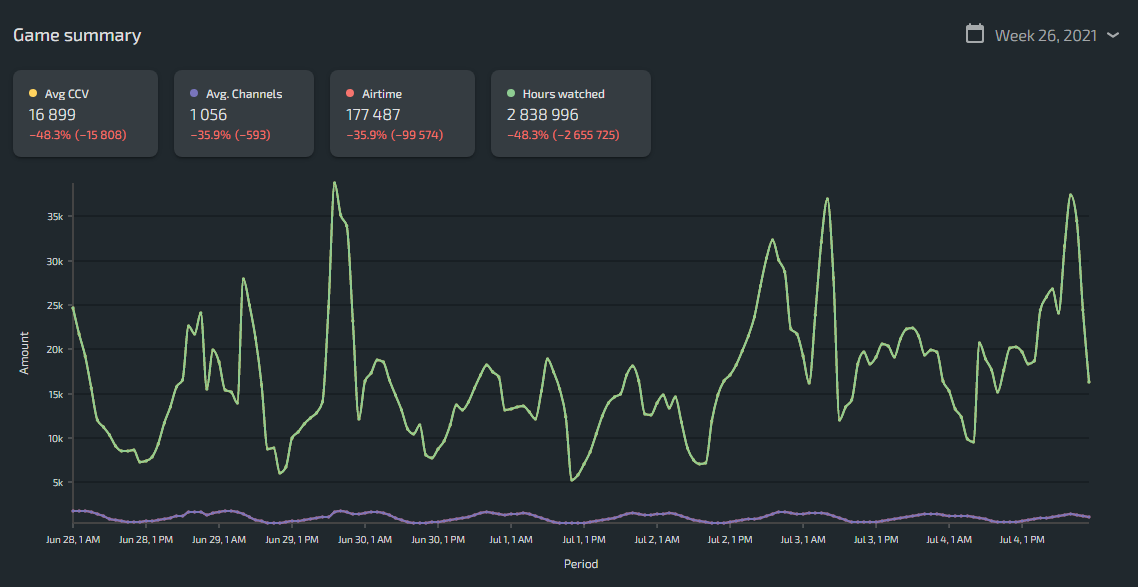 While the numbers for SoT still look solid, there has been a definite decline. There was a big drop in overall viewership, with Hours Watched dropping by 48.3%. Meanwhile, the number of streamers also fell, with Average Channels Live and Airtime dropping by 35.9%.
Interestingly enough, this comes amid a 'Twitch Drops' campaign which rewards users with in-game items for watching Twitch streamers play the game. Usually, this provides a massive increase in viewership, so seeing such a viewership drop is very unusual and definitely unexpected.
Mario Golf: Super Rush Fails to Make Post-Launch Impact

Nintendo's latest title, Mario Golf: Super Rush, seems to be struggling on Twitch, as it has heavily dropped from it's June 25 launch numbers and seems to be failing to make a real impact on the platform. Let's take a look at some of its numbers:
1.1 Million Hours Watched

13,650 Average CCV

29,418 Peak CCV

13,650 Hours Broadcast (Airtime)

81 Average Channels Live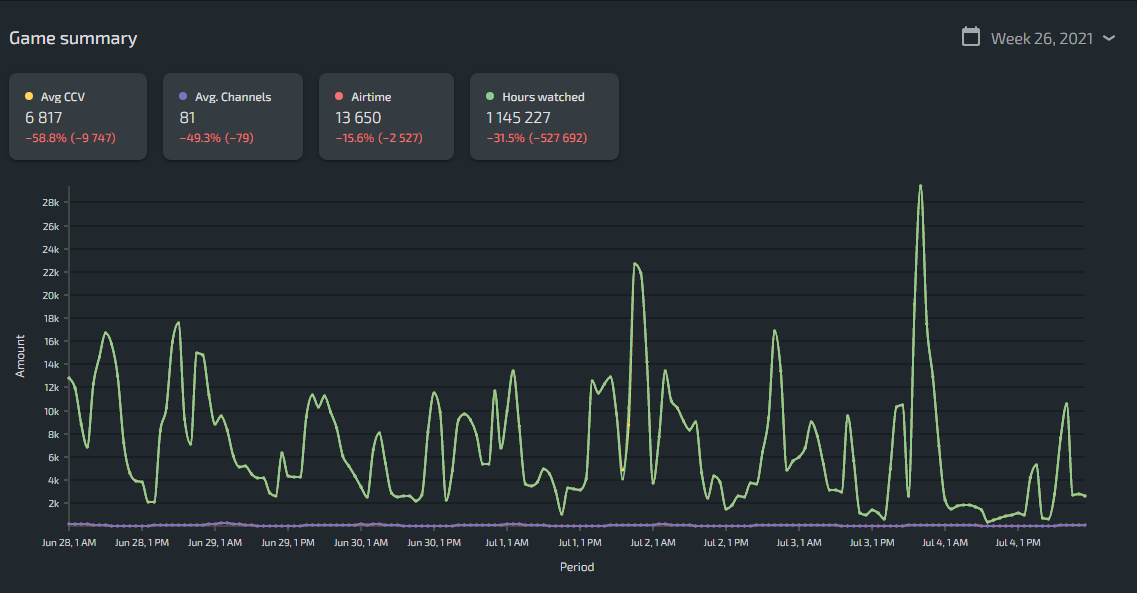 Overall, viewership has seen a consistent decline for the game, with Hours Watched dropping by 31.5%, while Average CCV dropped by a whopping 58.5%. This comes alongside a decline in content creation too, as Airtime dropped by 15.6%, alongside a 49.3% drop in Average Channels Live.
It looks like both viewers and streamer are moving away from Mario Golf and the developers may need to do something quick if they want it to bounce back on Twitch.
All the data found here has been collected and displayed by Lurkit. If you want to learn how you can accurately track game data on Twitch and make use of Lurkit's wide range of aggregated viewership data, you can schedule a chat, or contact us through the links at the bottom of the page!