Insights
Lurkit's Last Week in Gaming: F1 2021, Super Smash Bros Melee, more
Check out the biggest changes in gaming and Twitch viewership this week!
---
Content was somewhat of a mixed bag on Twitch last week, with new releases, established titles, and old favorites all seeing big moves on the platform. It really was a week where just about everyone had something to see, be it good or bad.
With quite a lot happening, there were also big shifts in viewership. Let's look at some of the biggest changes last week.
F1 2021 Drives Home Strong Launch

In something slightly different for Twitch, the biggest launch of the week was F1 2021 - a driving simulator game. Let's take a look at how it faired on the platform:
1.9 Million Hours Watched

12,045 Average CCV

42,046 Peak CCV

38,879 Hours Broadcast (Airtime)

235 Average Channels Live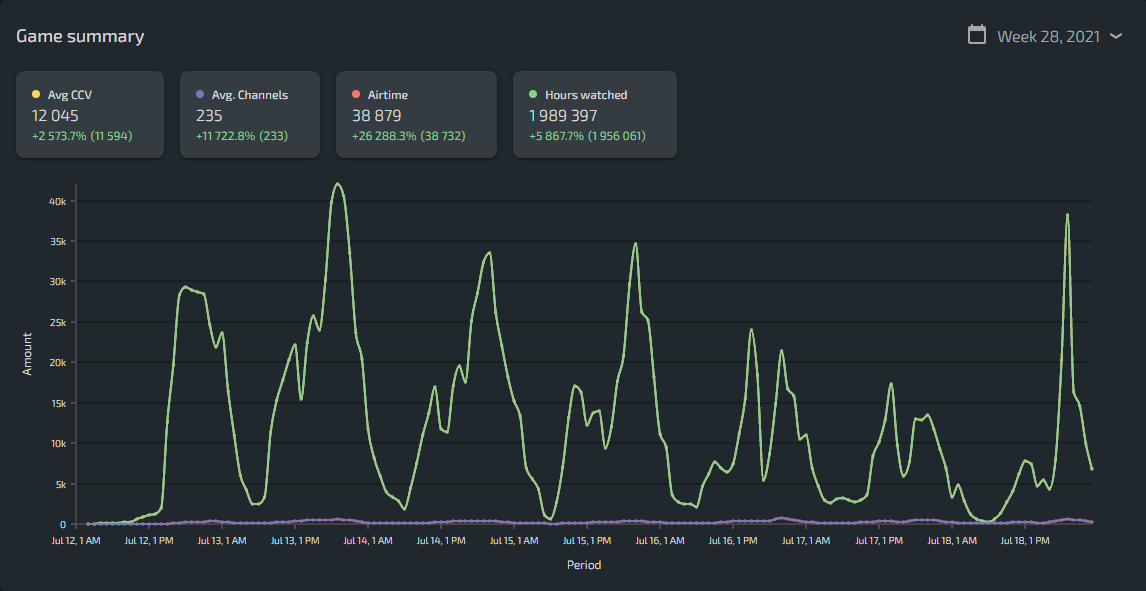 Overall, it looks to be a very strong launch for Formula One's official game. Every day so far has seen solid numbers and fans are coming back for more every time. It'll be interesting to see how it performs down the line. Perhaps we could see a newer category make a real foothold on Twitch.
Super Smash Bros Melee Once Again Shows Esports Popularity

This time it's a Twitch classic making waves, with Super Smash Bros Melee once again tearing up the stage. Like usual, one of the game's bigger esports tournaments has drawn in a sizable Twitch crowd:
1.4 Million Hours Watched

8,604 Average CCV

69,525 Peak CCV

4,600 Hours Broadcast (Airtime)

27 Average Channels Live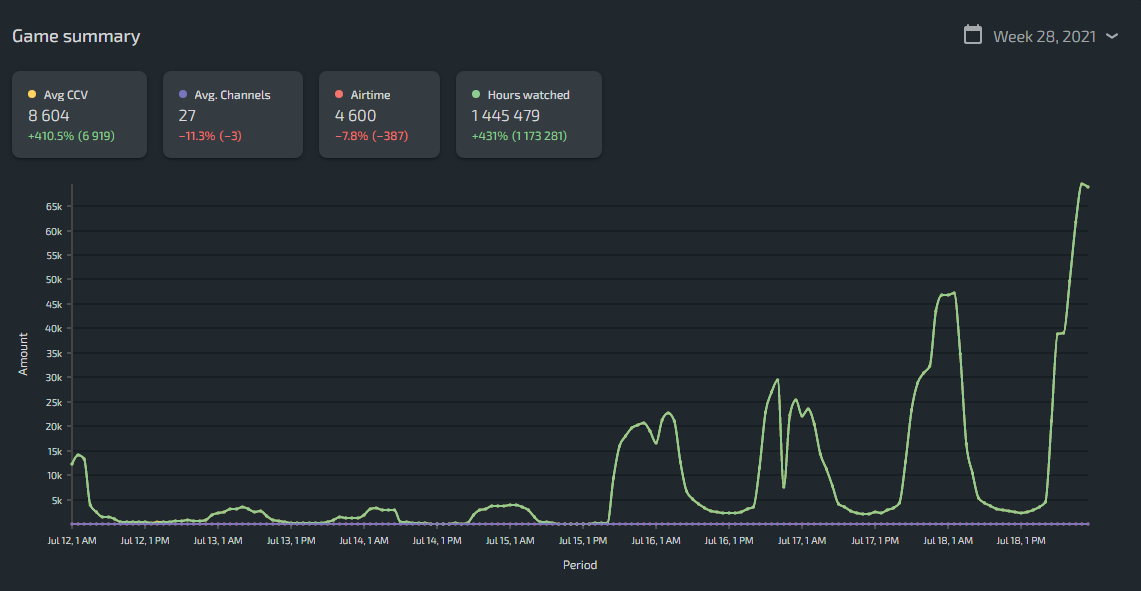 The stats paint a clear story here: Melee esports events are still king. Despite a fall in both Average Channels Live (11.3%) and Airtime (7.8%), viewership still saw a massive spike.
Average CCV was up 410% throughout the week, while Hours Watched saw a similar spike of 431%. Looking at the chart, it's also clear that the bulk of viewership came when the tournament was played, topping out right at the grand final at the end of the week. Despite being a 20-year-old game, Melee is still making waves!
Final Fantasy XIV Continues Upwards Trend

Final Fantasy XIV has been on a recent rise, with Twitch star Asmongold moving away from wow and highlighting the game. The new exposure has done wonders for Final Fantasy and it continued to grow last week.
6.6 Million Hours Watched

39,455 Average CCV

137,515 Peak CCV

135,417 Hours Broadcast (Airtime)

806 Average Channels Live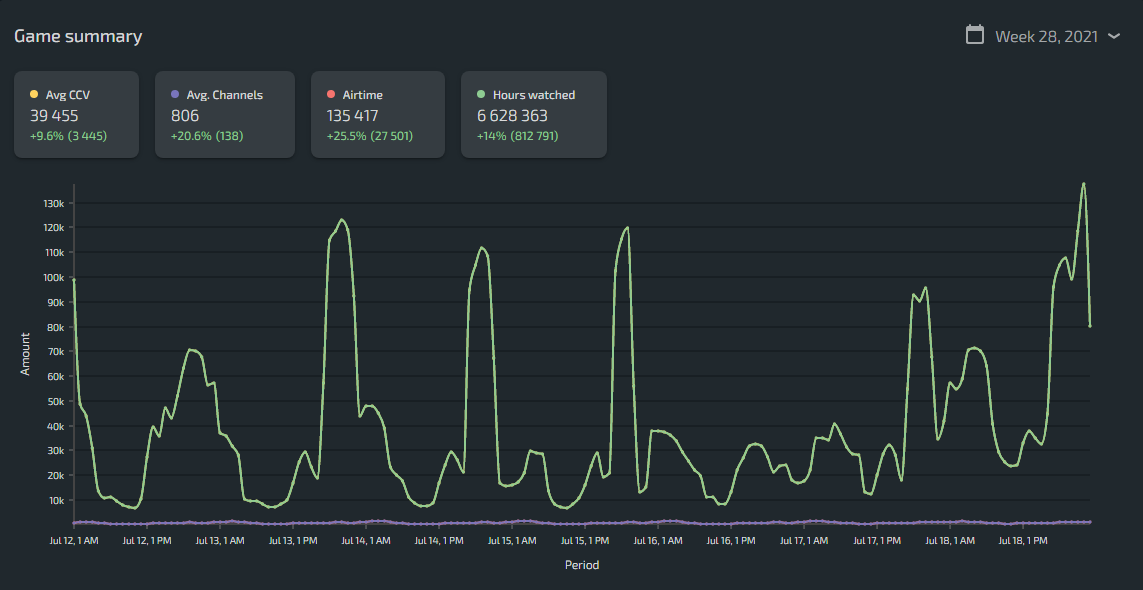 As we can see, the game has been drawing in some huge numbers. All of these are notable increases too, with Hours Watched rising by 14%, alongside a 9.6% rise in Average CCV. However, this does come with a general increased interest, as both Average Channels Live and Airtime rose, increasing by 20.6% and 25.5% respectively.
All this points to a promising future for Final Fantasy as it aims to take down World of Warcraft and claim the title of most popular MMO on Twitch.
Sea of Thieves Still Can't Steady The Ship

Sea of Thieves has been on a continuous downward spiral over the last few weeks, and last weeks seems to have gone no better for the game. Let's take a look at some of its numbers:
1.5 Million Hours Watched

9,317 Average CCV

37,468 Peak CCV

111,452 Hours Broadcast (Airtime)

663 Average Channels Live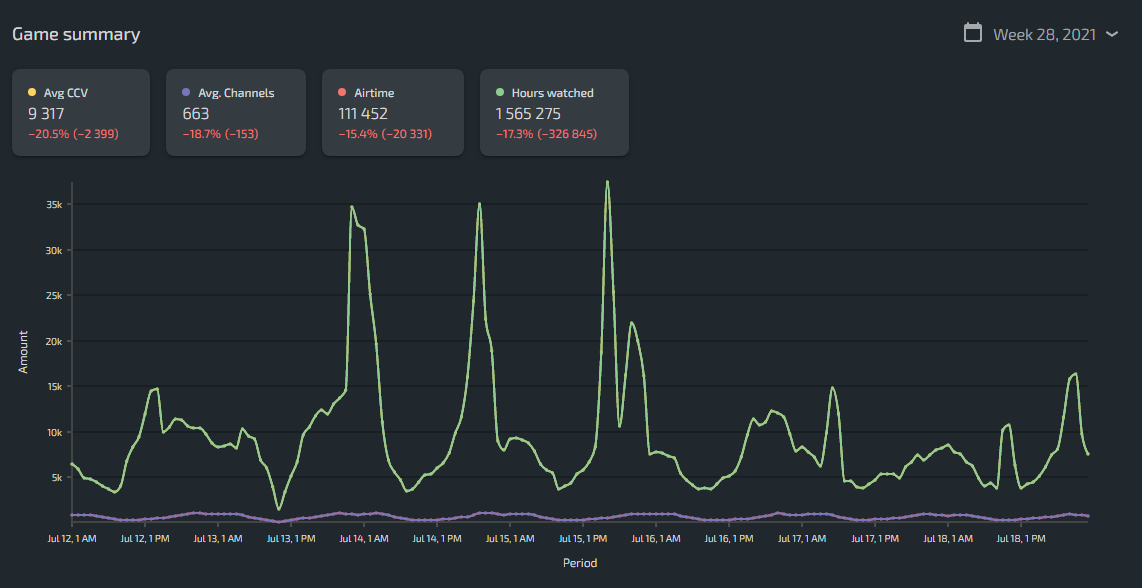 There are drops all across the board here, with all major stats in the red. Average CCV was down 20.5%, while Hours Watched dropped by 17.3%. This also comes alongside drops in Airtime (15.4%) and Average Channels Live (18.7%).
This means that streamers and viewers alike are jumping ship and a key question remains: what can Sea of Thieves do to stop their losses?
Genshin Impact Sees Troubling Week
Another game that struggled last week was Genshin Impact as the Anime-style MMO saw significant drops in viewership. Here are some of the most interesting numbers:

2.2 Million Hours Watched

13,575 Average CCV

25,409 Peak CCV

120,159 Hours Broadcast (Airtime)

715 Average Channels Live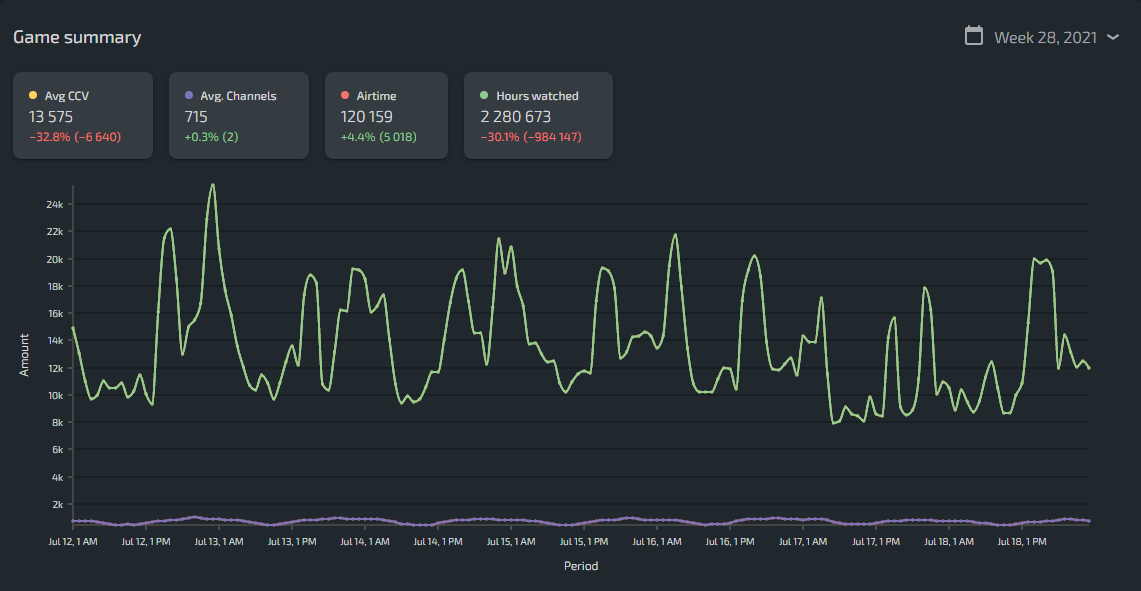 The stats may look decent at first glance, but it's the changes that tell the real story. Both Average CCV and Hours Watched saw significant hits, dropping by 32.8% and 30.1% respectively.
This comes alongside a 4.4% increase in Airtime, which doesn't bode well for the game. It means that streamers put in more hours than the previous week, but still overall saw around 30% fewer viewers. It may be due to both World of Warcraft and Final Fantasy draining the MPO viewer base with strong weeks, but if this continues there could be trouble for Genshin Impact.
All the data found here has been collected and displayed by Lurkit. If you want to learn how you can accurately track game data on Twitch and make use of Lurkit's wide range of aggregated viewership data, you can schedule a chat, or contact us through the links at the bottom of the page!