For Creators
Lurkit's Last Week in Gaming: Naraka Bladepoint, Tekken 7, and more
Check out the biggest changes in gaming and Twitch viewership this week!
---
The gaming world continues to fluctuate, with games rising and falling in viewership on Twitch. We saw some new releases boom, while others slowed down, and some old games started to make a comeback.
Let's take a look at some of the biggest viewership changes that happened on Twitch last week.
Naraka: Bladepoint Open Beta Blows Up

Naraka: Bladepoint made some of the biggest waves over the last week, with the brand-new Battle Royale entering open beta ahead of its August launch. The game attracted some of the biggest streamers on Twitch and saw a strong first week on the platform:
1.4 Million Hours Watched
12,363 Average CCV
109,183 Peak CCV
23,304 Hours Broadcast (Airtime)
201 Average Channels Live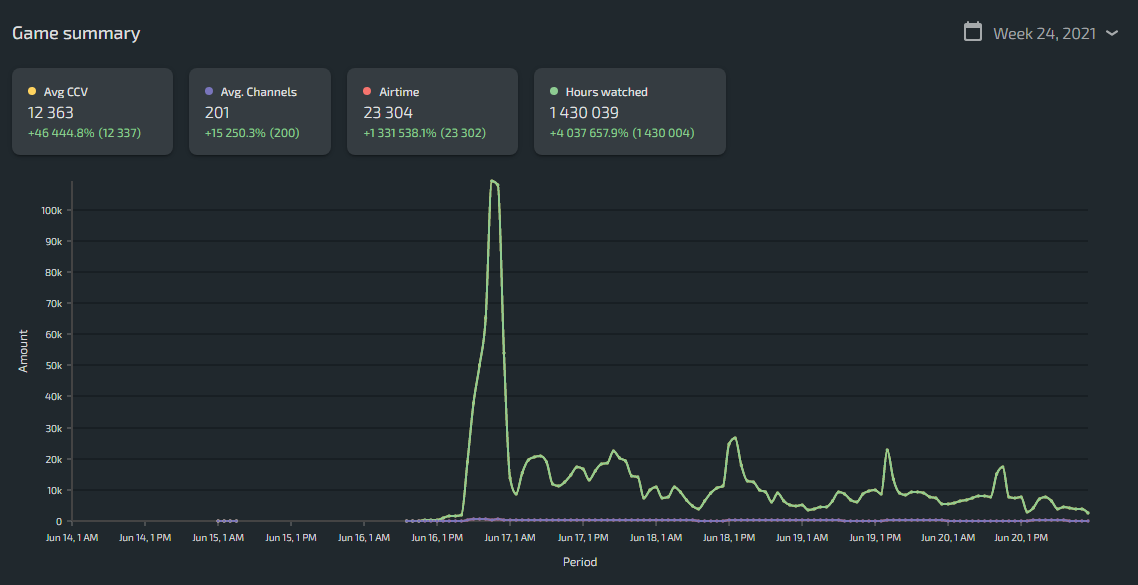 Keeping in mind that the game is both still in open beta and may have gone somewhat unnoticed among the plethora of E3 content, it'll definitely be interesting to see how the game performs once it gets into full swing during its release.
Tekken 7 See's Surprisingly Strong Week

In a surprising turn of events, six-year-old fighting game Tekken 7 saw its viewership on Twitch triple over the last week. There weren't any new additions to the game or special events - viewership seemed to simply have exploded. Let's take a look at some of Tekken's numbers:
1.7 Million Hours Watched
10,254 Average CCV
32,000 Peak CCV
14,742 Hours Broadcast (Airtime)
88 Average Channels Live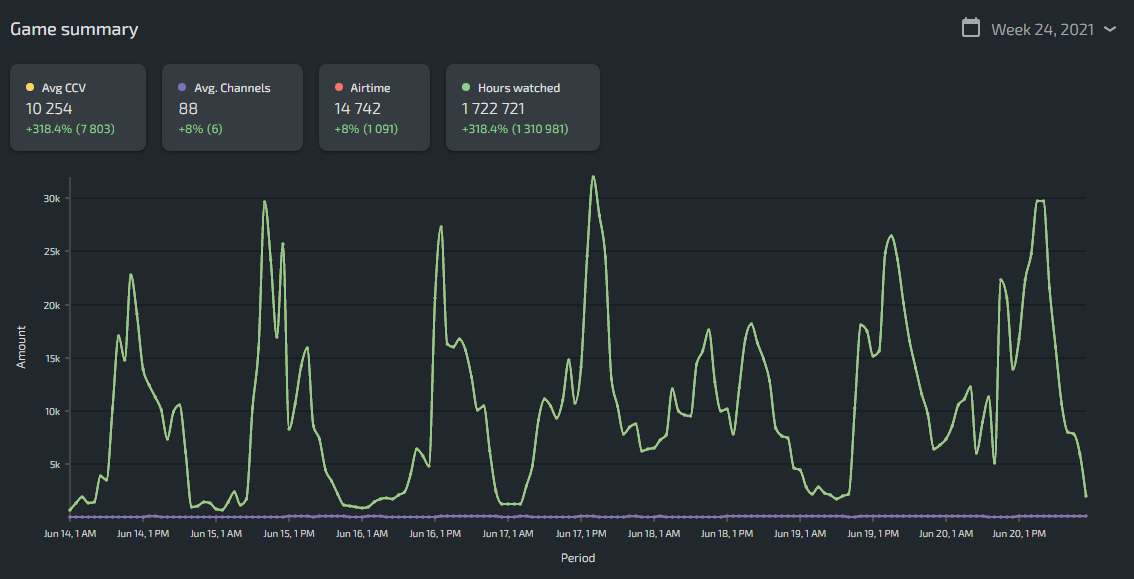 There have been some huge changes for Tekken. Most notably, the game saw a 318.4% increase in Hours Watched, while there was only an 8% increase in Airtime. This means a wave of popularity came from either a handful of new streamers, or a mystery spike in-game interest. Either way, this could be the start of something big for Tekken 7 on Twitch.
Rainbow Six Siege Gets Huge E3 Announcement Boost

Meanwhile, another game that is riding an E3 boost is Rainbow Six. Ubisoft announced a brand new game mode based on the successful game - Rainbow Six: Extraction - which has boosted the game's current stats to new heights:
4.4 Million Hours Watched
26,522 Average CCV
73,372 Peak CCV
205,360 Hours Broadcast (Airtime)
1,222 Average Channels Live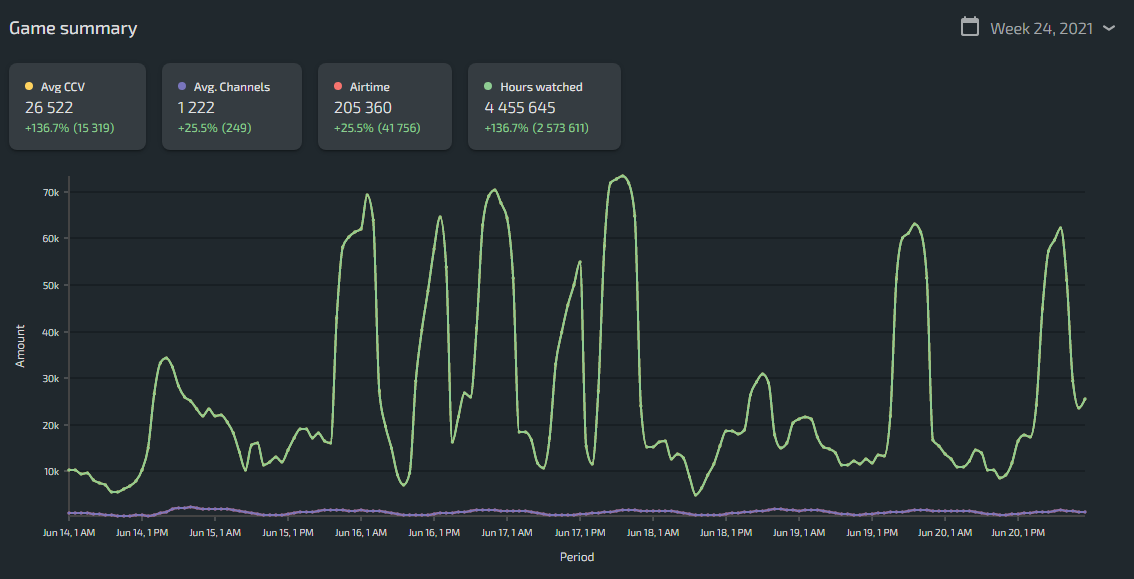 The new announcement, combined with more Rainbow Six esports action was a great boost to the game. It saw a 136.7% increase to Hours Watched and Average CCV, as well as a 25.5% increase in Average Channels, spelling good things for the future of the game on Twitch.
Terraria Continues Steady Uptrend

Another notable game this week is Terraria. The sandbox survival game hasn't been making huge waves recently, but is one of the best consistent risers on Twitch. Let's take a look at its numbers:
1.1 Million Hours Watched
6,673 Average CCV
62,379 Peak CCV
22,978 Hours Broadcast (Airtime)
137 Average Channels Live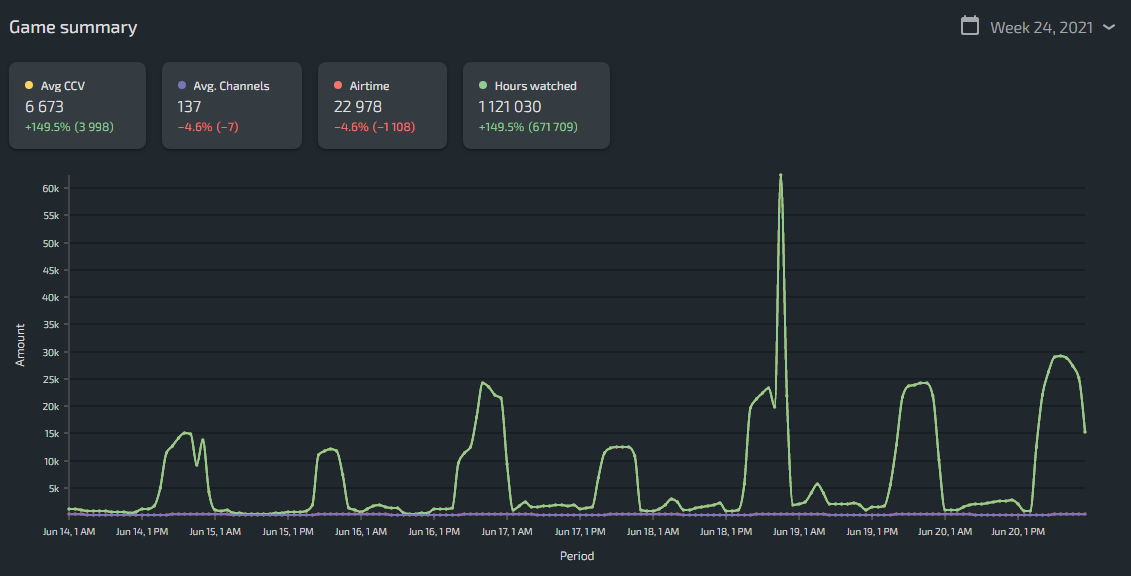 The game did see a big spike last week, rising by 149.5% in Hours Watched and Average CCV. However, a big part of its success comes from slow, steady growth. We can see that almost every day saw a small amount of growth (and one huge spike!), which may point to a healthy future for Terraria.
Ratchet & Clank: Rift Apart Slows Down After Launch

While some games have been growing, others have been falling in popularity. Ratchet & Clank fits the latter category, having lost a sizable portion of viewership following its launch week.
1.4 Million Hours Watched
8.547 Average CCV
36,687 Peak CCV
47,487 Hours Broadcast (Airtime)
283 Average Channels Live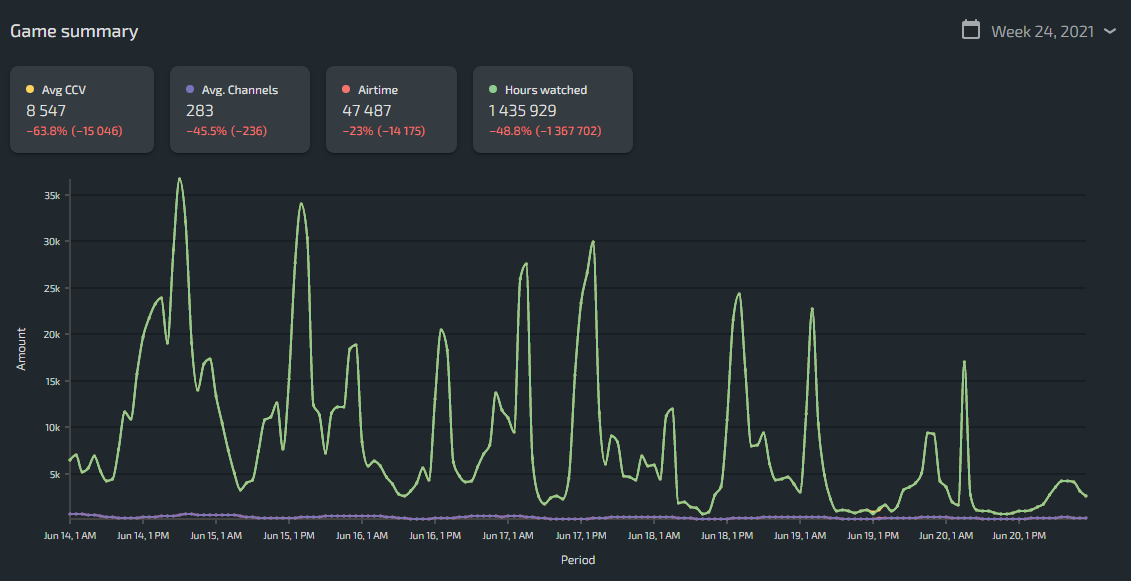 Overall, it's a loss across the board. The game saw a 48.8% fall in Hours Watched, 63.8% fall in Average CCV, 23% fall in Airtime, and a whopping 45.5% fall in Average Channels Live. The most likely reason for this is a loss of hype after an initial launch, something which even the biggest titles struggle with.