Insights
Lurkit's Last Week in Gaming: New World, Pokemon Unite, and more
Check out the biggest changes in gaming and Twitch viewership this week!
---
Twitch saw a massive week last week, with two huge titles coming to the platform. Amazon's New World and Pokemon Unite shook up Twitch, while there were notable changes in a few old-favorite titles.
Let's take a look at some of the biggest viewership changes on Twitch last week.
New World Storms Twitch With Beta Release

The biggest news of last week definitely comes in the form of New World - Amazon's MMORPG. After years of development and hype, the game finally saw a beta ahead of launch and the numbers show there's a ton of interest in the game.
23.6 Million Hours Watched

140,498 Average CCV

720,038 Peak CCV

436,354 Hours Broadcast (Airtime)

2,597 Average Channels Live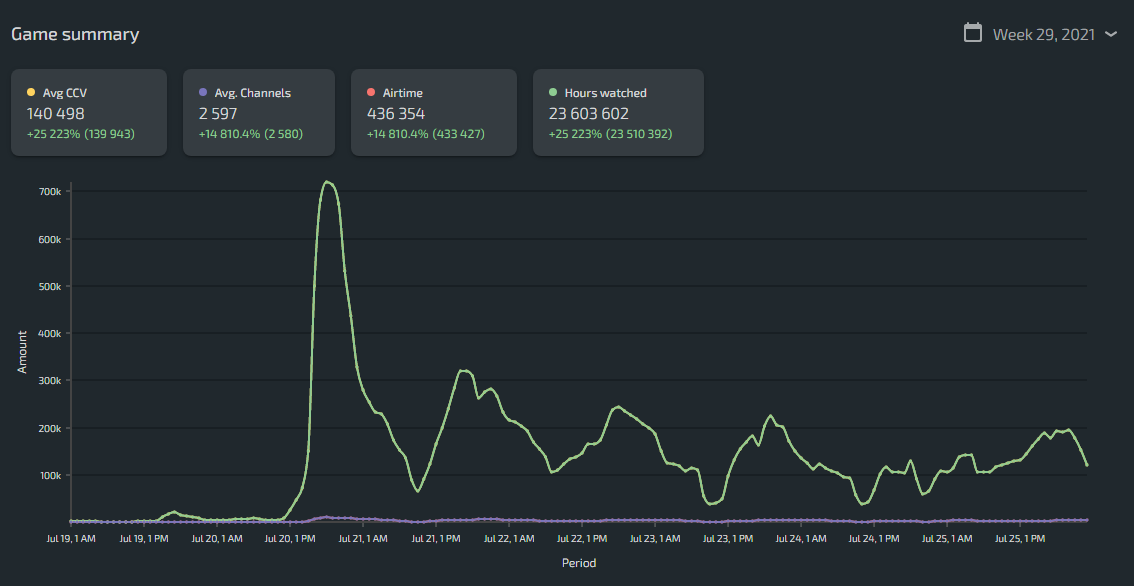 These numbers put the game as one of the most-watched on the entire platform last week. It's not too surprising to see, considering the hype being the game and that it is being developed by Amazon.
What remains to be seen, however, is how the game will do in the long term. Is it riding an unsustainable hype wave, or will it be the next big thing?
Pokémon
MOBA Pokémon Unite Starts Strong

There was also another big release last week: Pokémon Unite. The game is a Pokémon-themed MOBA, created only for mobile and the Nintendo Switch. Let's take a look at how its launch fared on Twitch:
9.8 Million Hours Watched

58,431 Average CCV

222,052 Peak CCV

152,338 Hours Broadcast (Airtime)

907 Average Channels Live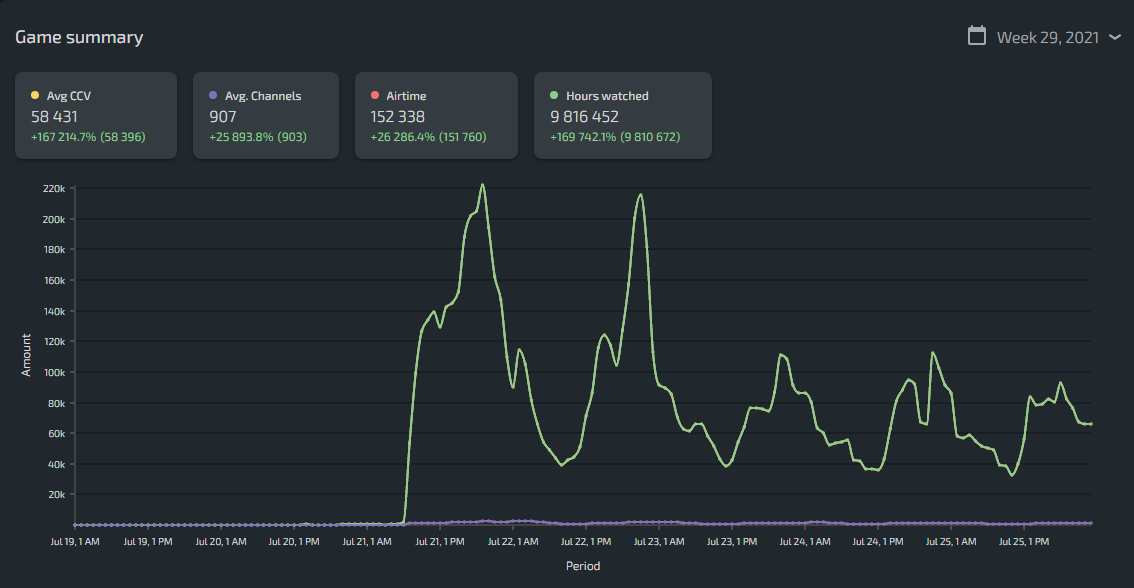 Overall, the numbers look very good - which is to be expected for a Pokémon game. The ever-popular series always has the power to draw in massive numbers, but this time it also had the appeal of a new type of game added to the series.
Interestingly enough, the numbers are also very high for a mobile & switch exclusive. The vast majority of games on Twitch are PC-focused, so seeing a non-PC title do well definitely goes to show the strength of the series and the game.
RimWorld Gains Momentum After Content Update

Moving away from new launches, we also saw notable viewership shifts in established Twitch titles. The first of these was RimWorld, which saw a positive upswing after a sizable content update.
1.6 Million Hours Watched

9,841 Average CCV

31,702 Peak CCV

19,149 Hours Broadcast (Airtime)

114 Average Channels Live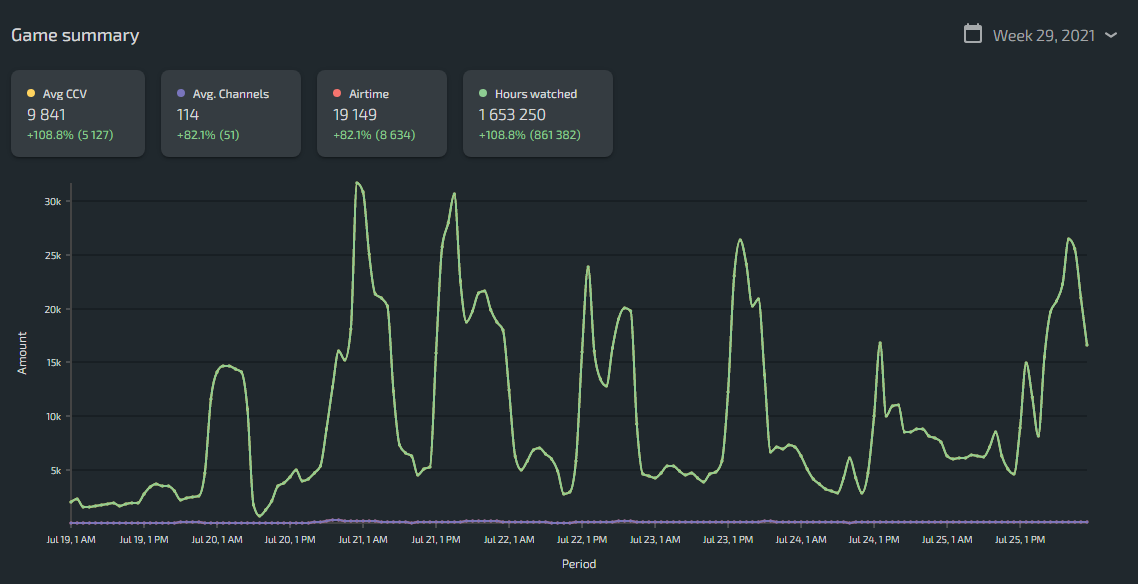 The biggest takeaway from RimWorld is the overall increase in viewership. Hours Watched and Average CCV rose by 108.8%, while Airtime and Average Channels Live also saw an increase of 82.1%.
This means that there were both more viewers tuning in, as well as more streamers broadcasting the game. Clearly, the new update has given the game a much-needed breath of fresh air.
Path of Exile Viewership Explodes With New League

Another Twitch classic that's seen recent success is Path of Exile, once again thanks to a slew of new content. The game recently launched a new 'league' bringing a whole new set of rules to the game, as well as new things to do. Here's how it impacted the game on Twitch:
5.5 Million Hours Watched

32,877 Average CCV

164,951 Peak CCV

62,833 Hours Broadcast (Airtime)

374 Average Channels Live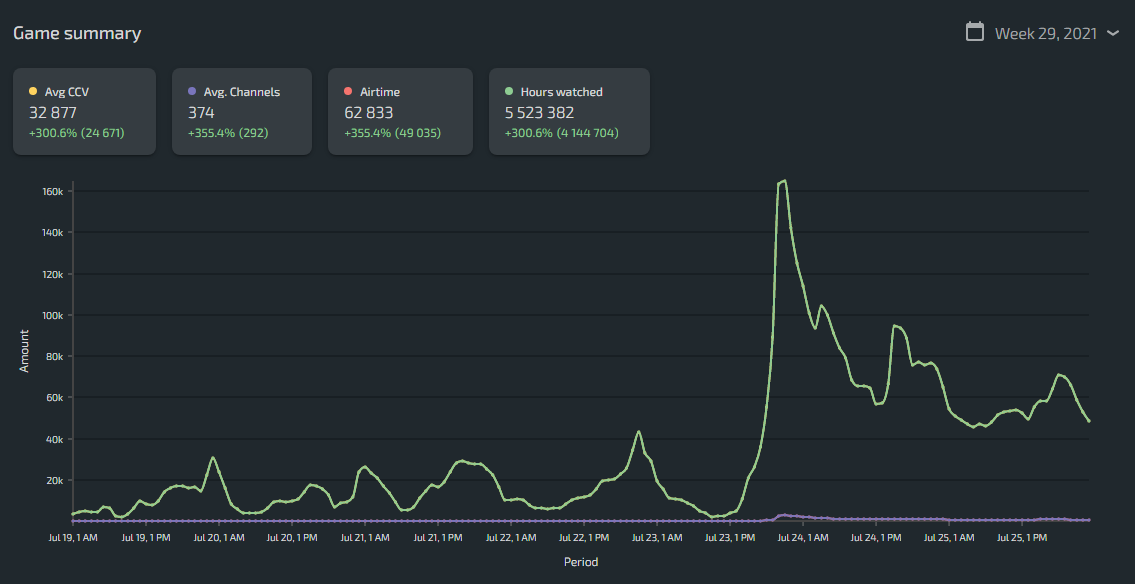 Again, it's best put into context with the weekly changes. So far, PoE saw a 300.6% increase in both Hours Watched and Average CCV, as well as a 355.4% rise in Airtime and Average Channels Live.
This does mean that there were a ton more creators streaming the game over the past week, but they also brought the viewers with them to back it up.
Rust Sees Huge Audience Drop Off

It's not all been positive on Twitch, as Rust has seen a sizable drop off of its audience over the last week. Let's take a look at the game's numbers:
4.8 Million Hours Watched

28,988 Average CCV

98,784 Peak CCV

77,976 Hours Broadcast (Airtime)

464 Average Channels Live
There have been drops across the board for Rust, with Hours Watched and Average CCV falling by 40.8%, while Airtime and Average Channels Live dropped by 11.7%. This signifies both a drop in viewership, as well as the number of streamers broadcasting the game, with significantly more viewers dropping off than streamers.
It's possible this is the result of the launch of New World, which has a decent audience overlap with Rust. It will be interesting to see if Rust is able to bounce back, or if it will continue spiraling downwards.
All the data found here has been collected and displayed by Lurkit. If you want to learn how you can accurately track game data on Twitch and make use of Lurkit's wide range of aggregated viewership data, you can schedule a chat, or contact us through the links at the bottom of the page!