For Companies
Lurkit's Last Week in Gaming: Ratchet & Clank, Guilty Gear, and more
Check out the biggest changes in gaming and Twitch viewership this week!
---
With E3 2021 underway, last week was a huge week in gaming. We saw a ton of new announcements, teasers, and trailers, setting up a very exciting gaming calendar for the rest of the year and beyond.
However, E3 isn't the only thing going on right now. Last week saw a few new releases, with some games booming in popularity on Twitch. Let's take a look at some of the biggest viewership changes that happened last week.
Ratchet & Clank: Rift Apart Tops Last Week's Launches

The award-winning Ratchet & Clank series saw a new addition to the series storm the gaming world last week. Releasing on June 11, it gathered some truly impressive viewership numbers on Twitch:
2.8 Million Hours Watched

23,593 Average CCV

125,522 Peak CCV

61,662 Hours Broadcast (Airtime)

519 Average Channels live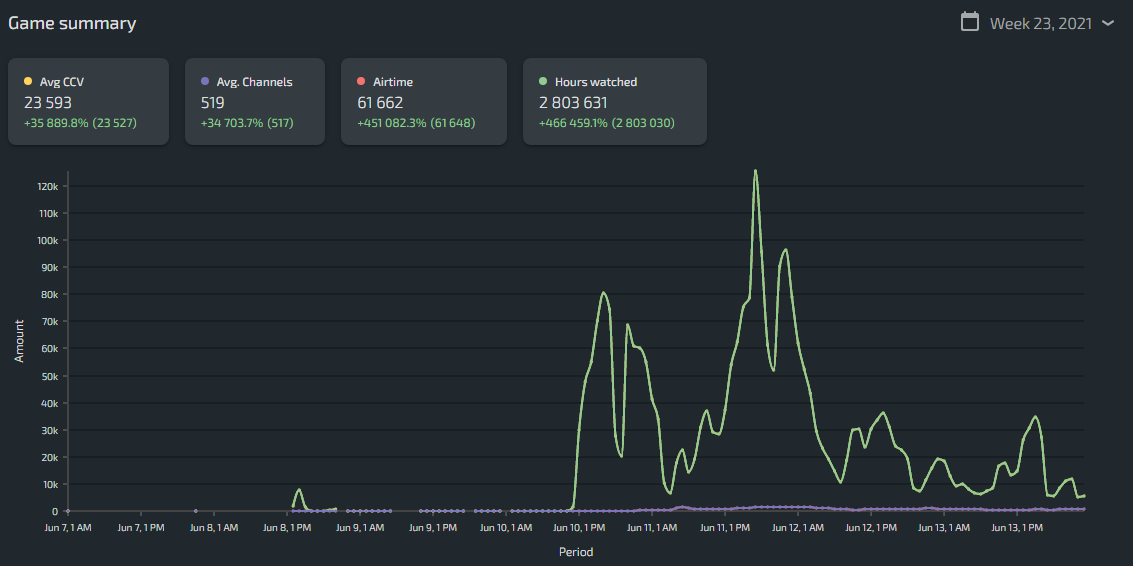 Overall, these numbers look positive, especially for a PlayStation 5 exclusive, as it's just part of the larger gaming market. In just 3 days since launch, the game has managed over 2.8 Million Hours Watched and peaked at 125,522 viewers on Twitch. If it continues at this trend, it could see one of the strongest launch weeks of recent games.
The Last Spell Rallies Post-Launch

The Last Spell is an indie tactical RPG. It was released on June 3 and flew quite a bit under the radar, not making too many waves in the gaming world. However, last week saw the game rally despite their slow start and, uncharacteristically for games, gain steam after its release.
1 Million Hours Watched

6,281 Average CCV

23,398 Peak CCV

6,160 Hours Broadcast (Airtime)

37 Average Channels live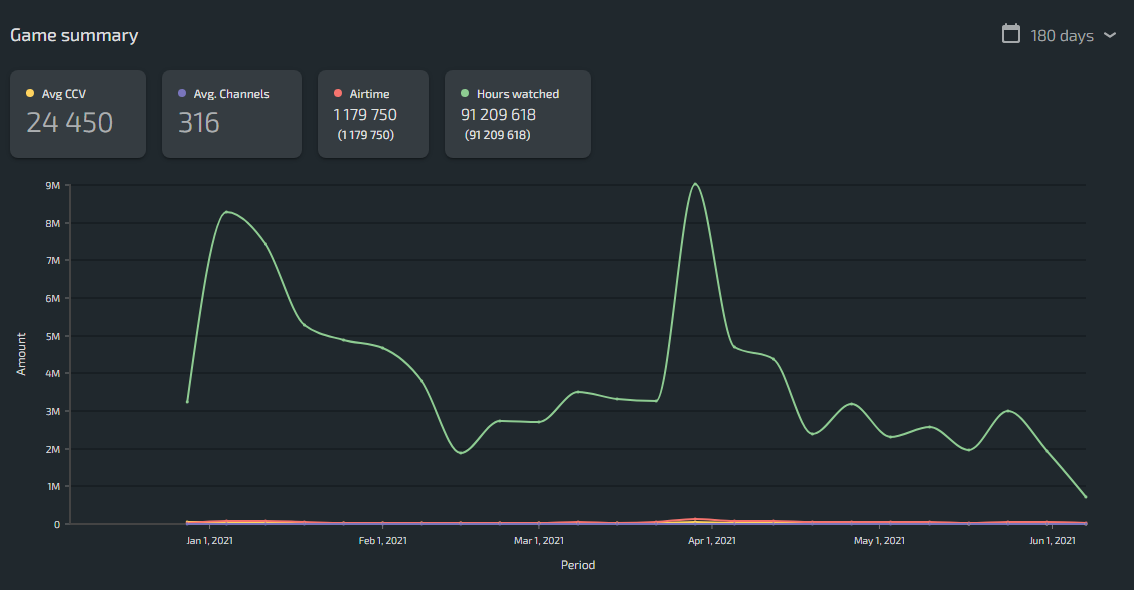 These numbers rank the game below major titles, but this is expected of an indie game. What is interesting, however, is that days after launch, the game has seen a 106.4% increase in Hours Watched. There is a bit of a downtrend throughout the week, but it'll be interesting to see if they can continue an unexpected rally.
Guilty Gear: Strive Sees Strong Launch

We saw another big series come out with a sequel, as the popular fighting game Guilty Gear came out with Strive on June 11. It was definitely one of the biggest releases of last week and once again made some of the biggest waves on the platform.
2 Million Hours Watched

12,348 Average CCV

36,171 Peak CCV

49,381 Hours Broadcast (Airtime)

303 Average Channels live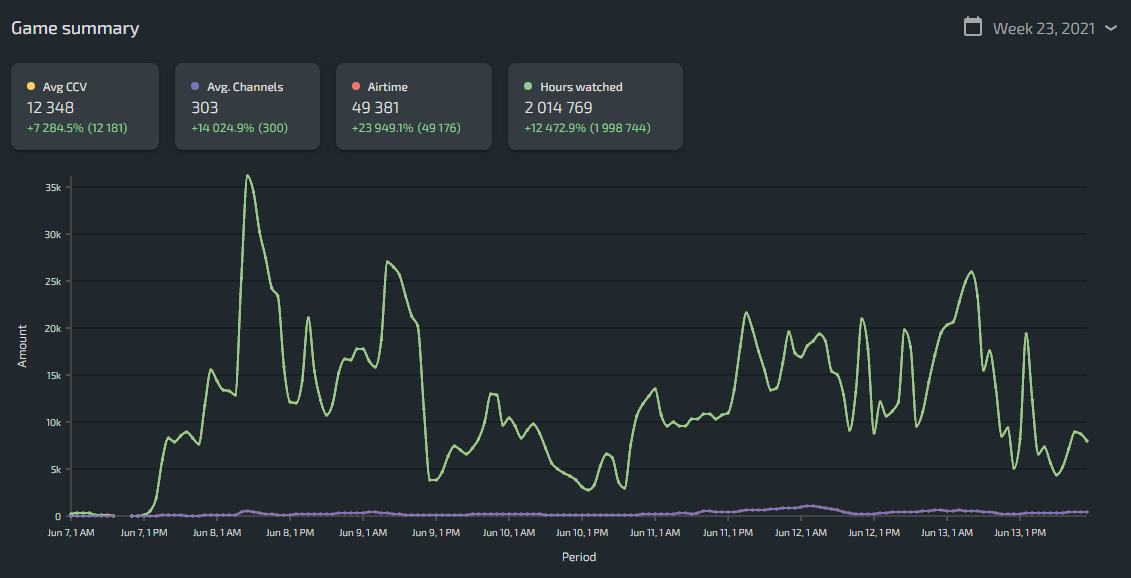 Like Ratchet & Clank, it's only been 3 days since release, but the numbers are looking quite positive already. With over 2 Million Hours Watched and 49,381 Hours Broadcast, there's a clear appeal for Guilty Gear on the platform and it doesn't look like it's going anywhere anytime soon.
World of Warcraft TBC Classic Hype Dies Down

While we've seen some big launches and an impressive rally, there have also been games going the other way. WoW Classic's new expansion looks to be quickly losing hype as viewership was down on all fronts last week:
12.9 Million Hours Watched

77,214 Average CCV

147,382 PeakCCV

308,455 Hours Broadcast (Airtime)

1,836 Average Channels Live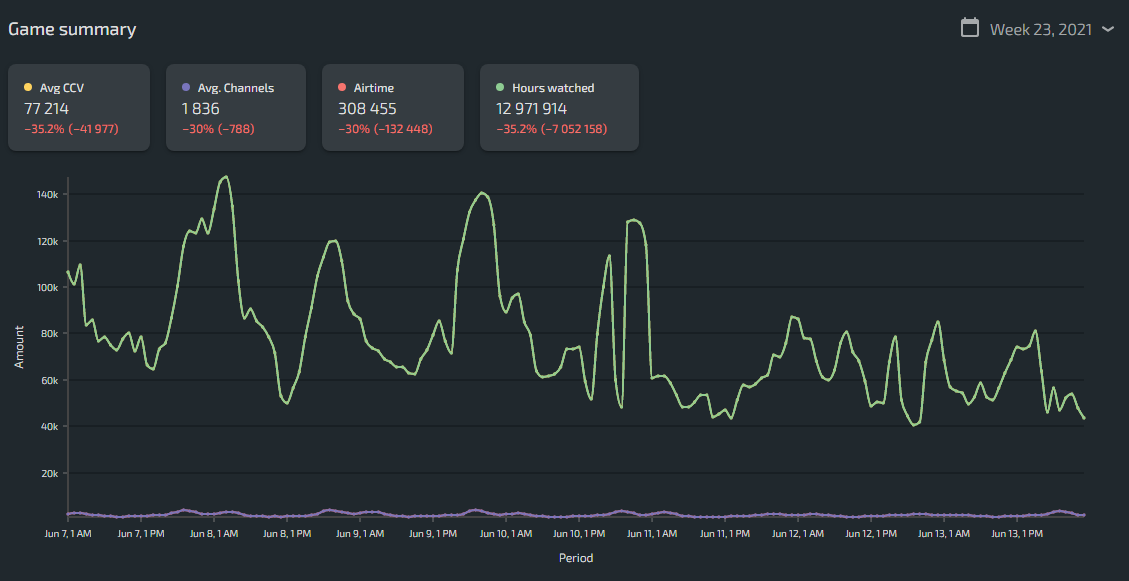 The game is still one of the biggest on the platform, but it seems that may not be the case for long. It saw drops across the board, with Hours Watched dropping by 35.2% and Average Channels Live and Airtime dropping by 30%. Additionally, there was a massive drop in viewership from the start to the end of the week.
Overall, it seems WoW is once again facing a common problem: being unable to retain post-expansion viewership.
Lost Ark Gets Western Announcement Boost

Hit Korean RPG Lost Ark saw a sizable boost on Twitch last week, with Amazon announcing their plans to bring the game to the West. Let's take a look at its numbers:
1.1 Million Hours Watched

6,943 Average CCV

34,963 PeakCCV

24,605 Hours Broadcast (Airtime)

146 Average Channels Live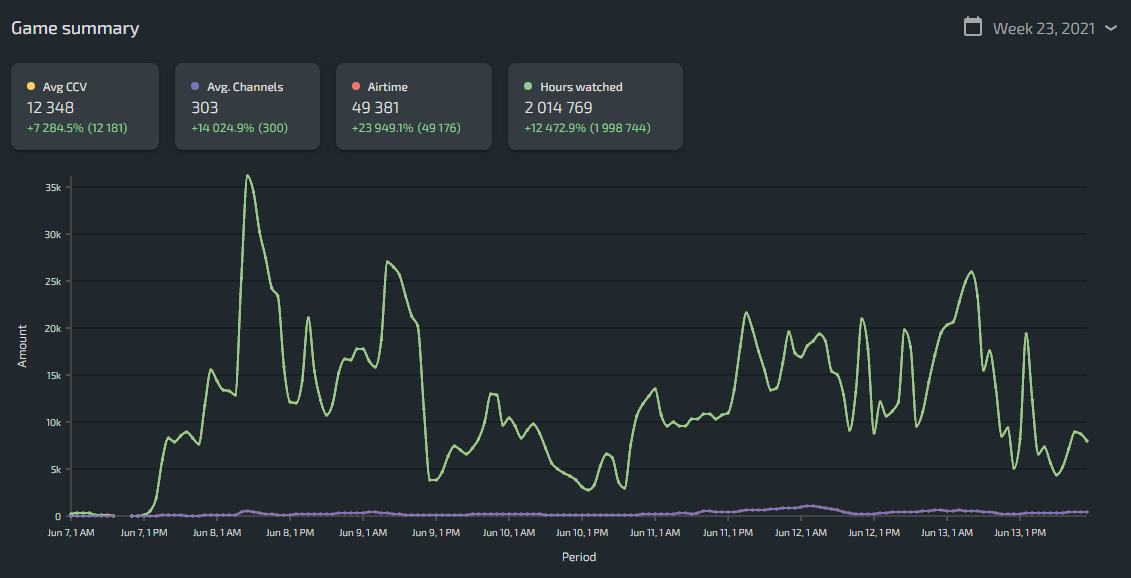 The raw numbers can be a touch deceptive here as there has been a sizable viewership increase. If we take overall changes into account, we can see that Hours Watched was up 31%, while Airtime only increased by 1.5%. This means there were a ton more viewers interested in the game, but very few streaming it, since it's not available in the West just yet.
This shows that there is great interest in Lost Ark and it's very likely to spike even further with a Western release coming in Fall 2021.