Insights
Lurkit's Last Week in Gaming: Tribes of Midgard, The Ascent, and more
Check out the biggest changes in gaming and Twitch viewership this week!
---
July came to an exciting end in the gaming world, with three big new releases shaking things up. We also saw continued movement in the eternal MMO struggle on Twitch, as well as much more.
Let's take a look at some of the most notable gamer performances on the platform last week.
Tribes of Midgard Tops New Releases

The new survival game Tribes of Midgard topped the new release pile last week on Twitch. It was the most-watched new release, drawing quite an audience. Let's take a look at some of its numbers.
2.5 Million Hours Watched

16,596 Average CCV

90,610 Peak CCV

47,456 Hours Broadcast (Airtime)

304 Average Channels Live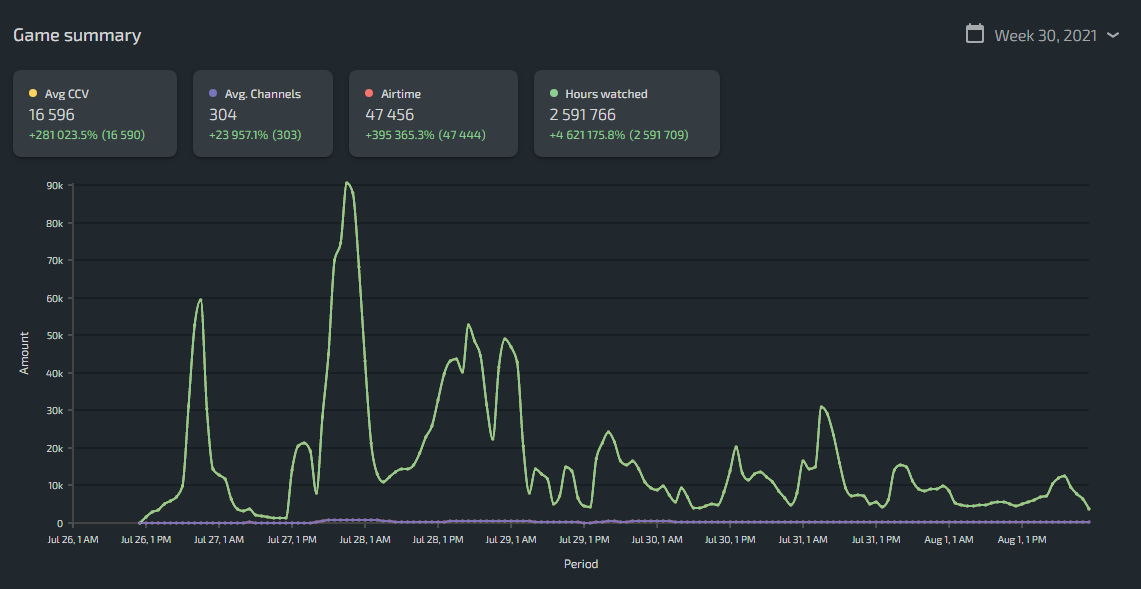 All in all, this definitely spells for a strong launch. Clearly, there's a lot of interest in the game, although viewership did start slowing down towards the end of the week. The biggest question will be how well the game can do in the long term on Twitch.
The Ascent Sees Strong Launch

Another new launch came in the form of Cyberpunk RPG, The Ascent. It came in to fill a gap many players may have felt after Cyberpunk 2077's uninspiring launch, and it seems to have resonated fairly well.
720,000 Hours Watched

6,404 Average CCV

37,534 Peak CCV

26,995 Hours Broadcast (Airtime)

240 Average Channels Live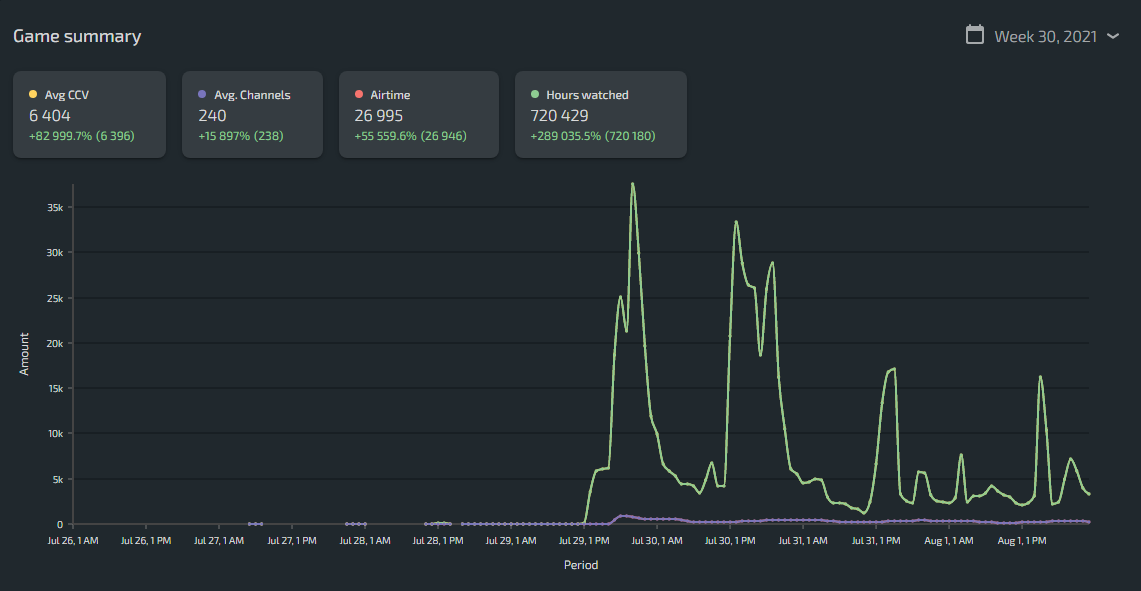 The number's make it one of the weaker launches of the week, but the game definitely still performed well. It's also important to consider it released on July 29, meaning this is just a few days of data, and it could very well gain steam over the upcoming week.
The Ascent is definitely another game to keep an eye on and see how well it can do in the medium to long term.
Chernobylite's Unique Experience Pays Off

The third new release of the week was Chernobylite, an interesting RPG, horror, and time travel hybrid game. It features some very unique gameplay elements, which seem to have drawn in a crowd. Let's take a look at how it did on Twitch:
959,222 Hours Watched

5,732 Average CCV

38,789 Peak CCV

9,178 Hours Broadcast (Airtime)

55 Average Channels Live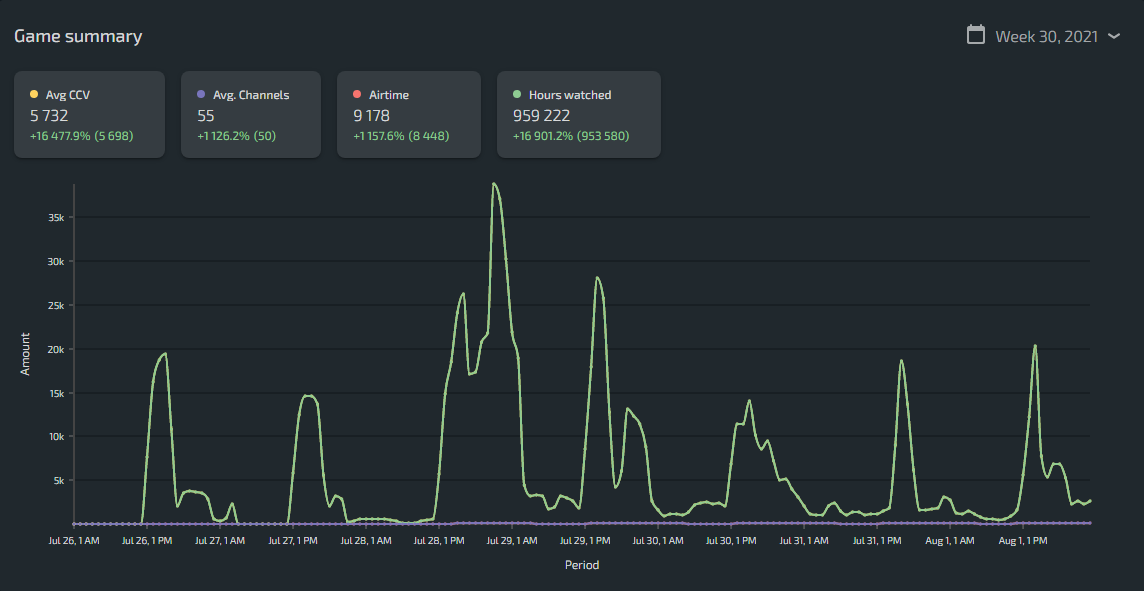 Again, the launch numbers were very strong. In fact, Chernobylite may have technically even been the best launch of last week. It drew in almost 1 Million Hours Watched, while having a ton less Airtime than Tribes of Midgard and The Ascent - this means there were fewer streamers playing, but a lot more people watching.
However, you do need creators streaming the game to be successful on Twitch, so it remains to be seen how the game does once the current favorites finish the story.
Lost Ark Continues Growth With New Content

Moving onto a Twitch classic, Lost Ark saw a huge boost in popularity over the last week. This likely comes as a result of a new content release, but still propels the game up the Twitch rankings.
4.4 Million Hours Watched

26,400 Average CCV

81,996 Peak CCV

48,231 Hours Broadcast (Airtime)

287 Average Channels Live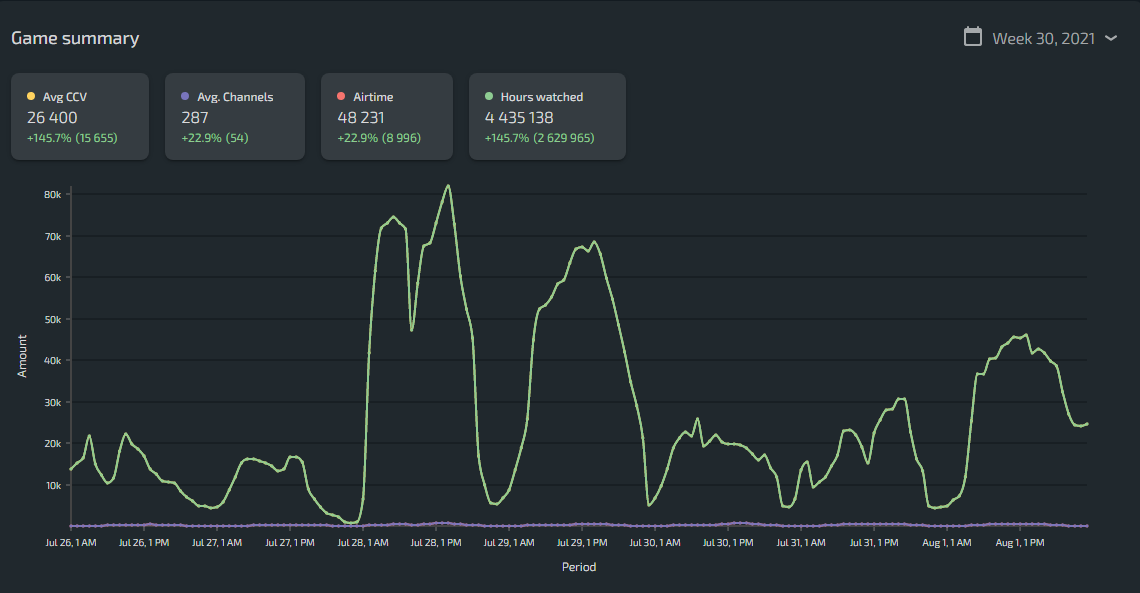 The biggest changes here come in terms of raw viewership. Hours Watched and Average CCV both saw a huge boost, rising 145.7% last week! This comes alongside an increase in Airtime of 22.9%.
Overall, there was a huge increase in interest in Lost Ark, but the graph points to a slowing of interest over time. As the increase was due to a new content release, this is somewhat expected, but it will be interesting to see how much of the increased viewer base the game can retain.
New World Loses New Game Hype

Last but not least comes one of the biggest titles in recent history, New World. The game entered beta in mid-July and instantly dominated Twitch. However, it has slowed down since and seems to be losing its shine. Let's take a look at the numbers:
12.8 Million Hours Watched

76,614 Average CCV

137,604 Peak CCV

276,787 Hours Broadcast (Airtime)

1,648 Average Channels Live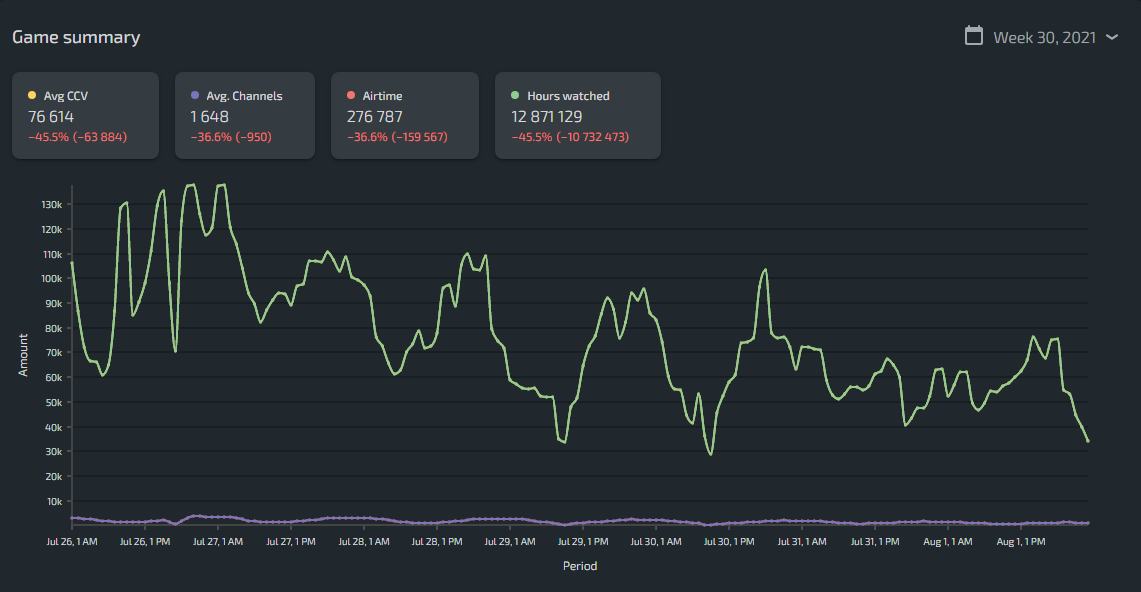 As New World is one of the biggest games on Twitch, its numbers are still very impressive. However, there's been a definite drop-off in interest. Hours Watched is down by 45.5%, while Airtime has dropped by 36.6%
This points to less interest from viewers and streamers alike, with both dropping off. There are a few reasons for this - the game is in beta, so there are limited things to do. Additionally, the beta is ending very soon, so creators and viewers alike could be moving on.
The real test for New World will be how it can perform on release and it definitely won't want to follow this trend after the game's anticipated launch at the end of August.
All the data found here has been collected and displayed by Lurkit. If you want to learn how you can accurately track game data on Twitch and make use of Lurkit's wide range of aggregated viewership data, you can schedule a chat, or contact us through the links at the bottom of the page!