For Creators
Lurkit's Last Week in Gaming: Twelve Minutes, Road 96, more
Check out the biggest changes in gaming and Twitch viewership this week!
---
We saw another explosive week on Twitch last week! Three new titles hit the platform, while some old favorites began to gain momentum again.
Let's take a look at some of the most notable game performances on the platform last week.
Indie Game Twelve Minutes Tops New Releases

The biggest news of last week is no doubt Twelve Minutes - an indie puzzle mystery game created by a one-man team. Let's take a look at how it faired on Twitch:
5.6 Million Hours Watched

48,718 Average CCV

353,344 Peak CCV

42,709 Hours Broadcast (Airtime)

370 Average Channels Live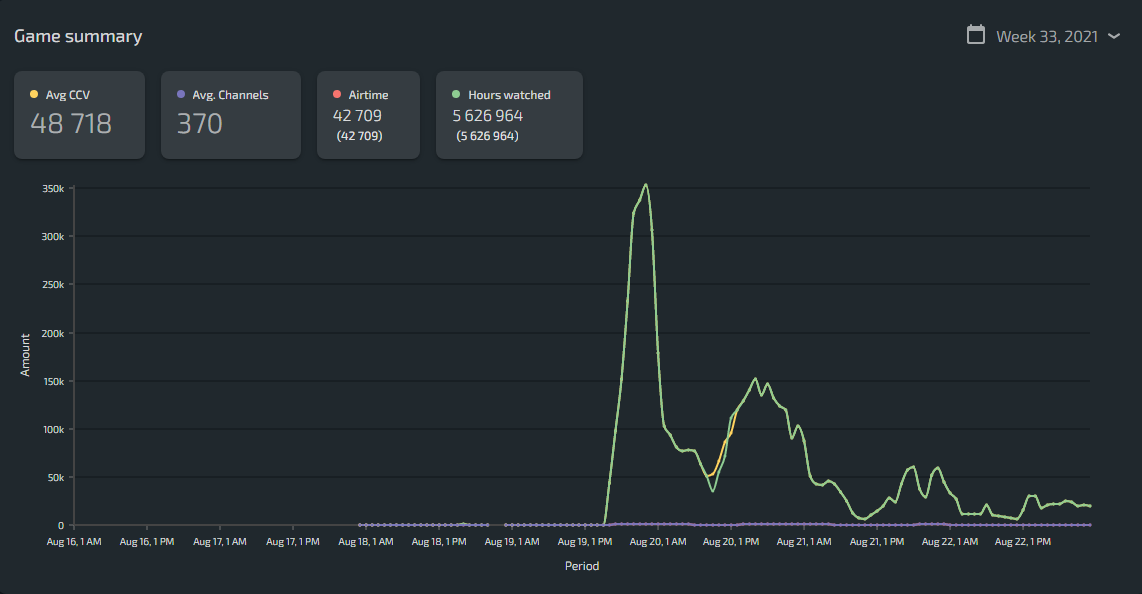 Twelve Minutes blew up on Twitch shortly after release and was one of the most popular games overall last week, alongside being the biggest launch.
It drew in an impressive 5.6 Million Hours Watched, as well as a massive 353,344 Peak CCV. This beats out even some triple A launches, showing that sometimes all it takes is a great game to make waves.
Humankind Sees Solid Start

Another popular new release last week was Humankind - a game similar to Meier's Civilization. It was set to be the biggest launch of the week, with the backing of Sega creating headlines upon headlines as it neared its anticipated launch.
2 Million Hours Watched

13,228 Average CCV

101,640 Peak CCV

25,068 Hours Broadcast (Airtime)

158 Average Channels Live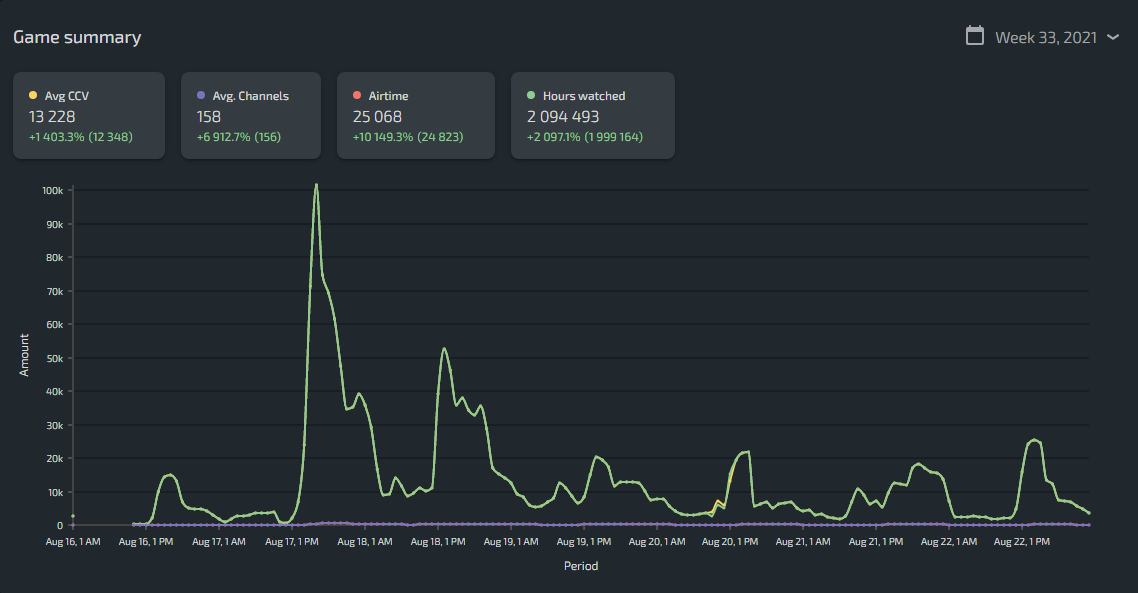 However, it was beaten out by Twelve Minutes by quite a margin, as Humankind managed 2 Million Hours Watched and a 101,640 Peak CCV.
The numbers are definitely strong, however, the game has lacked a punch on Twitch that we see from usual Triple A releases. This could be due to a number of reasons, such as lack of marketing, a smaller market, or even the game's price tag putting viewers off of it completely. It'll definitely be interesting to see how the game does going forward, as it will likely see a lot more content added in the future.
Road 96 Drives Straight to The Top of Twitch

Last but not least of the new launches of last week comes in the form of DigixArt's Road 96 - another Indie title that made its mark on Twitch. Let's take a look at the game's numbers.
1.8 Million Hours Watched

11,743 Average CCV

84,400 Peak CCV

13,671 Hours Broadcast (Airtime)

85 Average Channels Live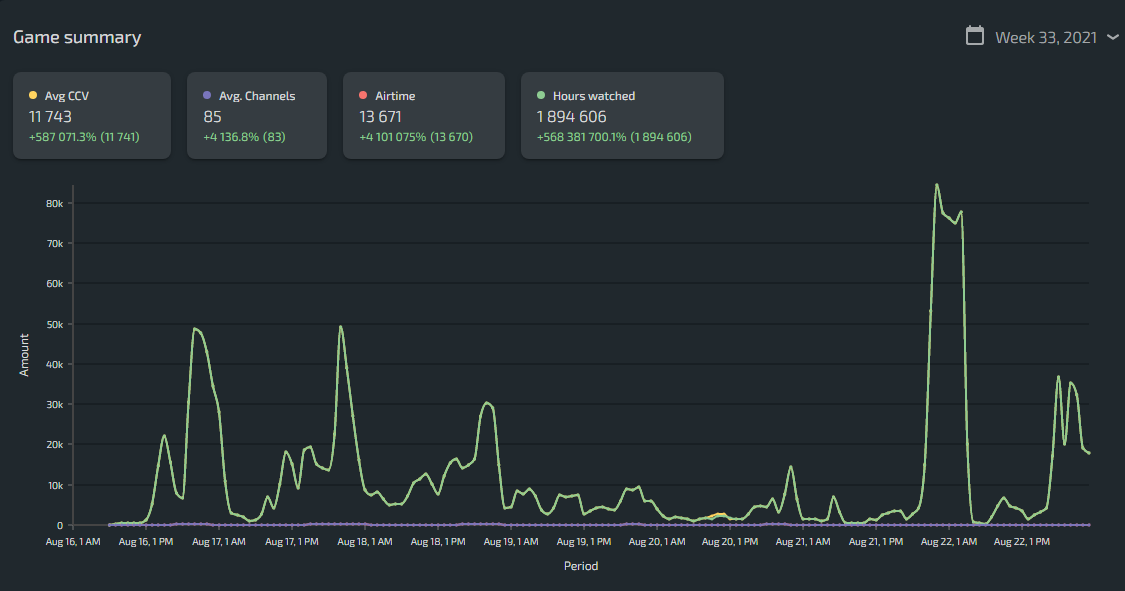 All in all, it was a great week for Indie games last week. The numbers here look very strong and there's a clear interest in the game.
Interestingly enough, the peak for Road 96 came on August 22 - six days after release. Usually, titles like these start off strong and slow down afterward, so it's very likely some word-of-mouth promotion brought in more streamers and the game still seems to be going strong.
Minecraft Bounces Back into Top Five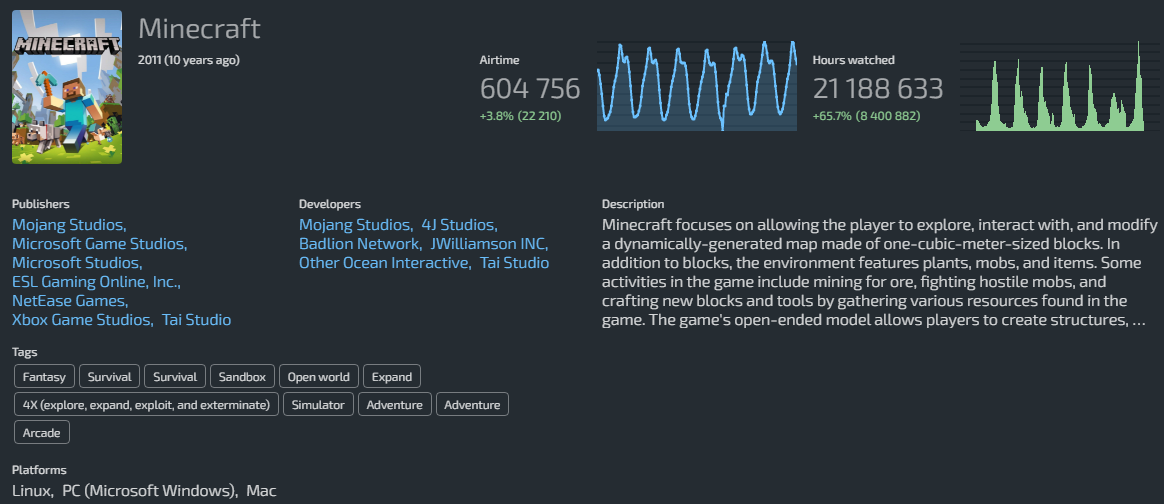 Going back to classic Twitch titles, Minecraft saw a huge viewership increase, bringing it back into the top five on the platform:
21 Million Hours Watched

126,499 Average CCV

430,228 Peak CCV

604,756 Hours Broadcast (Airtime)

3,610 Average Channels Live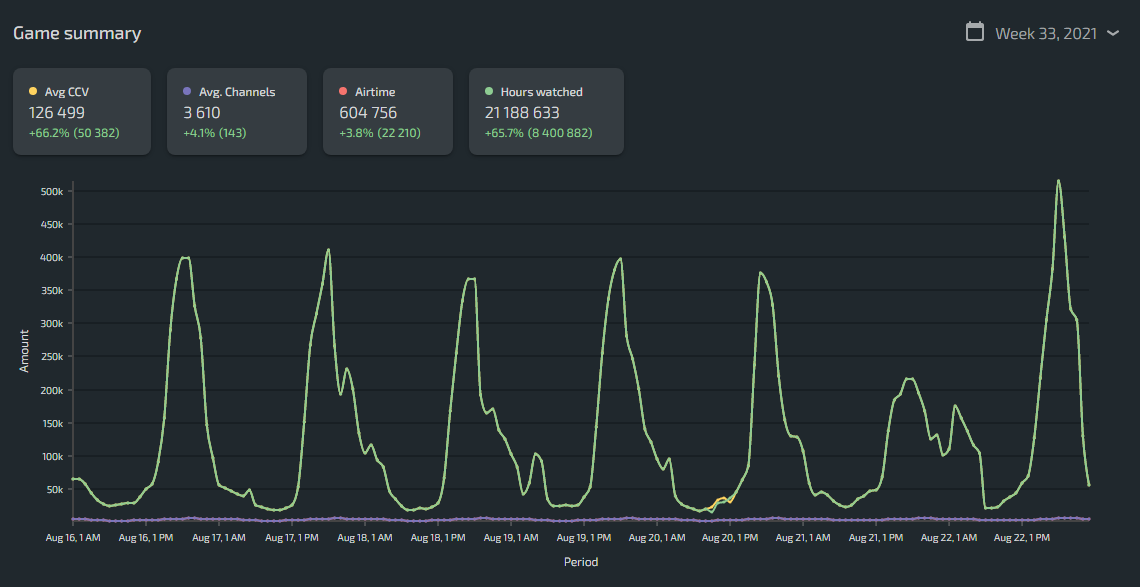 As expected for Minecraft, these numbers are huge! However, the most impressive details are in the viewership shift from last week. Hours Watched saw a 65.7% increase, while Average CCV rose by 66.2%. This came alongside just a 3.8% increase in Airtime, meaning that there were a ton more viewers tuning into Minecraft, while stream time stayed relatively the same.
This could mean another rise for the game as it continues to dominate Twitch, or another viewership cycle, where streamers jump into Minecraft for a short time, then move on again - only time will tell.
Rainbow Six Siege Explodes With Esports Return

Another classic title that saw success was Rainbow Six Siege. The shooter saw one of the biggest viewership shifts on the platform, catapulting up the Twitch rankings. Let's take a look at its numbers:
6.5 Million Hours Watched

39,287 Average CCV

127,294 Peak CCV

153,163 Hours Broadcast (Airtime)

914 Average Channels Live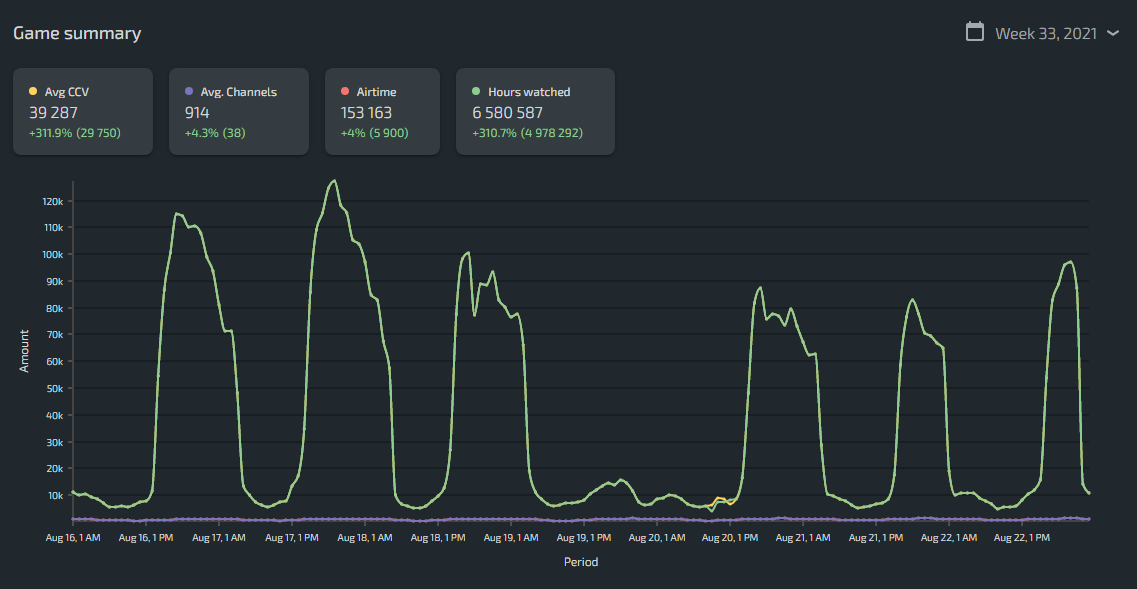 Again, the juicy details are in the viewership shifts. Hours Watched and Average CCV both massively improved - rising by 310% and 311% respectively. Meanwhile, Airtime only rose by 4%, which means that a ton more people tuned in, while there wasn't that much new streaming action.
However, this comes as a direct result of the game's Esports scene, as the Six Major took place over last week. This means it's very likely to be just a temporary boost to the game's audience on Twitch, but does go to show the massive popularity of its Esports scene.