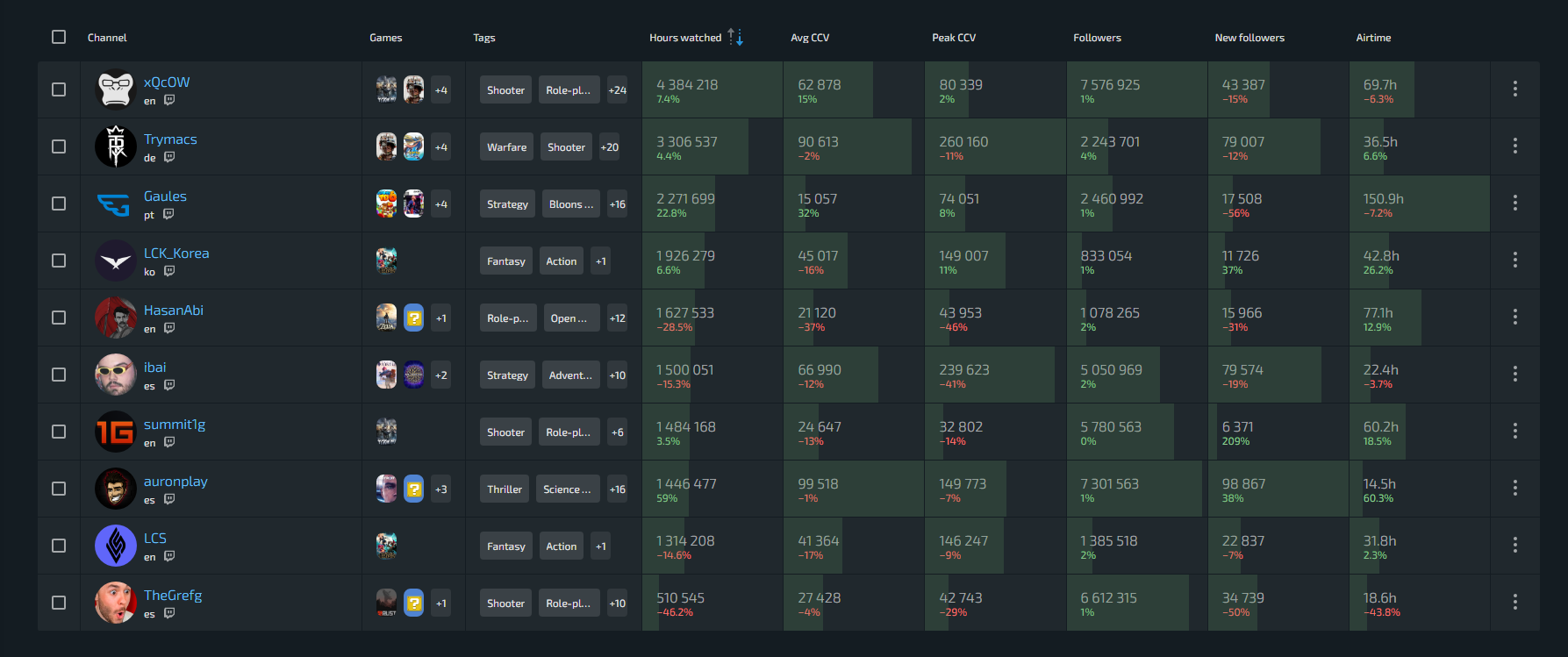 February kick off with a bang as Twitch viewership continues to impress and we see a shake-up in the top 10 this week. Record setter TheGrefg returns to the top 10, xQc continues his reign at the top, we see an interesting shuffle in the Esports world, and signs point to a change in overall Twitch viewership culture.
Let's take a look at some of the most interesting numbers behind this week's top 10 streamers.
International streams dominate the top 10
One of the most interesting stats coming out of this week is the rise of international streams, which hold 6 of the top 10 places, and 3 of the top 5 in terms of hours watched.
Despite being a platform with an abundance of English-speaking streamers and viewers, the overall viewership shift seems to be trending towards other languages, with Spanish being the most popular alternative to English. Let's take a look at some of the numbers below:
Non-English streams make up 10.8 Million hours watched out of the total 20.4 Million in the top 10.
Spanish streamers are the most popular non-English broadcasters, taking 3 of the top 10 slots.
Trymacs rakes in over 3.3 Million total hours watched, despite being the sole German in the top 10.

Non-English broadcasts definitely take the cake this week, adding up to over 50% of the viewership, with four different languages each generating over 2 Million hours watched. The most impressive is definitely Trymacs, who comes in second on hours watched behind only xQc, but dominates this week with 90,000 average CCV and a peak CCV of 260,000.
He's joined by a trio of Spanish streamers: ibai, auronplay, and TheGrefg, who in total generate over 3.5 Million hours watched and make Spanish the most varied non-English language this week.
Meanwhile, Gaules and LCK_Korea bring in viewers on the Esports front, with Gaules being well known for his Portuguese Counter-Strike commentary, while LCK_Korea is the official Korean Twitch broadcast for the Korean League of Legends league.
All in all, there's a huge trend toward non-English viewership and it will be interesting to see how long it will continue. English is of course one of the most popular languages in the world, but there's definitely space for each country to shine with Twitch streams in their mother tongue.
League of Legends takes Esports spotlight
League of Legends created an Esports take-over this week with Dota 2 and English Counter-Strike broadcasts falling out of the top 10. Instead, League takes two spots this week, one with the rapidly growing LCK Korea broadcasts, and one for the kick-off of the American LCS. Let's take a look at the numbers:
3.2 Million combined Hours Watched - with LCK bringing in 1.9 Million, an 6.6% increase from last week.
149,773 Peak CCV - again from the LCK, which is an 11% increase from last week.
45,017 highest Average CCV - from the LCK, this time recording a 16% loss.

The Korean LCK broadcast is clearly a fan favorite in League of Legends, which helps support the rise of international streams. Despite there being many competitive platforms in Asia, viewers from Korea still seem to be using Twitch for competitive League of Legends, and with growing numbers.
Surprisingly enough, the Korean stream even tops the kick-off season of the North American LCS, which is supposed to be Riot Games' headline league.
xQc remains on top with steady growth
Of course, we can't talk numbers without mentioning xQc. The Canadian continues his impressive growth this week, retaining the #1 spot in hours watched with his variety of broadcasts.
Let's take a quick look at his numbers:
4.3 Million Hours Watched - a 7.4% increase over last week.
62.878 Average CCV - a 15% increase over last week.
80,339 Peak CCV - a 2% increase over last week.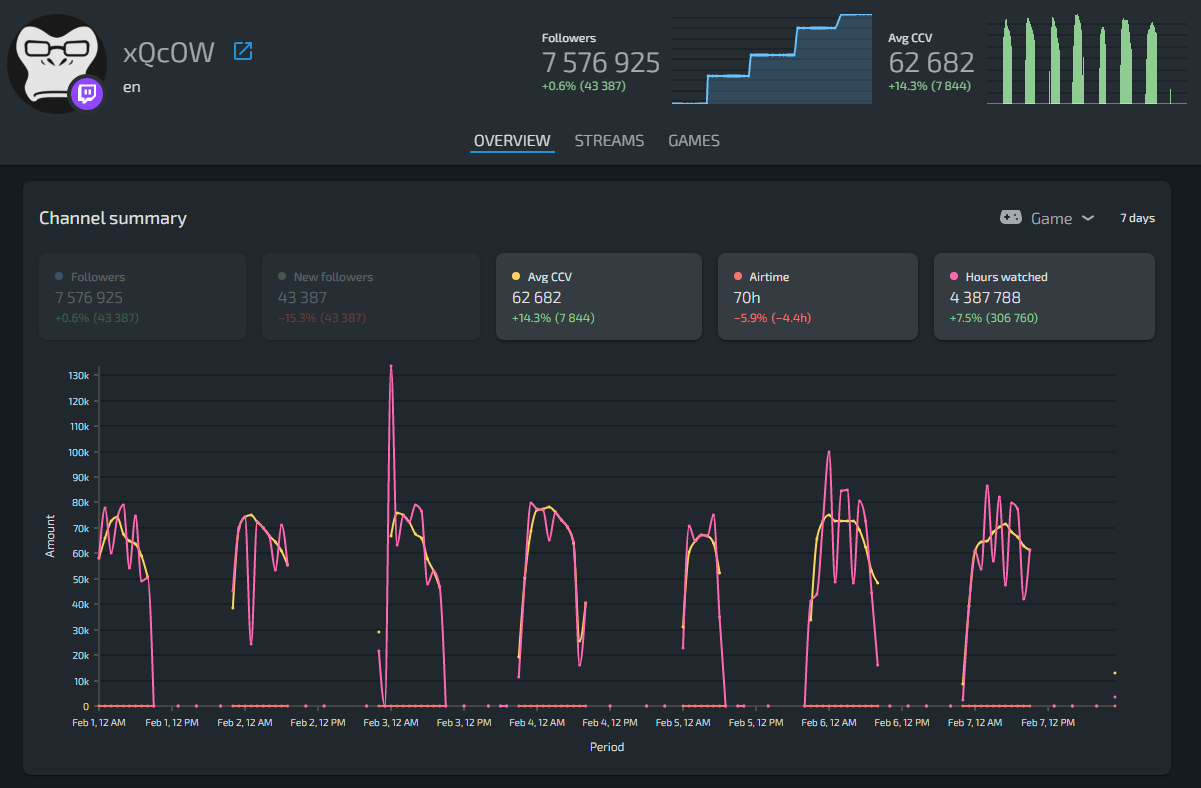 As we can see, it's a slow but steady climb for xQc, who remains as the 'king of Twitch' this week, and likely for weeks to come. With over 1 Million more hours watched than second-placed Trymacs, xQc seems like he'll remain on top for a while, although, it will be interesting to see if he can be rivaled in the coming weeks.