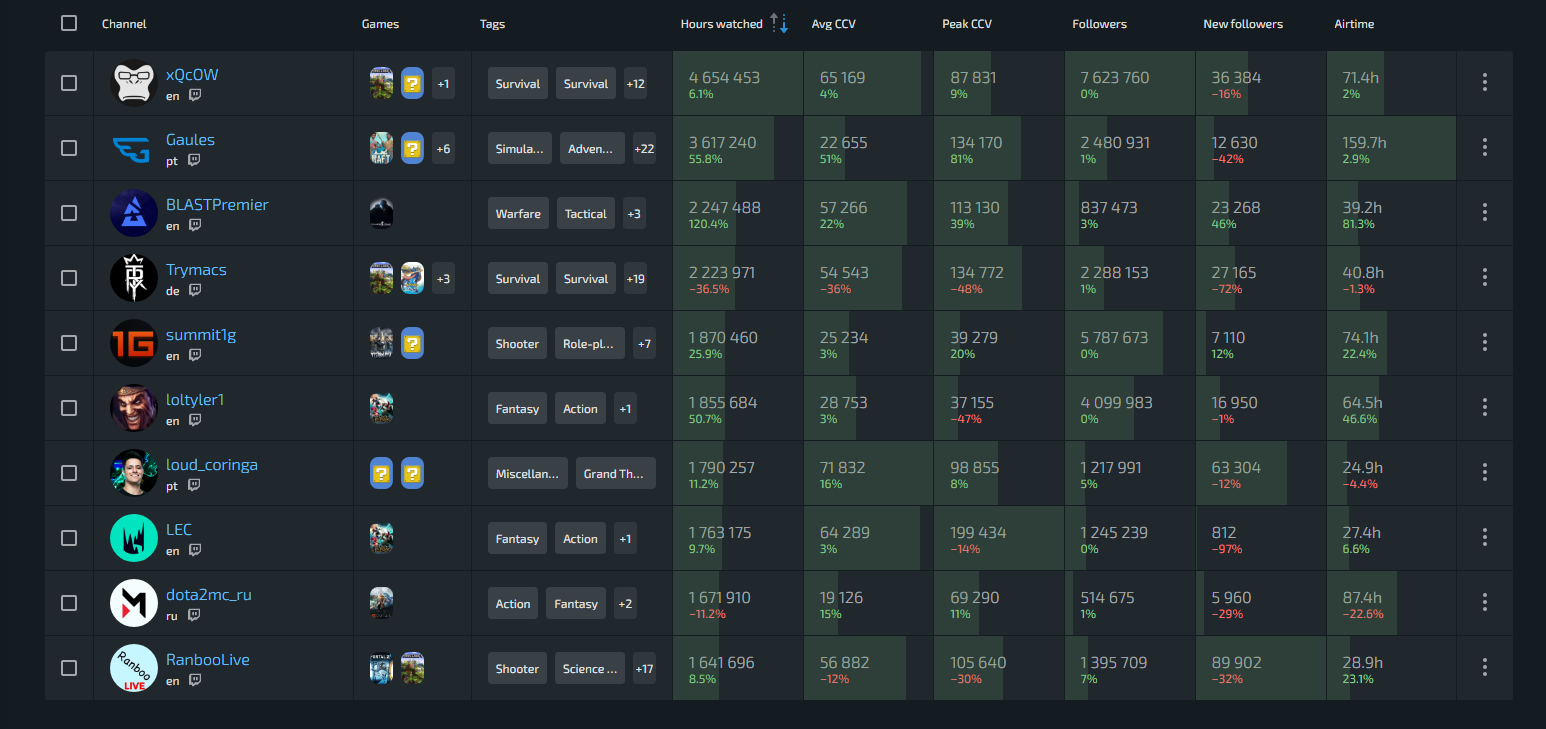 We see a bit of a shakeup on Twitch in mid-February, as Esports takes center stage and viewership shuffles around quite a bit. However, things do stay consistent at the top-end, as xQc unsurprisingly keeps his crown, while Gaules and Trymacs remain the most consistent competitors.
Let's take a look at some of the most interesting numbers behind this week's top 10 streamers.
BLAST elevates Twitch Esports viewership
This week saw Esports take the Twitch spotlight, with Counter-Strike leading the way thanks to BLAST Premier Spring, and the European League of Legends Championship finally entering the top 10.
Dota 2 also returned to the top 10 after a week of absence, with the Russian stream generating the highest viewership. Let's take a look at some of the Esports numbers this week:
In the top 10, Esports combined for over 9.1 Million Hours Watched
Counter-Strike lead the way with over 5.6 Million Hours Watched
LEC topped the week's Peak CCV with 199,434 viewers

The numbers point to an all-around success for Esports, with BLAST and Gaules showing the huge viewership numbers of CSGO. This was one of the first weeks in the year that saw Counter-Strike action throughout the whole week, and we're likely to see more of the game in the top 10 as tournaments continue.
Meanwhile, the LCK was missing from the top 10 this week as the league is on a two-week break, which could explain the sudden rise of the LEC, as fans looked for alternative LoL action. It'll be interesting to see the numbers once the LCK returns.
xQc continues dominance
As is to be expected, xQc was once again found at the top of the hours watched chart and continues to be a Twitch powerhouse. He again found slight growth over the week and there looks to be no limit to his potential.
Let's take a look at xQc's numbers this week:
4.6 Million Hours Watched - a 6.1% increase over last week.
65,169 Average CCV - a 4% increase over last week.
87,831 Peak CCV - a 9% increase over last week.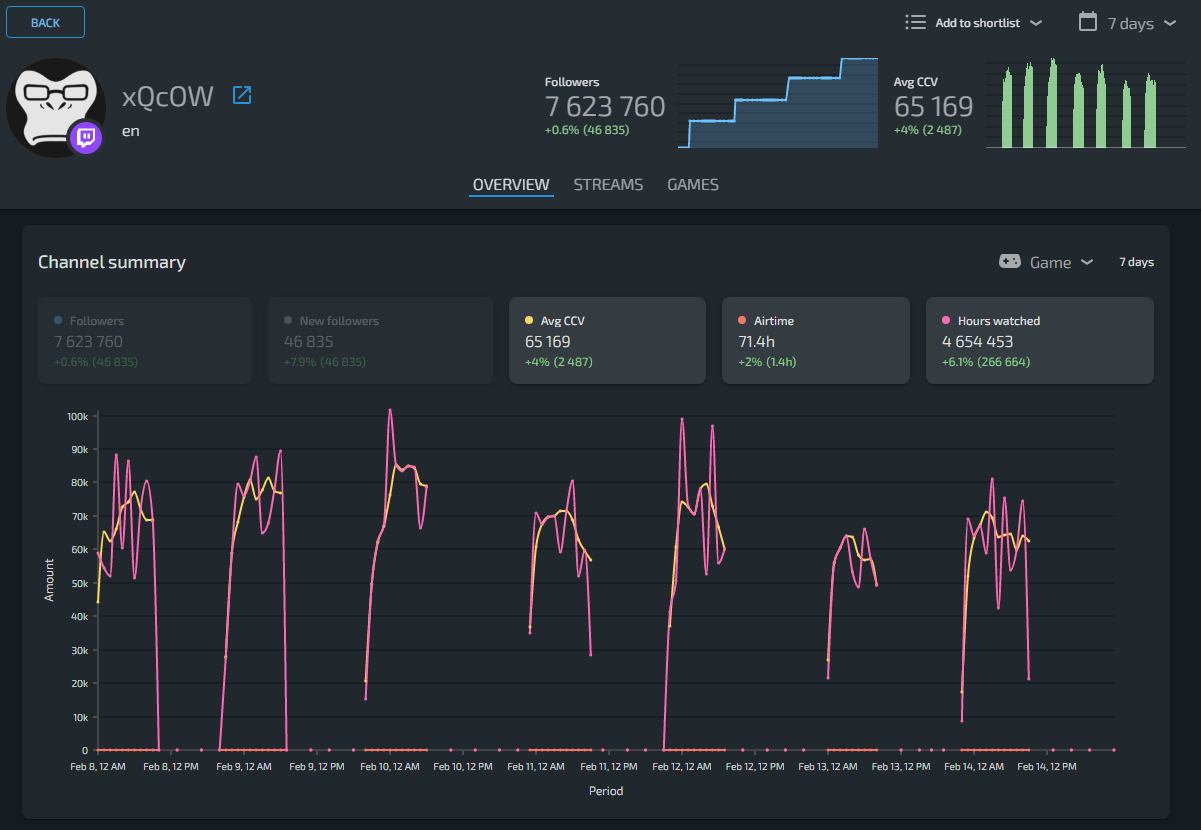 xQc once again finds himself with over 1 Million Hours Watched more than his closest rival and doesn't look to be getting dethroned anytime soon. However, with Gaules capitalizing on CSGO action, one big event could be all it takes to close the gap.
Tyler1 begins to build up steam
Tyler1 has been one of Twitch's biggest streamers for a while, dominating the League of Legends space. He took a lengthy break coming into 2021 and returned in late January.
Since then he's been building up again and already finds himself in sixth when it comes to Hours Watched. He's seen some big movement in his numbers this week, and should he continue to ramp up his hours, his massive fanbase will no doubt return - making him a possible rival to xQc.
Let's take a look at his growth so far:
1.8 Million Hours Watched - a 50.7% increase over last week
28,753 Average CCV - a 3% increase over last week
37,155 Peak CCV - a 47% decrease over last week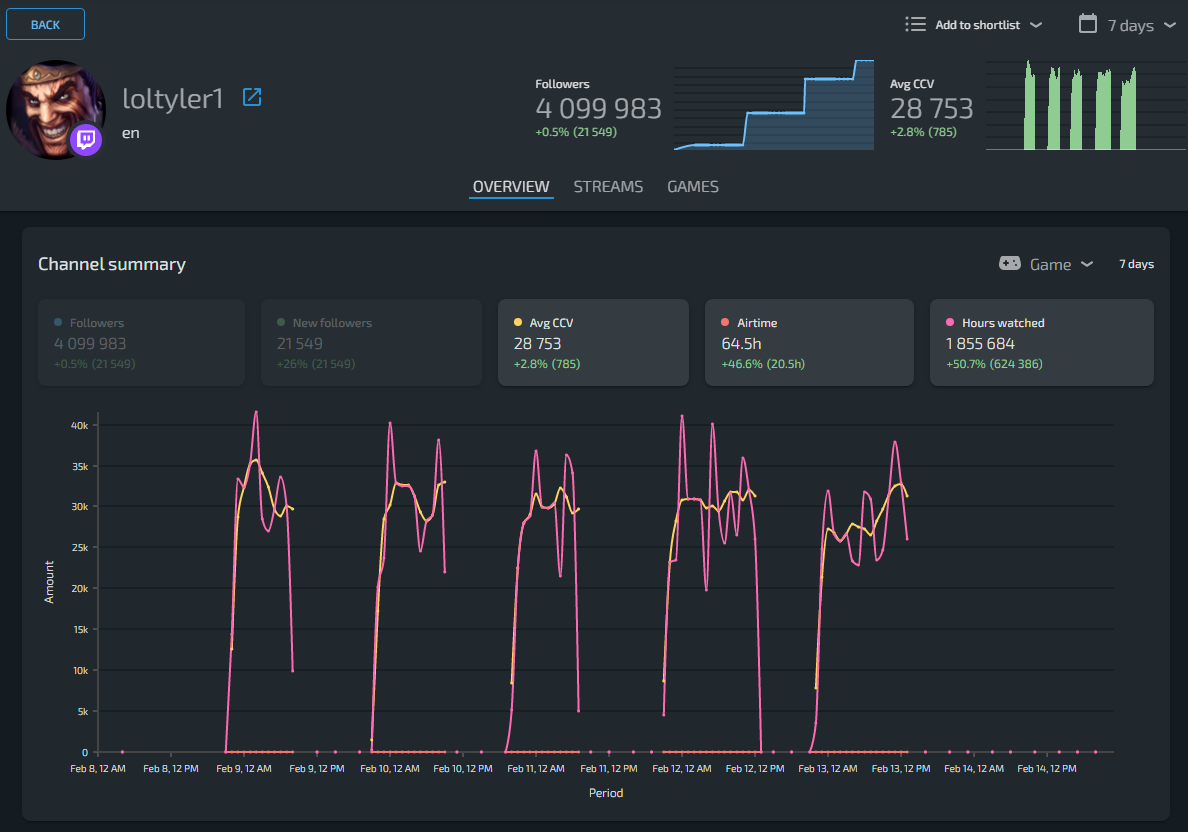 The biggest factor here is his huge increase in hours watched, which relates directly to his increased airtime this week. He's beginning to once again get into his usual hours and the consistency will definitely bring success over time.
There was a big fall in peak ccv, which seemed to come from one anomaly stream last week, rather than a consistent high. Therefore, he's definitely one to watch in the upcoming weeks.