Gaming influencers
Top Twitch gaming streamers of the week: Jan 25 - Jan 31
Check out the top Twitch gaming streamers for the week of January 25, 2021.
---

January wraps up an exciting start to 2021 on Twitch with world records being broken and communities coming together to raise a multitude of games to the top of the platform. Esports also returned in full swing, with the League of Legends offseason and the Counter-Strike winter break ending and tournaments once again kicking off.
Let's take a look at the numbers behind some of this week's biggest streamers.
xQc continues to dominate
It may not be much of a surprise to many that xQc is the overall most-watched streamer on Twitch. The Canadian has been steadily growing his stream since his retirement from Overwatch, and has even become the 'King of Twitch' in recent history, with barely anyone else being able to reach his numbers.
Just this week, xQc hit some ridiculous heights:
Over 4 Million Hours Watched

55,161 Average Concurrent Viewers

78,855 Peak Concurrent Viewers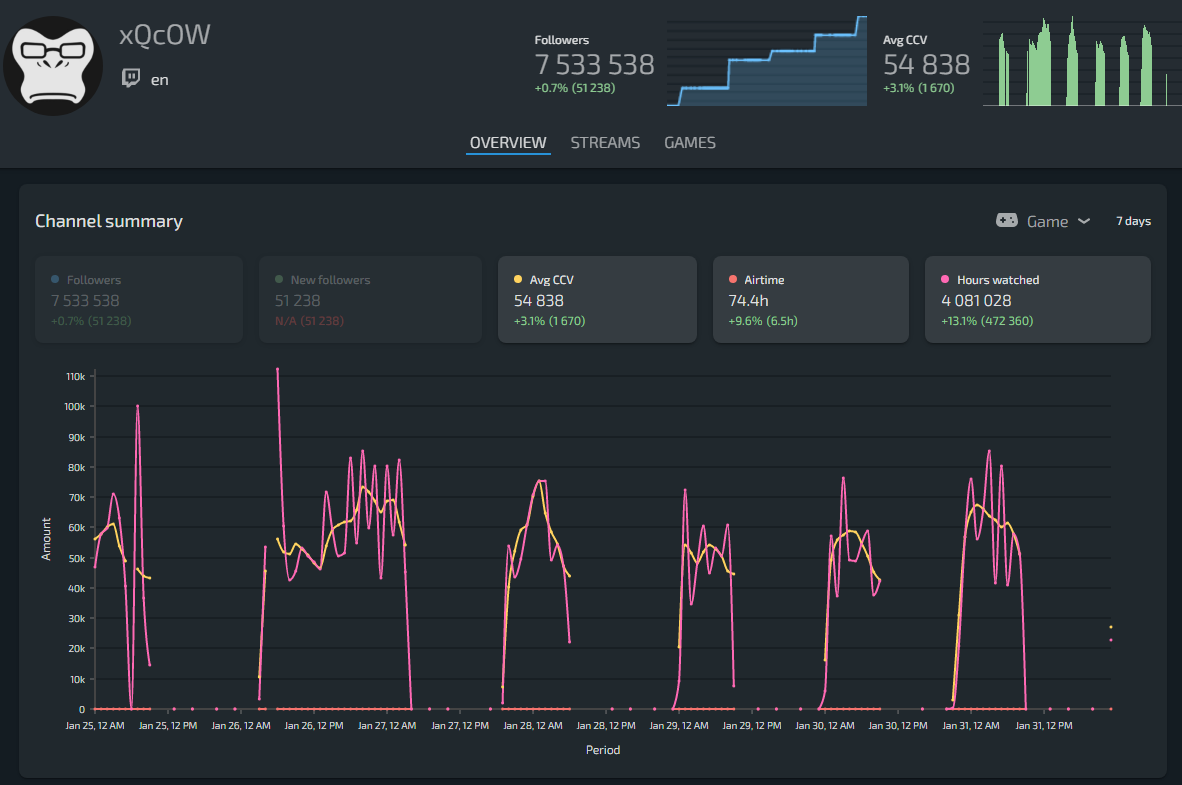 These numbers aren't the result of any special game or events, just xQc's raw viewership power. He's even been constantly switching between multiple games, showing just how strong his presence on the platform is. With such high numbers, xQc is definitely the streamer to watch next week.
Esports is back!
It wouldn't be Twitch without Esports and with even a small look at the numbers this week, it's easy to see why. Four of the top 10 streamers this week are Esports tournament streams and they're even from three different games.
Btscsgo top the esports charts with their CS_Summit event, joined by Portuguese Counter-Strike caster Gaules in seventh. Meanwhile, Dota2mc_ru and LCK_Korea make surprise entrances, being streams in Russian and Korean respectively, but still topping the English dominated Twitch scene.
Overall, Esports broadcasts combined top this week by far, showing the strength of Esports on Twitch. Here are some of the combined Twitch Esports numbers this week:
Over 7.3 Million Hours Watched

53,318 highest Average Concurrent Viewers (Surprisingly from the Korean LCK broadcast, while the English CSGO event tops out at just 14,312.

134,415 high Peak Concurrent Viewers (Again, the LCK reigns supreme, even as a Korean broadcast)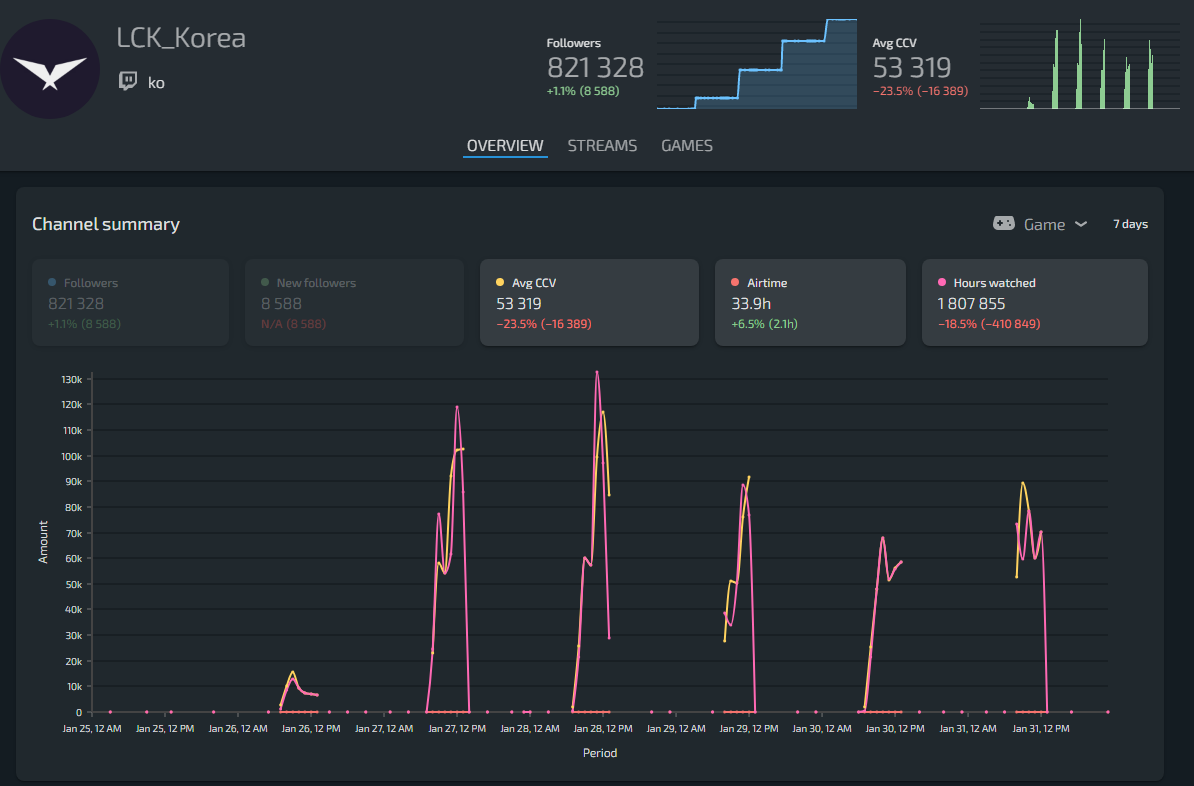 It's no surprise to see Esports up here, especially as hungry fans have finally gotten to see their favorite games return. However, it is strange to see non-English broadcasts flourishing on Twitch - a platform dominated by English speaking streamers.
This is the case due to Asian countries, specifically, having access to their own regional platforms (like Douyu in China and Afreeca in Korea) so this could be a sign of a shift in viewership in Asia. However, it could also be western fans being too lazy to find the English stream, or even a mix of both - it's too early to tell, but definitely worth keeping an eye on.