Gaming insights
Top 10 streamers of the week: March 15 - March 21
Check out the top 10 Twitch streams this week!
---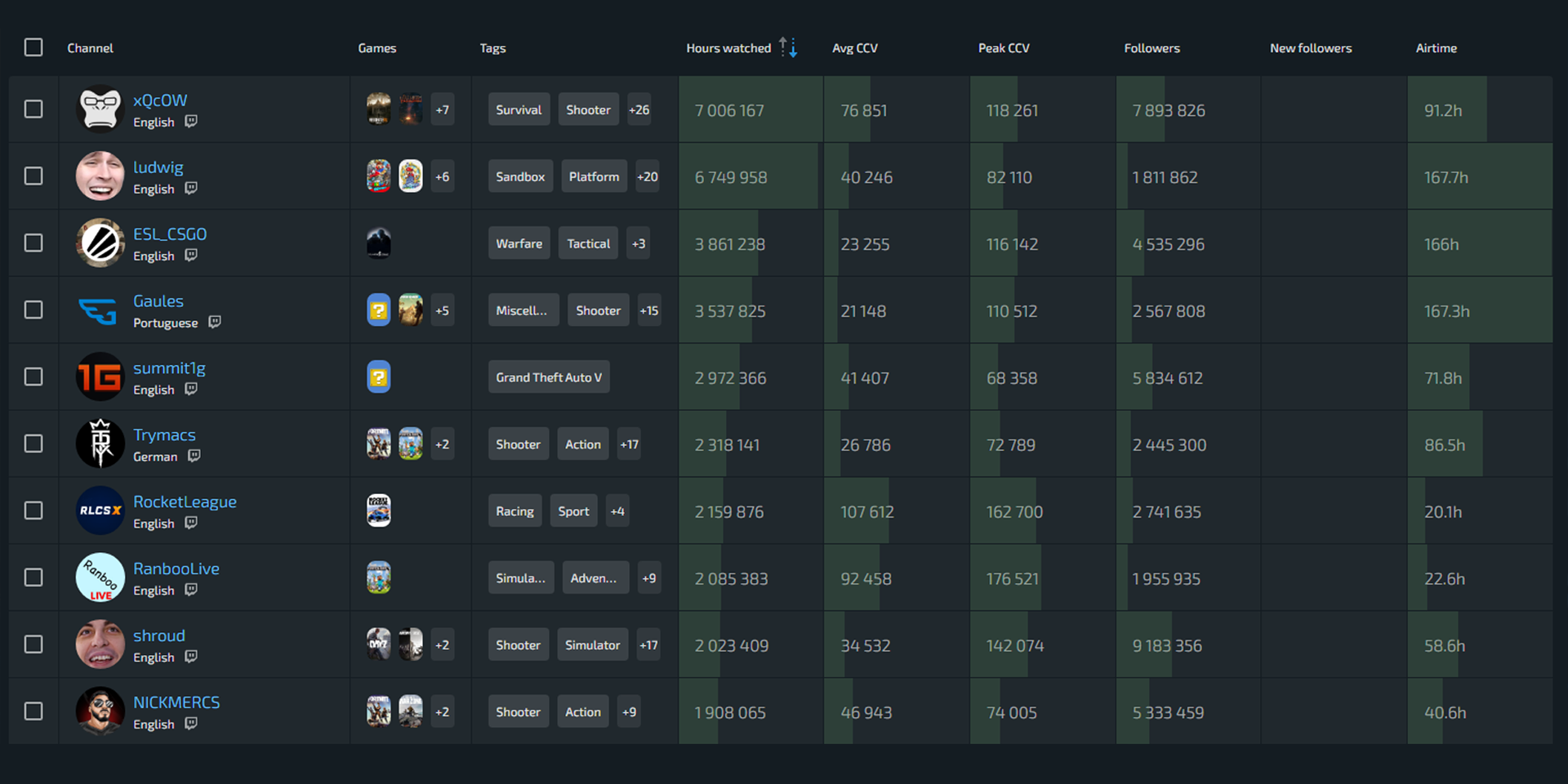 Last week on Twitch saw a huge rise in top-end viewership with xQc barely retaining the top spot as Ludwig came out of nowhere to challenge the most viewed streamer with a unique strategy. Meanwhile, Esports continued to show impressive numbers, while some old favorites began to shine again.
Let's take a look at some of the most interesting numbers behind the week's top 10 streamers.
Ludwig almost tops hours watched with 24/7 streams
The biggest shift in viewership comes with Ludwig and xQc this week, most notably with the former almost dethroning the latter with his 24/7 streams. Ludwig has decided to capitalize on just about every minute of his day in his broadcasts recently, with his streams being live all day every day, even when he's sleeping.
This has created a boon in viewership for the American, who has seen some huge numbers this week. Let's take a look at them:
6.7 Million Hours Watched
40,246 Average CCV
82,110 Peak CCV
167.7 Hours broadcast (that's just 0.3 hours offline last week!)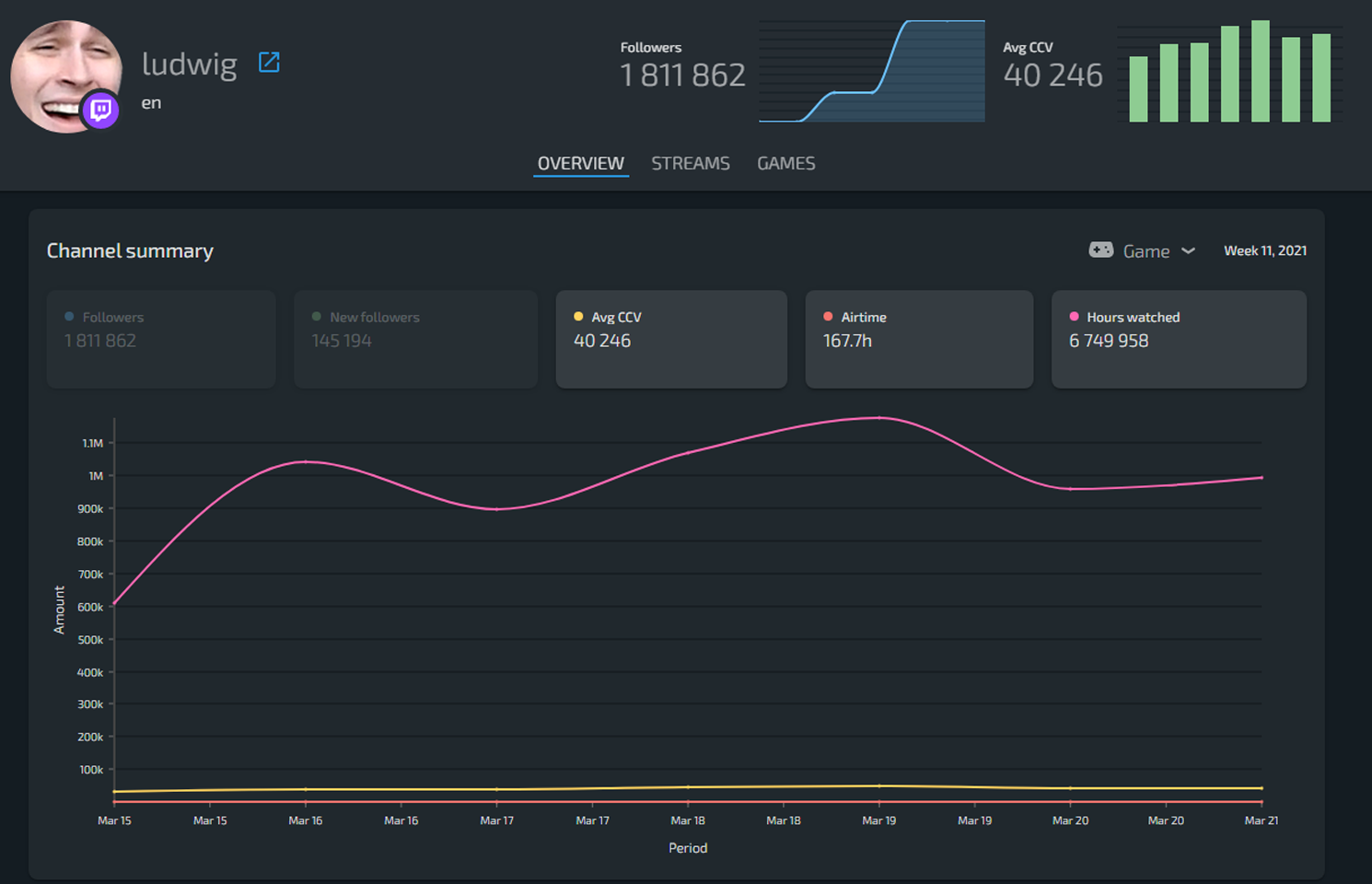 The numbers are all massive improvements from Ludwig's previous streams, where he failed to crack even the top 10. This comes from his unique streams and massive airtime, which will be very difficult to keep up for extended periods - it'll be interesting to see how much of this viewership Ludwig is able to maintain once he returns to a regular schedule.
xQc viewership explodes as he holds top spot
Despite being hit by a tough challenger, xQc still somehow managed to hold on to his top spot last week, breaking 7 million hours watched. There was a notable increase in his airtime, but nowhere near the extent of Ludwig's streaming marathon.
Let's take a look at some of his most impressive numbers:
7 Million Hours Watched
76,851 Average CCV
118,261 Peak CCV
91.2 Hours broadcast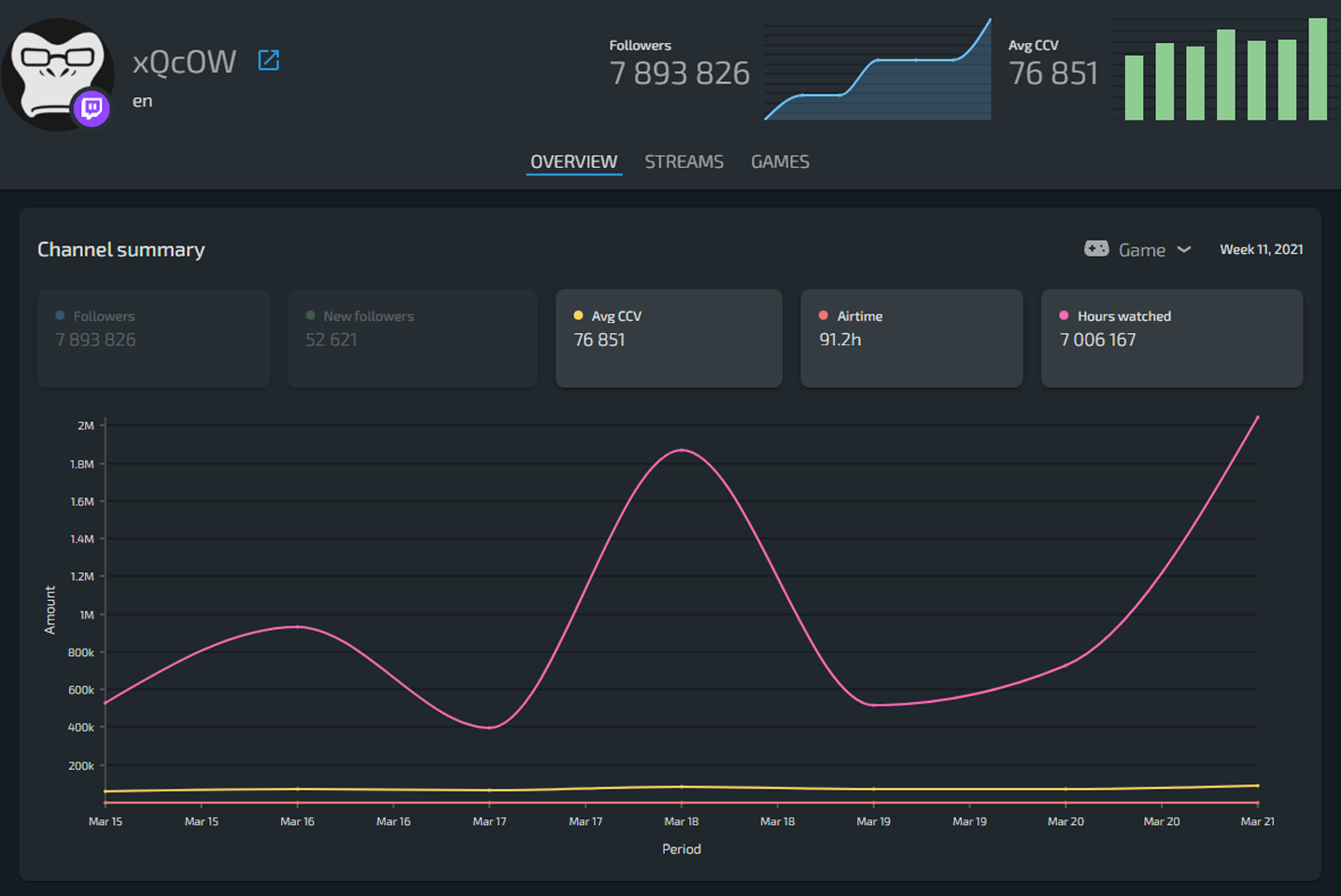 As we can see, xQc simply had stronger viewership across the board, especially when it comes to his average viewership. This is an increase on his usual numbers, coming from capitalizing on the recent GTA V trend, which has become one of the most popular games on Twitch.
Additionally, the Canadian also upped his airtime quite a bit, reaching 91 hours in one week - that's a lot of active streaming! It seems that xQc is set on keeping his crown as the most-watched streamer, and even a 24/7 broadcast can't stop him.
Esports continues to thrive on Twitch
The other key Twitch success to note is Esports. The ESL Pro League (Counter-Strike's premier competitive league) was in action all week, providing huge boosts to ESL_CSGO's and Gaules' broadcasts. They're also joined by the hugely successful Rocket League streams, with the competitive soccer-toy-racing-car hybrid being a huge hit.
Individually, the broadcasts are some way off, but combined make for some of the biggest streams this week. Additionally, in previous weeks, ESL_CSGO's broadcasts would have been enough to be most-watched, although this is not the usual Twitch week. Let's take a look at some of the numbers:
3.8 Million Hours Watched on ESL_CSGO
3.5 Million Hours Watched on Gaules
2.1 Million Hours Watched on RocketLeague
9.5 total Million Hours Watched across top 10 Esports
Highest Average CCV of 107,612 (RocketLeague)
Highest Peak CCV of 162,700 (RocketLeague)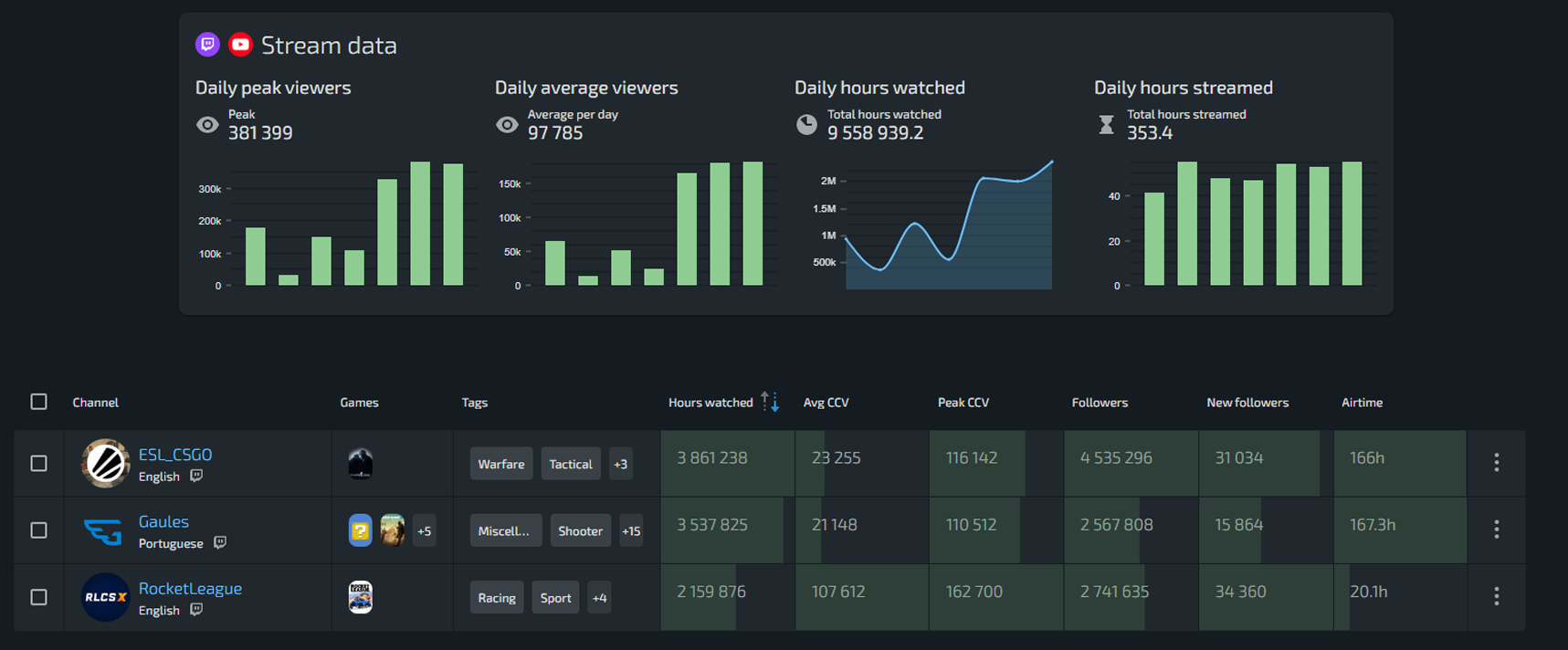 The numbers here are quite interesting. Despite having just 20 hours of airtime (compared to almost 24/7 broadcasts from CSGO and Gaules), the official Rocket League channel reached an impressive 2.1 Million Hours Watched. This is 55% of CSGO's hours watched, while broadcasting 88% fewer hours.
Rocket League also claimed the highest average CCV this week, making it the channel with certainly the highest potential, although, it's also very unlikely we'll see many more broadcast hours weekly as even their biggest events do not last very long.