Gaming influencers
Top Twitch gaming streamers of the week: April 12 - April 18
Check out the top Twitch gaming streamers for the week of April 12, 2021.
---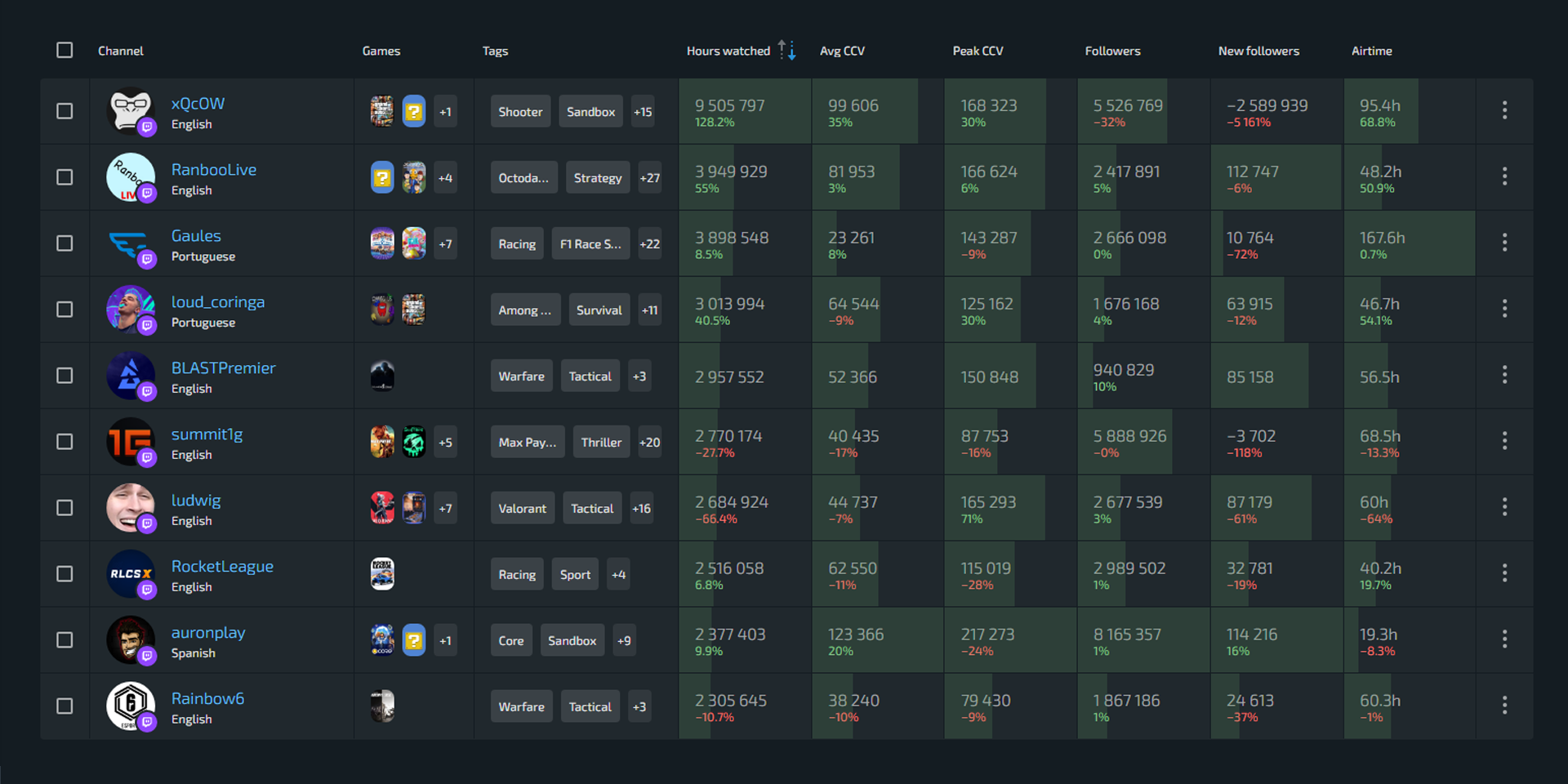 We see another shake-up on Twitch this week, with Ludwig losing his top spot after ending his 24/7 broadcasts, while xQc regained solid numbers and a few fresh faces made their way into the 10 most viewed channels of the week.
Let's take a look at some of the most interesting numbers behind the week's top streamers.
xQc returns to the top
xQc made a triumphant return to the top spot on Twitch last week, improving massively on his previous performance, dominating even Ludwig's numbers during the peak of his 24/7 broadcasts. Here are some of xQc's numbers:
9.5 Million Hours Watched

99,606 Average CCV

168,323 Peak CCV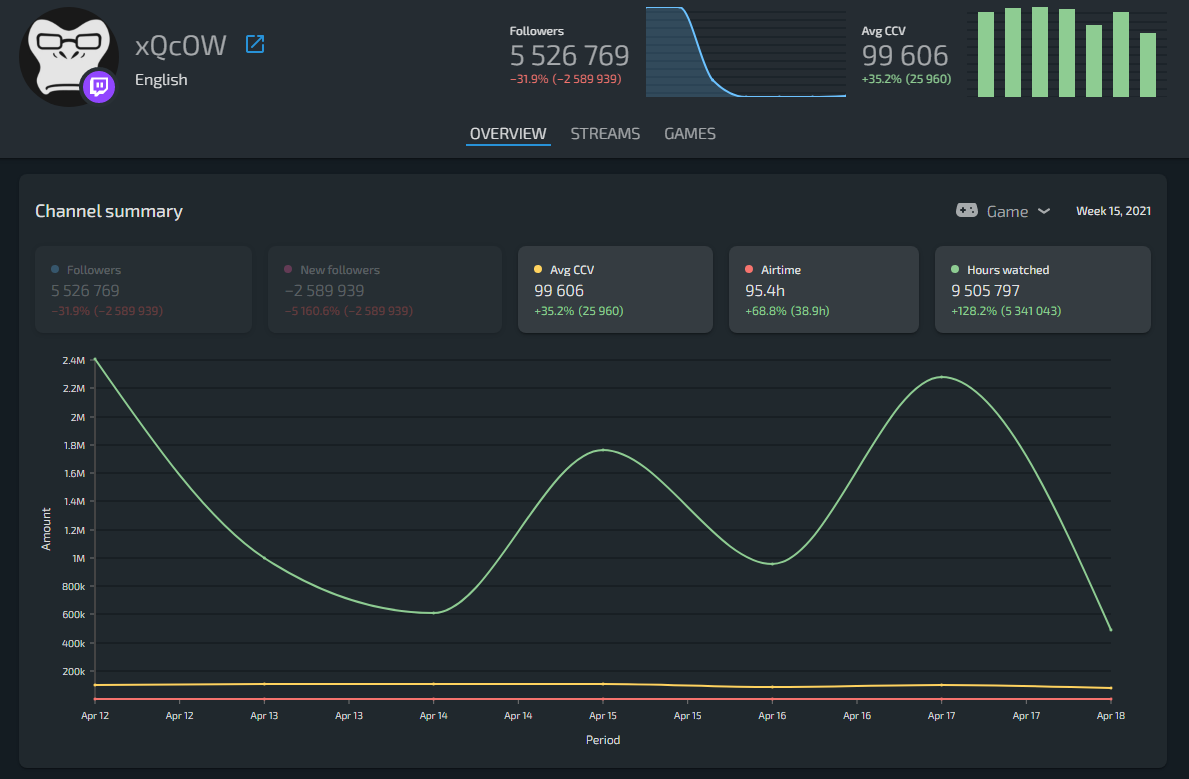 All of these numbers are much higher than the previous week's - most notably hours watched over doubled with a 128.2% increase, this was paired with a viewership rise across the board, as both average and peak viewership increased. This included a 35% rise in average and a 30% rise in peak CCV.
There were two key elements to this spike. For one, xQc increased his broadcast time by a lot last week, streaming 68.6% more than the week before. This doesn't fully account for his rise in viewership, as Ludwig ending his 24/7 broadcasts definitely saw viewers switch over to xQc. Regardless, it was still an incredibly strong week for the Canadian, who keeps beating previous viewership numbers.
Ludwig ends subathon and Twitch reign
Ludwig's reign as king of Twitch was a short-lived one, but full of excitement. The American shook up the platform with his 24/7 broadcasts, raking in millions of watch hours weekly. His viewers were able to donate to increase his stream duration, resulting in him setting an all-time high record for active subscribers at 283,066 (beating Ninja's record of 269,154!)
With his continuous broadcasts over, the streamer is no doubt due for a break and will likely be out of the game for a while. However, we can still take a look at his numbers one last time, most notably, the huge drop-off:
2.6 Million Hours Watched

44,737 Average CCV

165,293 Peak CCV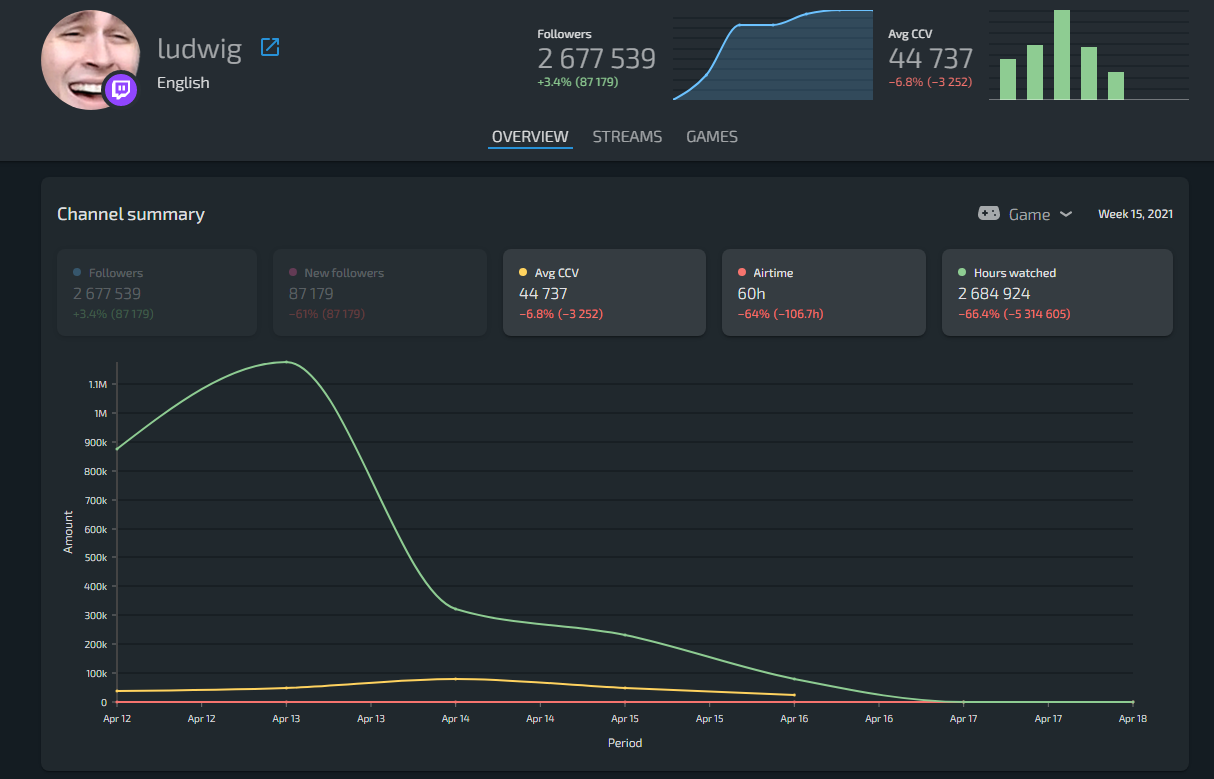 As we can see, Ludwig's numbers are far below what was his usual in March and April. Hours watched is down by 66.4%, Average CCV fell by 7%, and, of course, airtime also fell by a large portion, 64%.
However, there was one positive, with his subathon coming to an end, Ludwig generated quite a buzz. His peak viewership rose by a massive 71% as tons of viewers tuned in to see the end of a historic Twitch run.
Counter-Strike continues to dominate esports
Esports continued to maintain a strong presence on Twitch and Counter-Strike once again showed it was king. Despite featuring hundreds of events on dozens of different channels, CSGO tournaments always make their way onto the top-end of Twitch viewership.
This time, it was thanks to BLAST Premier, which dominated the esports numbers throughout the week. However, this wasn't the only esports channel to perform well, as both Rocket League and Rainbow Six maintained their top 10 spots.
2.9 Million Hours Watched on BLAST Premier

2.5 Million Hours Watched on Rocket League

2.3 Million Hours Watched on Rainbow Six

Highest Average CCV of 62,550 (Rocket League)

Highest Peak CCV of 150,848 (BLAST Premier)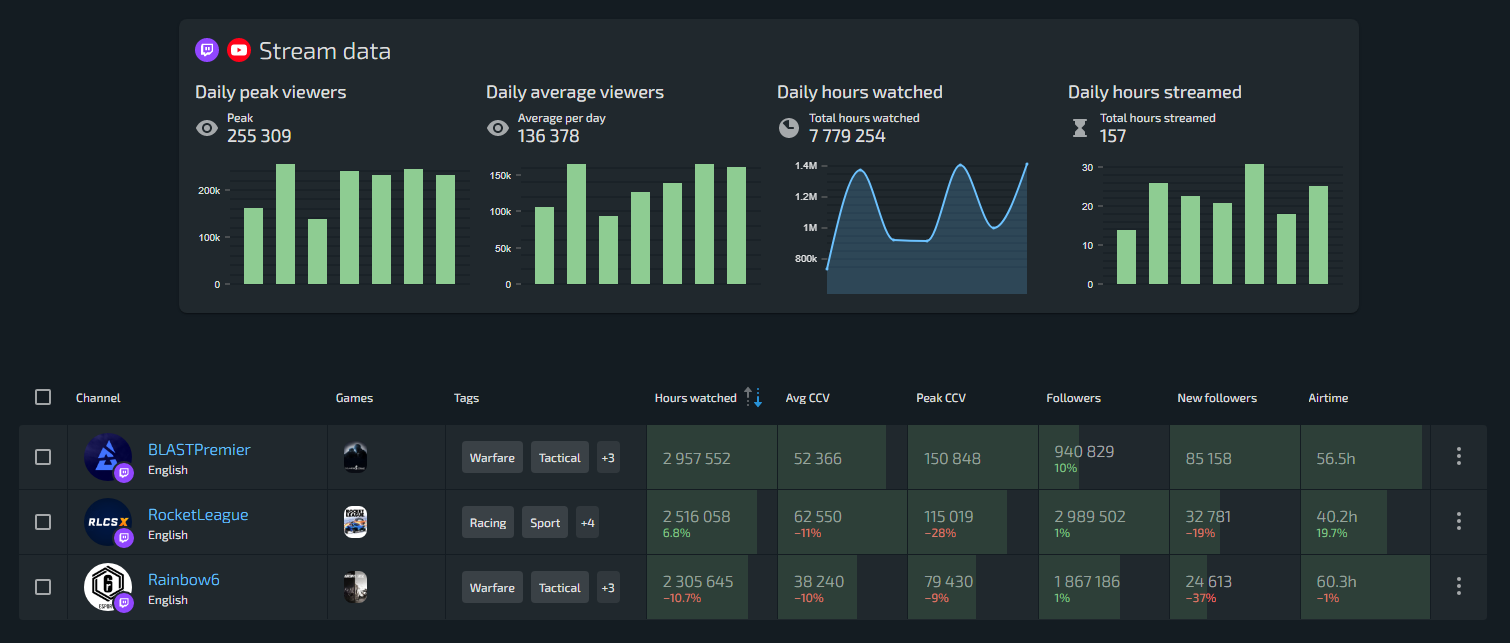 The most notable change came from BLAST entering the top 10 out of nowhere, having not broadcast for a while, but still bringing a huge audience. Meanwhile, Rocket League continued to grow and performed as expected of the rising esport, however, Rainbow Six slowed down slightly, and League of Legends disappeared as the majority of premier events came to a close.