Gaming influencers
Top Twitch gaming streamers of the week: April 19 - April 25
Check out the top Twitch gaming streamers for the week of April 19, 2021.
---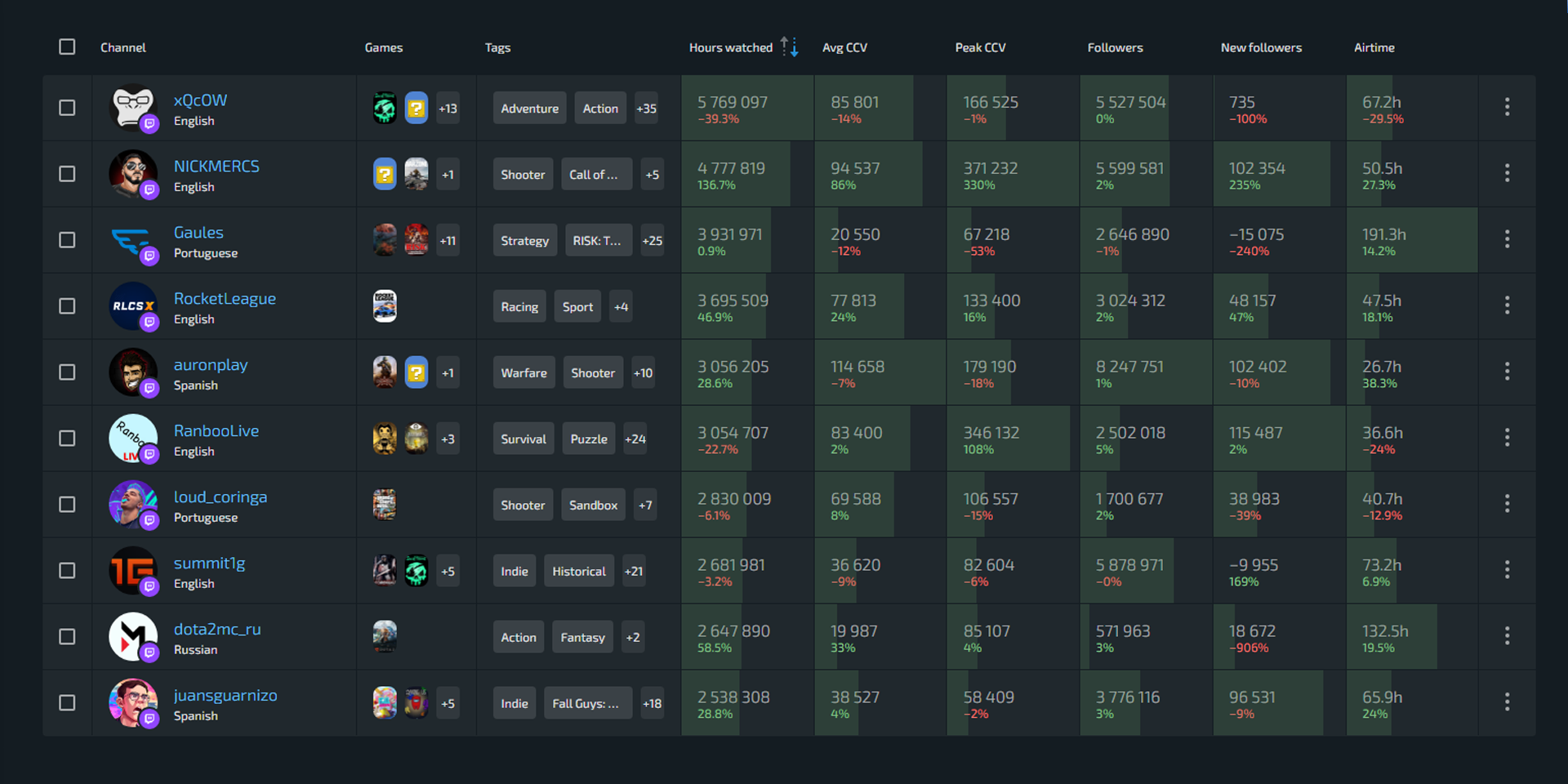 Things seem to be returning to a 2021 norm on Twitch, as xQc retains his top spot, while some of the usual faces make up the top 10. There has, however, been a slight decline in esports and a few more non-English broadcasts have entered the top 10.
Let's take a look at some of the most interesting numbers behind the week's top streamers.
xQc dominates Twitch once again
xQc retained his top spot last week, with his only real challenger Ludwig having ended his 24/7 broadcasts and fallen out of the Twitch top 10. Even while slowing down his streaming time, the Canadian remains the one to beat on the platform.
Let's take a look at some of his numbers:
5.7 Million Hours Watched
85,801 Average CCV
166,525 Peak CCV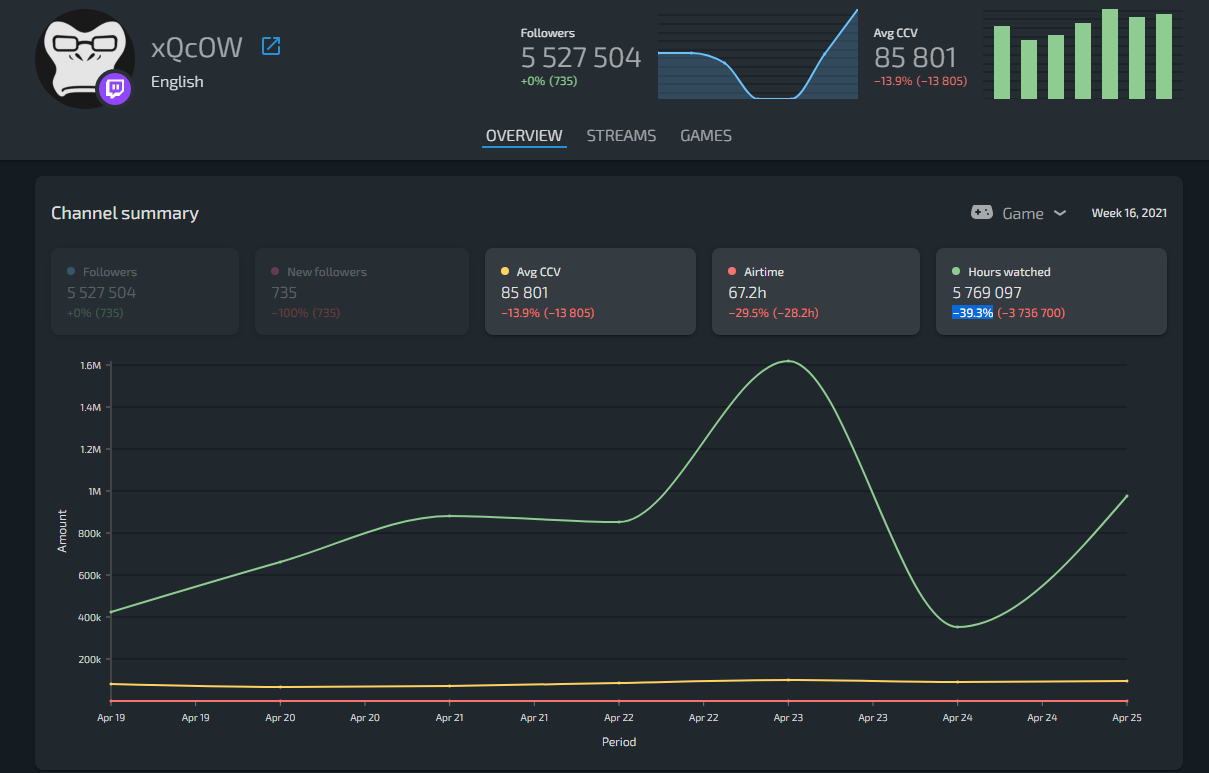 All of these numbers are a bit of a decline from xQc's previous numbers, with Hours Watched most notably falling by 39.3%. However, this can mainly be explained by his reduced Airtime, as the Canadian streamed 29.5% fewer hours last week.
Still, there is a minor loss in viewership, although the majority of it correlates directly to a fall in broadcast time and the king of Twitch is generally doing incredibly well.
Nickmercs storms to second place
We see a new top 10 entry storm their way straight to the top, with Nickmercs coming from (almost) out of nowhere to claim second most-watched this week. The American is a popular FPS streamer and has always been a notable face on Twitch, but last week seemed to be his time.
Here are some of his most impressive numbers:
4.7 Million Hours Watched
94,536 Average CCV
371,232 Peak CCV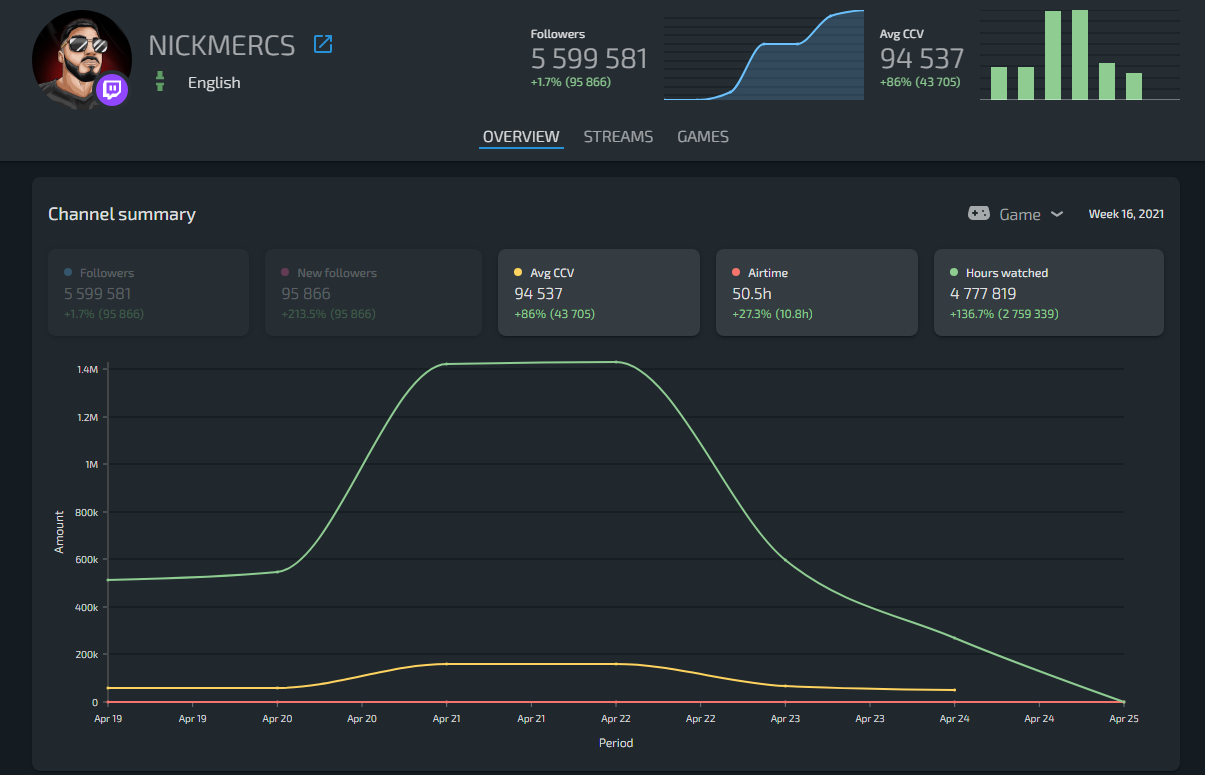 As we can see, those are some huge numbers and not all too far behind even xQc. All of these are a huge increase from Nickmercs usual streams, as the American saw a 136.7% increase in Hours Watched, an 86% increase in Average CCV, as well as a massive 330% increase in Peak CCV.
This viewership increase comes as a result of a new update to Call of Duty's Warzone game mode, which released season 3 and huge changes on April 22. Nickmercs clearly capitalized on the hype of the release and positioned himself to be one of the most successful streamers on Twitch this week.
Non-English broadcasts make a resurgence
Twitch has always been a platform dominated by an English audience. Streamers all around the world even choose to stream in English over their native tongue, as it allows access to a much broader audience.
However, there has been a shift recently, with more and more streamers sticking to their native languages and seeing great success as language-specific communities start to boom. Last week on Twitch was a great example of this, as 5 of the top 10 most-watched channels, this week are non-English broadcasters. Let's take a look at some of their numbers.
Gaules tops non-English Hours Watched at 3.9 Million
Auronplay tops all Average CCV with 114,658
Auronplay tops non-English Peak CCV with 179,190
In the top 10, non-English broadcasts generate 15 Million Hours Watched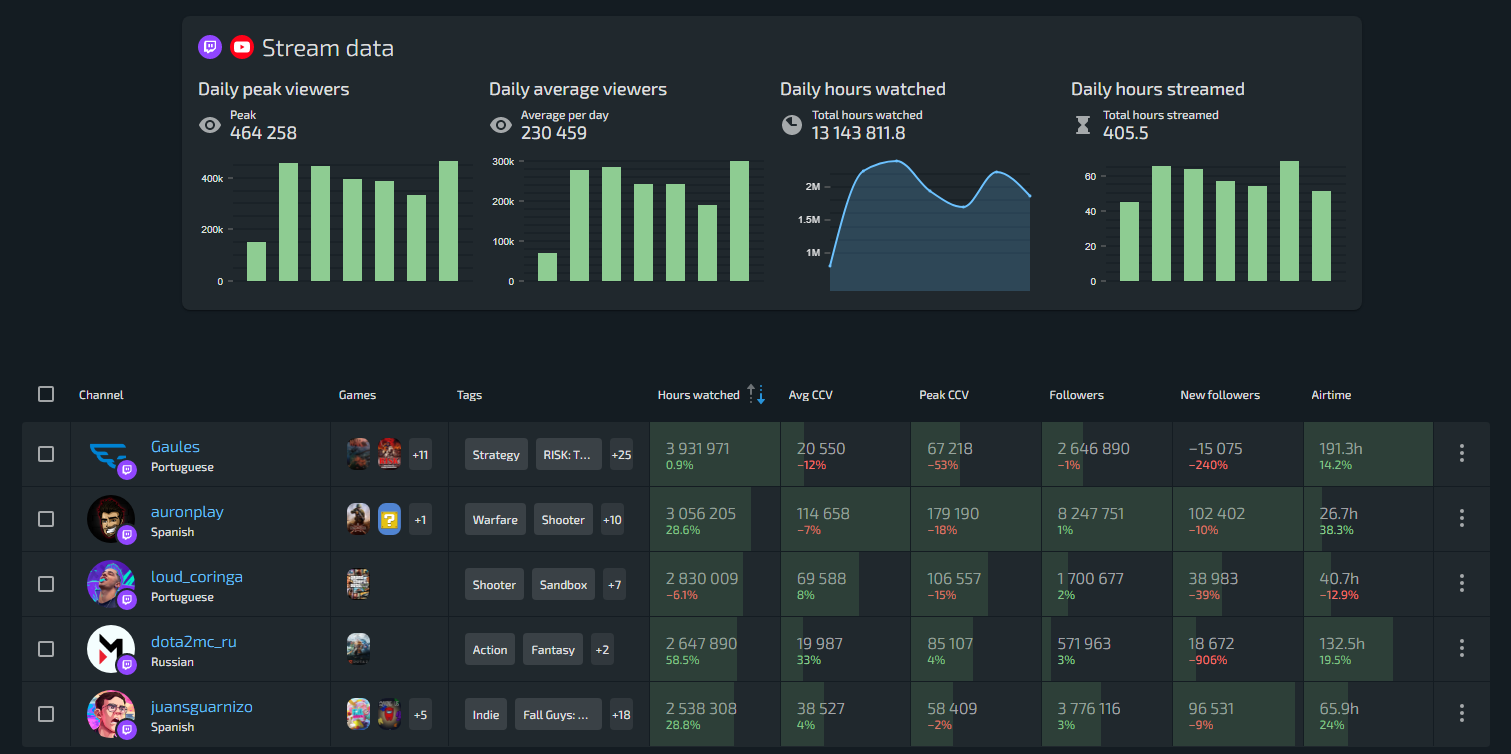 Overall, there are very strong numbers for non-English broadcasts in the top 10, featuring two Portuguese channels, two Spanish channels, and one Russian channel.
Of there, Gaules' Portuguese broadcasts were the strongest in terms of Hours Watched, however, Auronplay dominated in concurrent users, having the strongest average of all channels, and the highest peak of all non-English channels.
Considering these channels tailor to just one audience, these are some absolutely massive numbers. Some language-specific channels even beat out the very broad English audience, just proving how much of a following those channels have.
There's clearly a bright future on Twitch for non-English broadcasts, and it'll be interesting to see how far these channels can go.