Gaming influencers
Top Twitch gaming streamers of the week: April 26 - May 02
Check out the top Twitch gaming streamers for the week of April 26, 2021.
---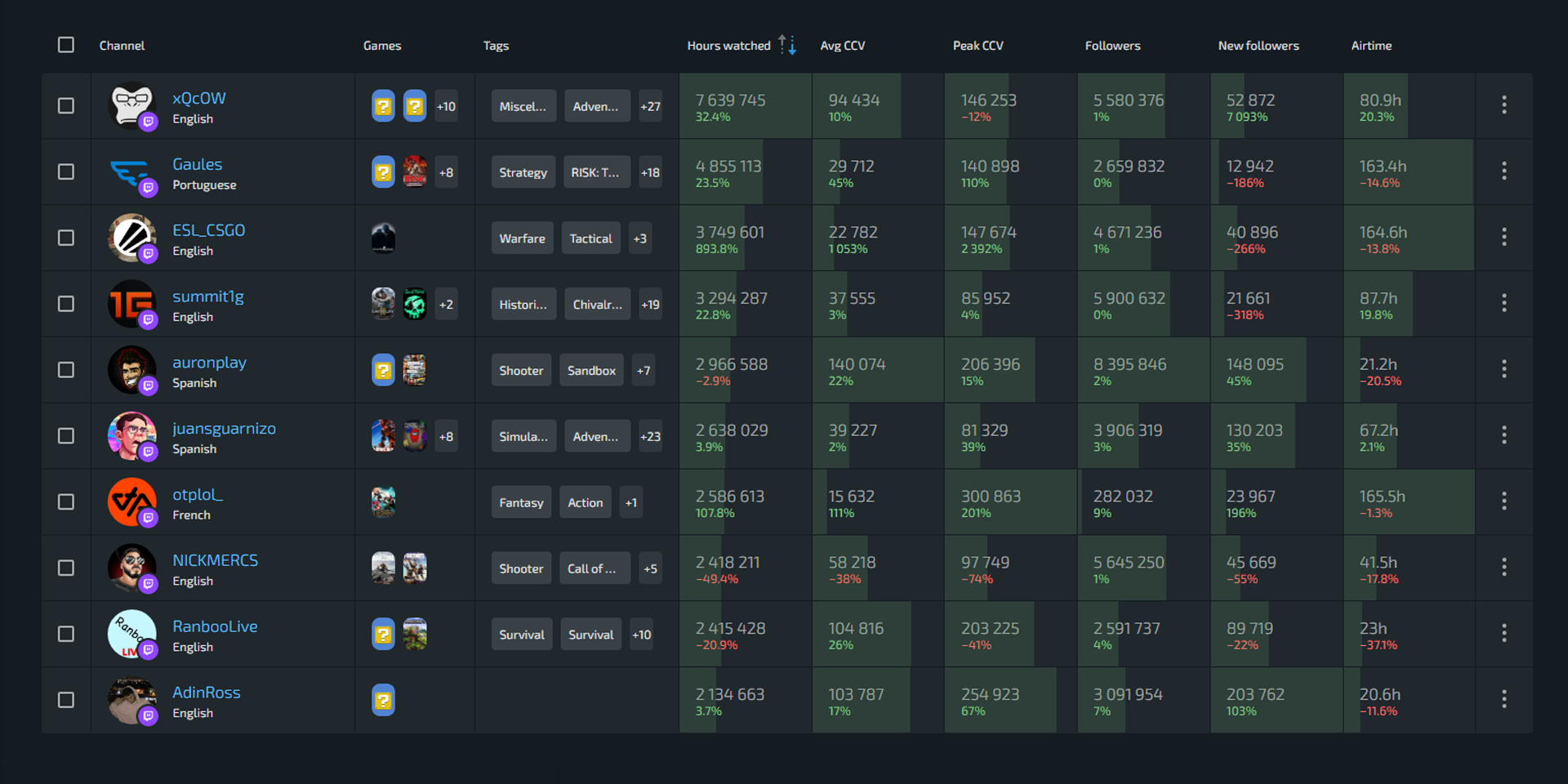 We see April close out and May begin with what is now a Twitch standard, xQc holding the most viewed spot, while a few familiar faces are joined by new channels in the top 10. This week we see a return of esports as some events kicked off, while Summit, Ranboo, and others hold their spots.
Let's take a look at some of the most interesting numbers behind the week's top streamers.
xQc closes out April on top
It's another strong week for xQc, who once again sits on top of the hours watched ranking and has yet again built on his success. Viewership numbers are up for the Canadian across the board and he cements a huge lead at the top.
Let's take a look at some of xQc's most impressive numbers:
7.6 Million Hours Watched
94,434 Average CCV
146,253 Peak CCV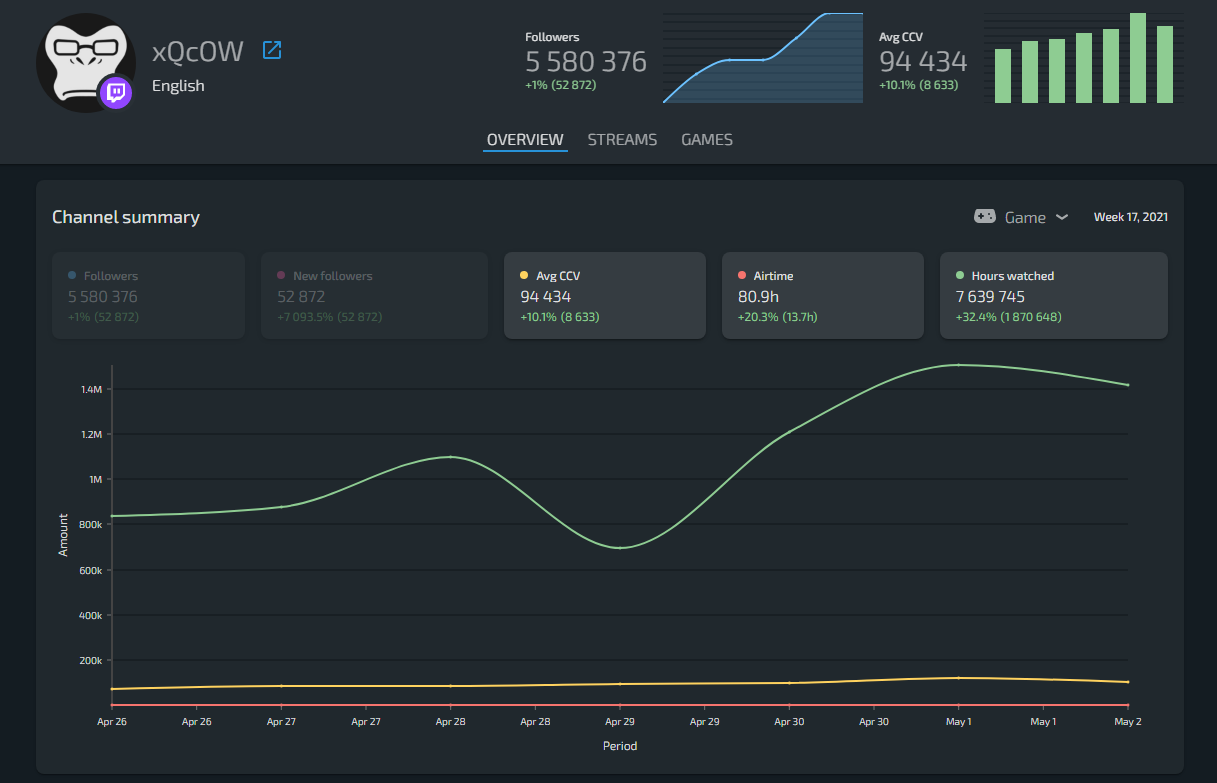 The numbers are yet again strong for xQc, with hours watched seeing a notable 32.4% increase. There was also a 10% increase in Average CCV, showing overall growth for the streamer as he continued to reign as the king of Twitch.
Nickmercs slows down after Call of Duty hype
Nickmercs saw a meteoric rise in mid-April as he brilliantly capitalized on the release of a new Call of Duty Warzone update. He became the game's premium streamer and hundreds of thousands of viewers flocked to his channel.
However, with the hype dying down so has Nickmercs popularity, as he has slid down the rankings and barely holds on to a top 10 spot.
2.4 Million Hours Watched
58,218 Average CCV
97,749 Peak CCV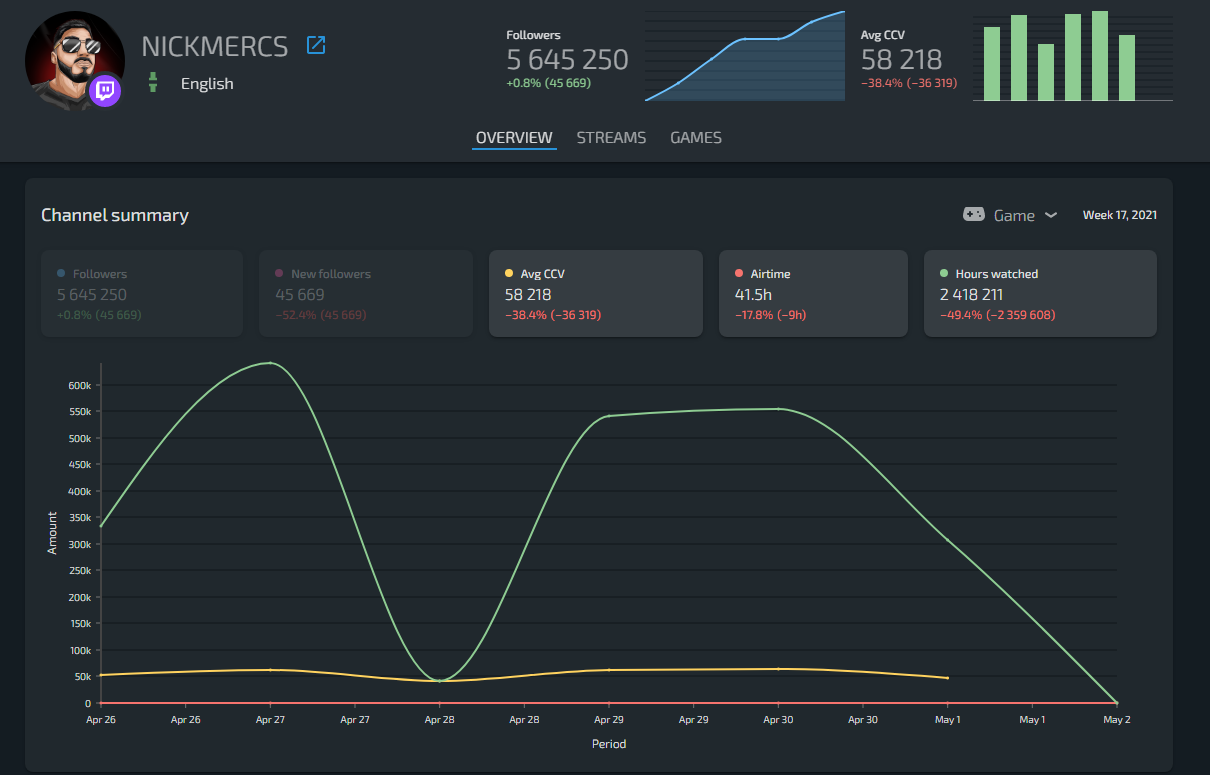 Despite his fall, Nickmercs is still a great example of the power of capitalizing on events. His viewership sky-rocketed and he has no doubt earned a ton of fans during his successful week, even with the hype of the game dying down, he retains a top 10 spot, and could very well be a prominent figure on the fringe of the top 10, despite having struggled to reach it previously.
Esports returns to the top 10
Esports viewership is always a rollercoaster on Twitch, as major events come and go, meaning some weeks esports is the star, while others it vanishes completely.
This week, esports is once again a core viewership factor on Twitch, with two key channels reaching the top end of the charts. Let's take a look at esports viewership this week:
ESL_CSGO tops esports Hours Watched with 3.7 Million
ESL_CSGO tops esports Avg CCV with 22,782
Otplol_ tops the week's Peak CCV with 300,863

Overall, esports viewership was very strong. ESL_CSGO's lengthy broadcasts drew in over 3.7 Million hours watched, coming in 3rd overall this week. Meanwhile, otplol_ had a massive peak, topping the week's peak viewership with over 300,000 people tuning in.
Interestingly enough, otplol's broadcasts are solely in French, meaning that a huge number of French viewers tuned in last week, with the language making its first entry into the top 10 in 2021. Seems like there are a lot of French League of Legends fans out there!