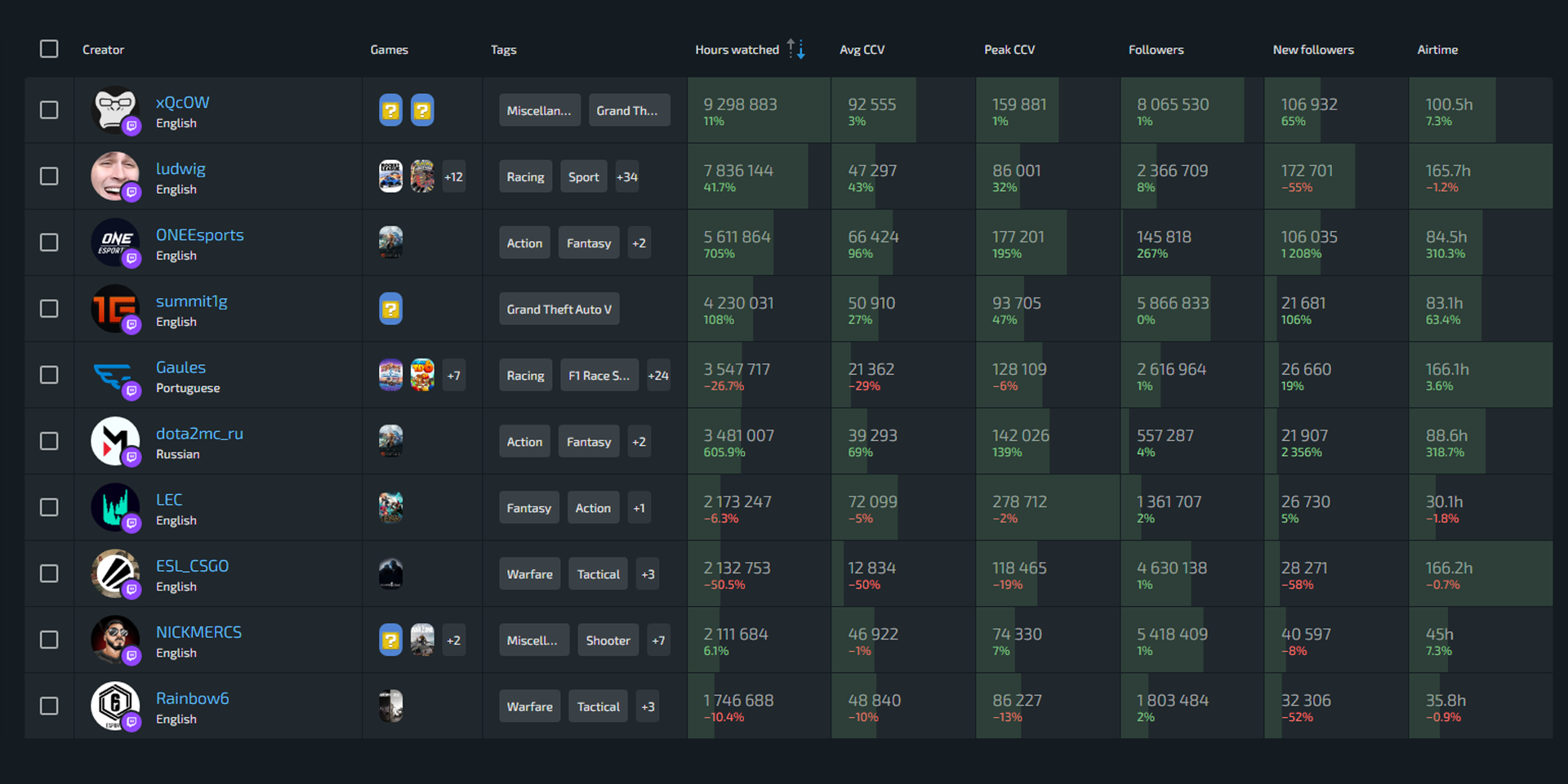 Twitch closes out March and kicks off April with a bang, as top-end viewership continues to rise. xQc improved on his mind-blowing numbers yet again and cemented his lead, while a few new faces rose to the top 10, and esports continues to boom on Twitch.
Let's take a look at some of the most interesting numbers behind the week's top streamers.
xQc continues to thrive
As expected, xQc retains his crown and then some, as the Canadian streamer continues to soar to new heights. He beat last week's viewership by a solid margin, and see's growth across the board - let's take a look at some of xQc's numbers:
9.2 Million Hours Watched

92,555 Average CCV

159,881 Peak CCV

106,932 New Followers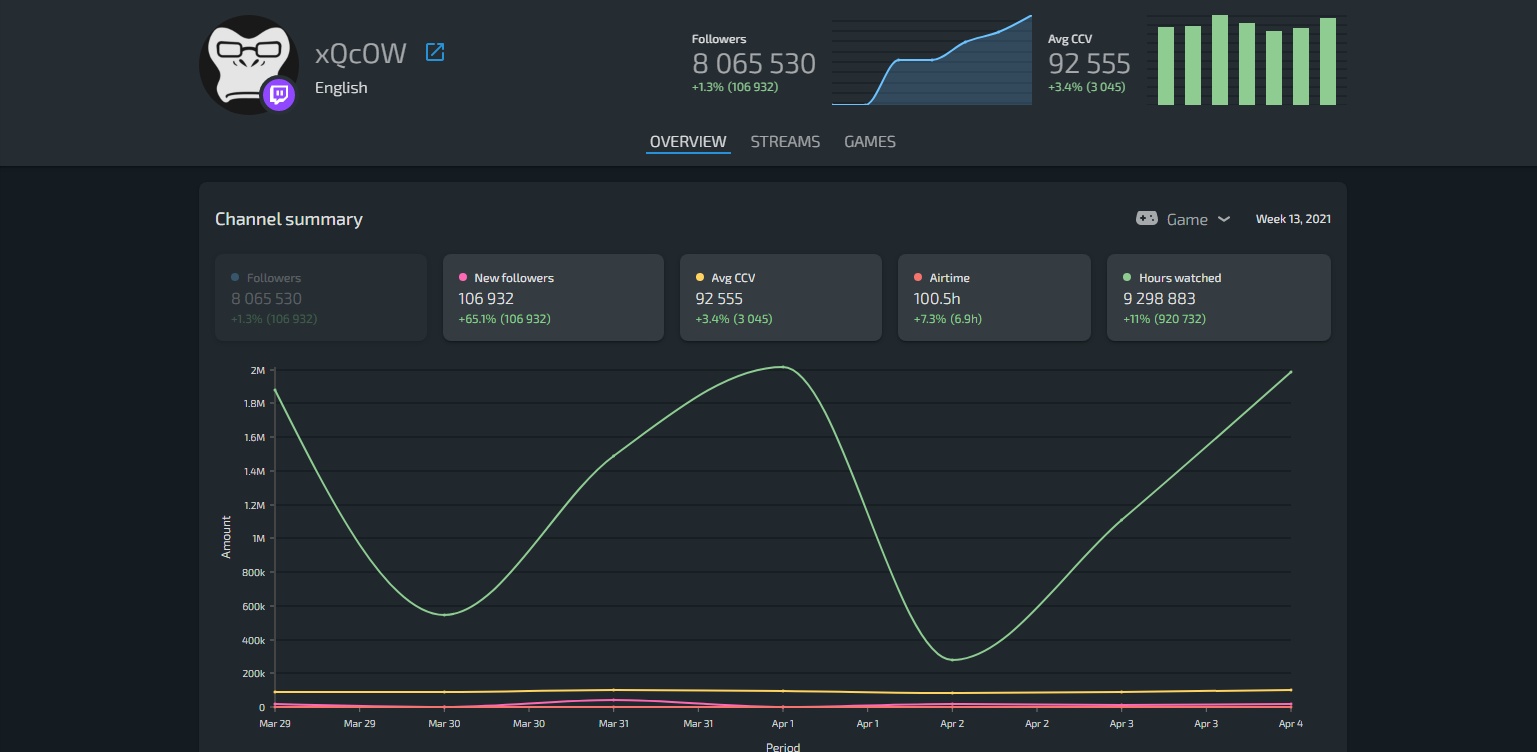 This is one of the strongest weeks ever recorded by xQc and the trend of viewership seems to point to even further growth. The most important change was an 11% increase in hours watched from last week, which is a surprisingly big move.
However, it is possible that this huge increase was caused by outside factors - most notably, viewers having time off for the holidays and being able to spend more time watching his stream this week. This would also explain the overall rise in top-end viewership, and we'll just have to see how the numbers change over the next few weeks.
Dota dominates Twitch esports
Esports thrived this week with six of the top ten most-watched streams being competitive gaming content. Dota 2's Singapore major was the driving factor behind this, with the English stream topping out in third place by a wide margin.
Meanwhile, we saw Dota 2's Russian stream boom, while CSGO, League of Legends, and Rainbow Six slowed down, but still remained strong.
Here are some of the week's numbers:
5.6 Million Hours Watched on OneEsports' Dota 2

3.5 Million Hours Watched on Gaules' CSGO

3.4 Million Hours Watched on Dota 2's Russian stream

2.1 Million Hours Watched on League of Legends European league

2.1 Million Hours Watched on ESL_CSGO

1.7 Million Hours Watched on Rainbow6

18.4 Million Hours Watched total for Esports

Highest Average CCV 72,009 (League of Legends)

Highest Peak CCV of 278,712 (League of Legends)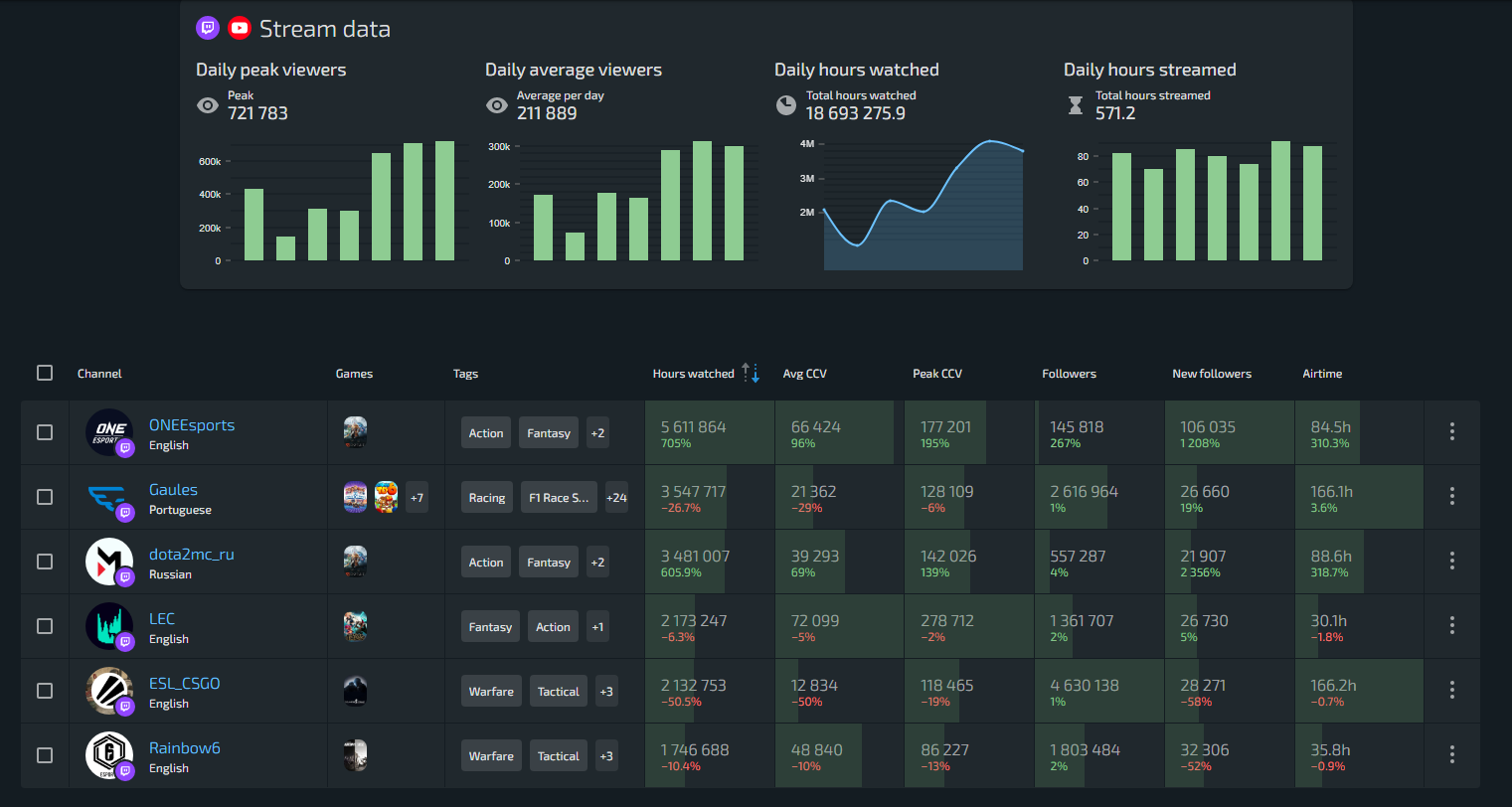 Overall, the numbers show very strong viewership, especially for Dota 2. The two main streams totaled over 9 Million hours watched, which accounts for around half of the total Esports viewership in the top 10.
Meanwhile, CSGO, League of Legends, and Rainbow Six decreased in viewership, but also saw fewer hours streamed due to their events reaching playoffs and fewer matches being played. It seems that the only way is up for esports (as long as there are enough events on!).
Summit1g doubles up viewership
The biggest movement in viewership (specifically hours watched) goes to Summit1g, who more than doubled his hours watched this week from last week. The American's channel exploded this week, as he continues to capitalize on the ever-growing GTA V content. Let's take a look at some of his numbers:
4.2 Million Hours Watched

50,910 Average CCV

93,705 Peak CCV

21,681 New Followers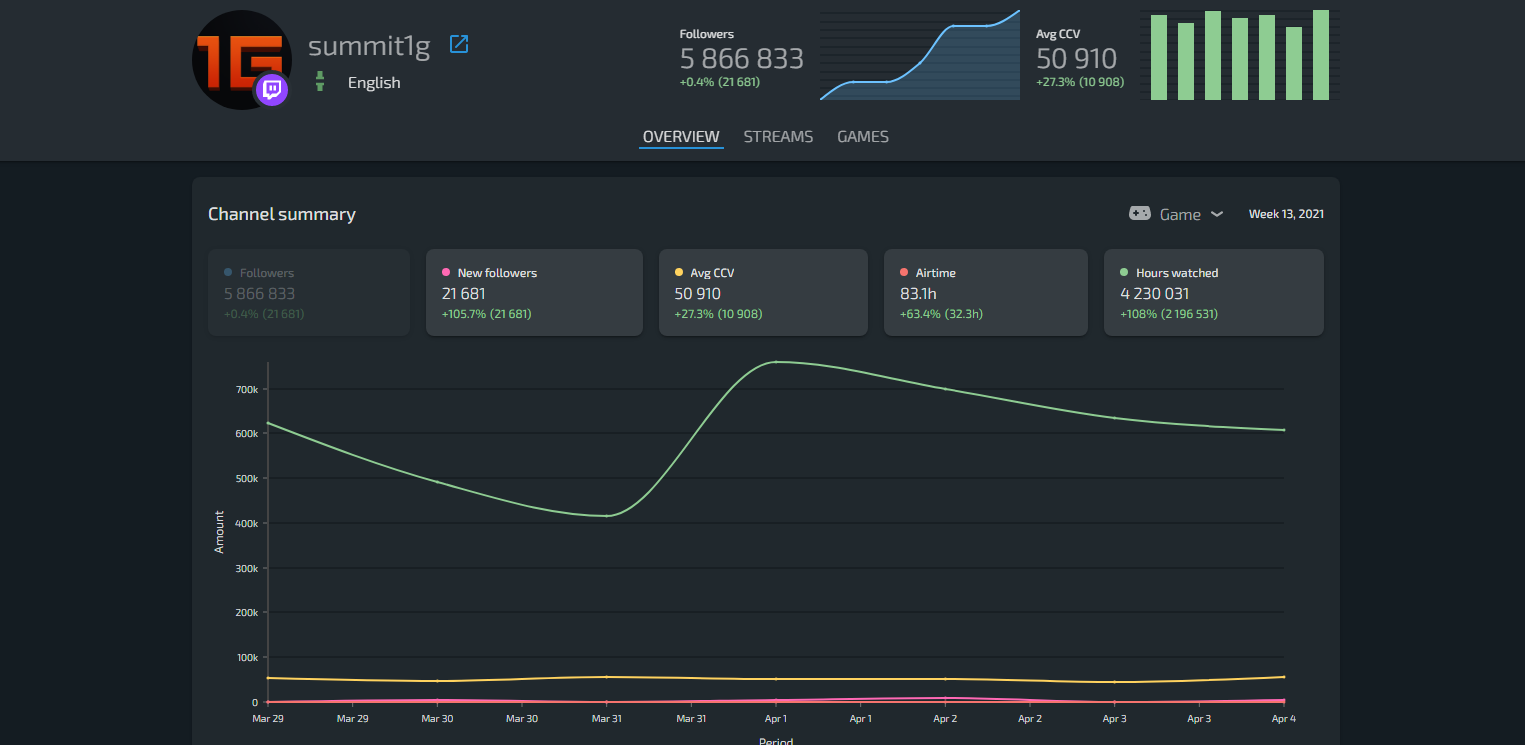 Summit's viewership skyrocketed this week with a very impressive 108% increase in hours watched from last week. Interestingly enough, he's also the only streamer in the top 10 (outside of Esports) that stuck to just one game through the week - GTA.
Usually, the most popular streamers are variety streamers, who can entertain a wide range of viewers with different types of broadcasts. So, seeing Summit1g perform so well with just one game shows not only the level of his popularity, but the success of the game as well.