Gaming influencers
Top Twitch gaming streamers of the week: May 03 - May 09
Check out the top Twitch gaming streamers for the week of May 03, 2021.
---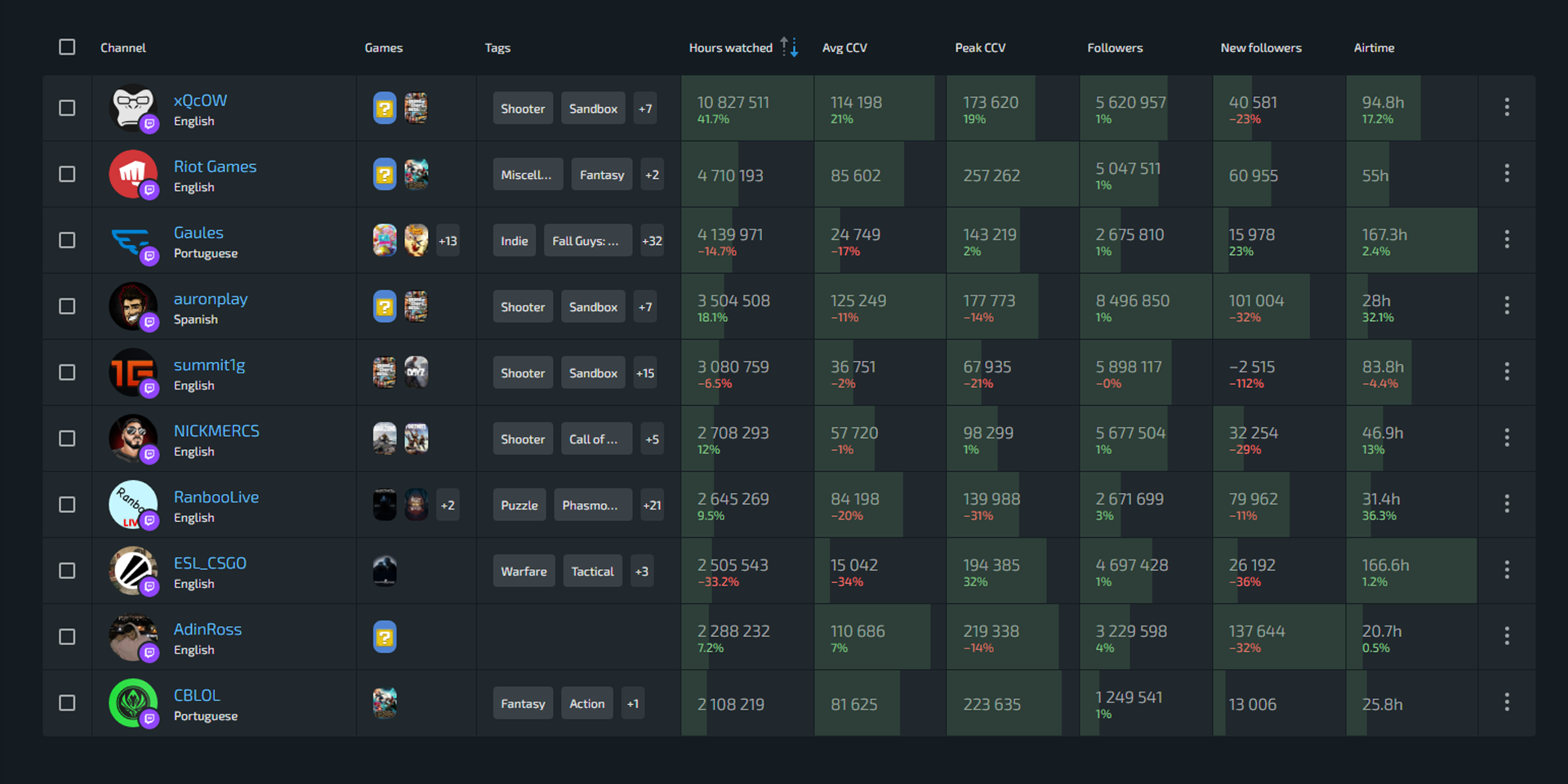 May sees an interesting shift in Twitch viewership as the top 10 is hit by a wave of unpredictability. Most notably, xQc somehow manages to further increase his dominance on the platform, while a few new faces storm to the top.
Let's take a look at some of the most interesting numbers behind the week's top streamers.
xQc solidifies Twitch dominance
Just when we thought xQc couldn't get any better he stuns us with another insane week. This time the Canadian reached a massive 10 million Hours Watched in just one week, over doubling the next most viewed channel.
The streamer just keeps on improving and breaking his previous records and it looks like there's no limit to what he can do. Let's take a look at xQc's numbers:
10.8 Million Hours Watched
114,198 Average CCV
173,620 Peak CCV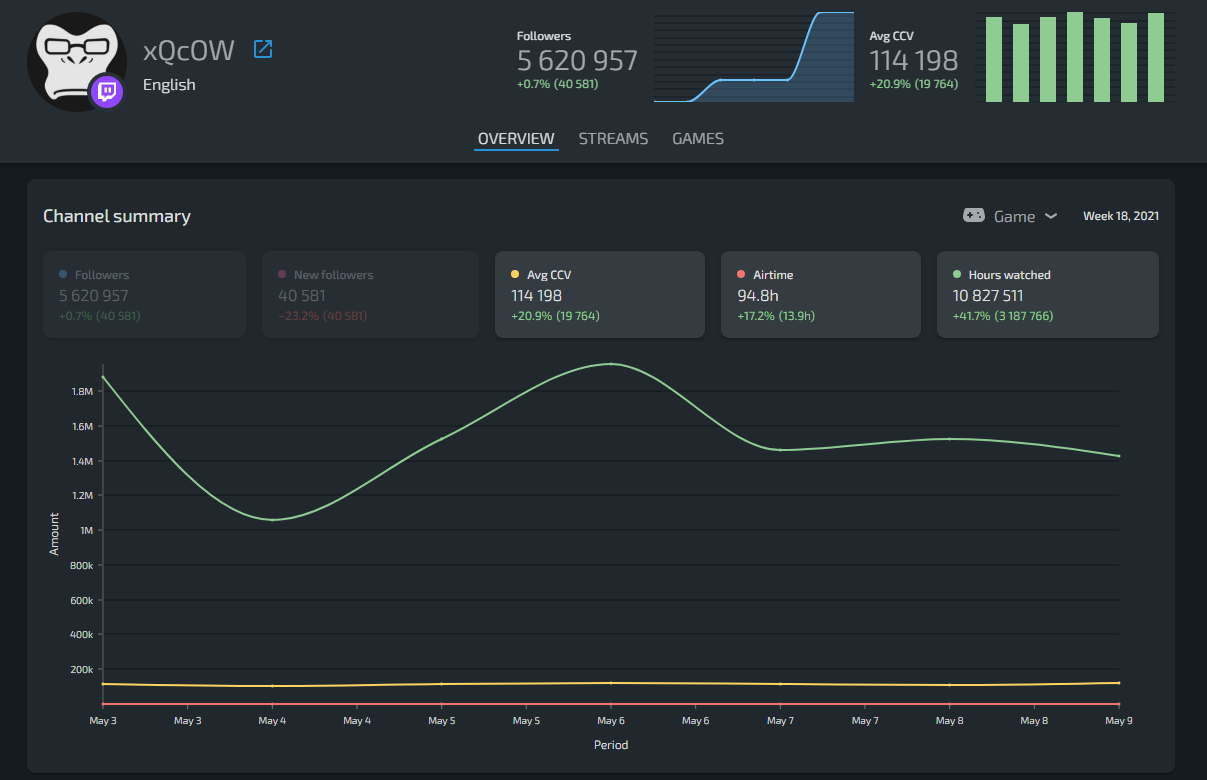 It's an all-round increase for xQc, with every part of his viewership improving. The biggest change comes in raw Hours Watched, which increased by 41.7% last week, while average and peak CCV also saw a strong rise at a 21% and 19% increase respectively.
The sky seems to be the limit for xQc and it will be very exciting to see just how well he can perform in the coming weeks.
League of Legends storms viewership
With the return of League of Legends esports, comes the return of the game to the top 10. The game's first international event of the year, the Mid-Season Invitational, drew in massive crowds as the official Riot Games channel stormed into second most-watched.
Here are some of Riot Games' most impressive numbers:
4.7 Million Hours Watched
85,602 Avg CCV
257,262 Peak CCV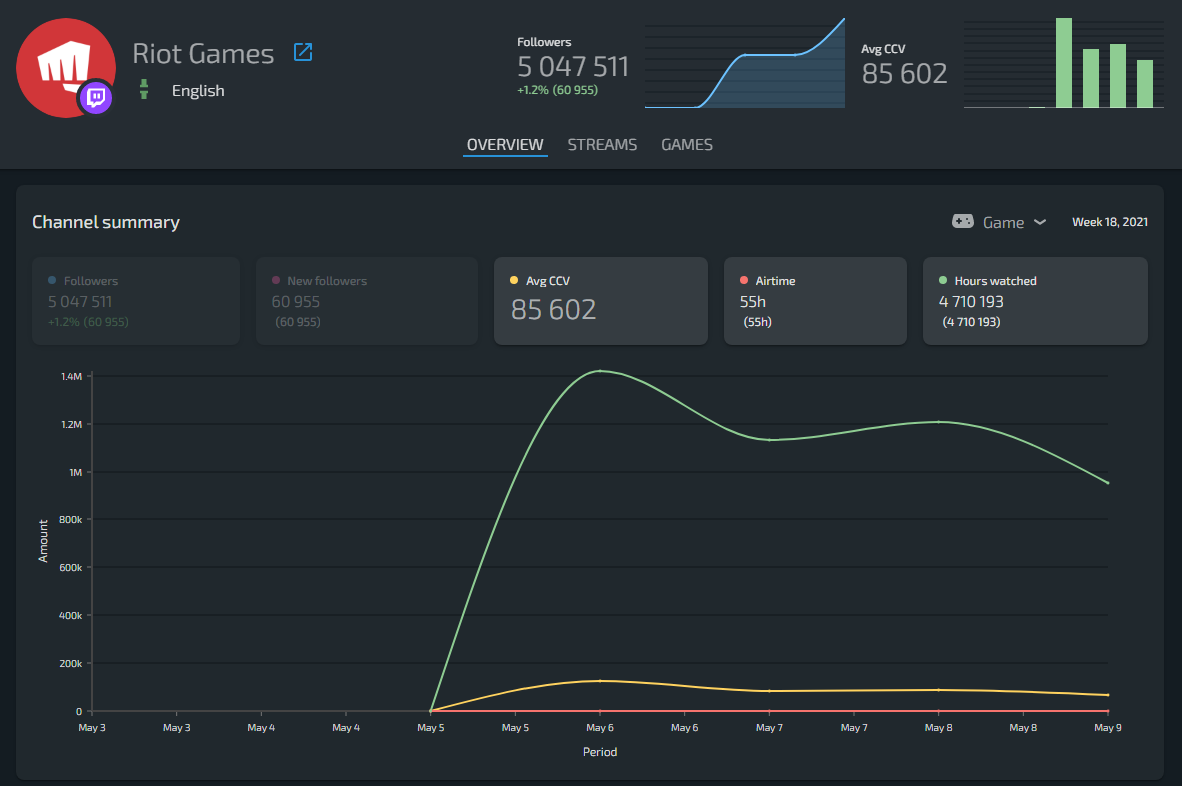 Overall, Riot Games performed exceptionally well, reaching second in Hours Watched and topping Peak CCV. It's unlikely the channel could catch up to xQc's impressive numbers, but considering broadcasts started halfway through the week, LoL esports is undoubtedly one of the most popular things on Twitch.
AdinRoss becomes newest streamer to maintain top 10
The top 10 most-watched channels on Twitch has a new consistent figure in American streamer AdinRoss. Adin is mostly known for his IRL content and has recently boomed in popularity thanks to a variety of collaboration broadcasts, mainly with famous American rappers.
The American is a great example of the rise of a 'different' trend on Twitch, as the platform is becoming about more than just games. Let's take a look at some of his numbers:
2.2 Million Hours Watched
110,686 Average CCV
219,338 Peak CCV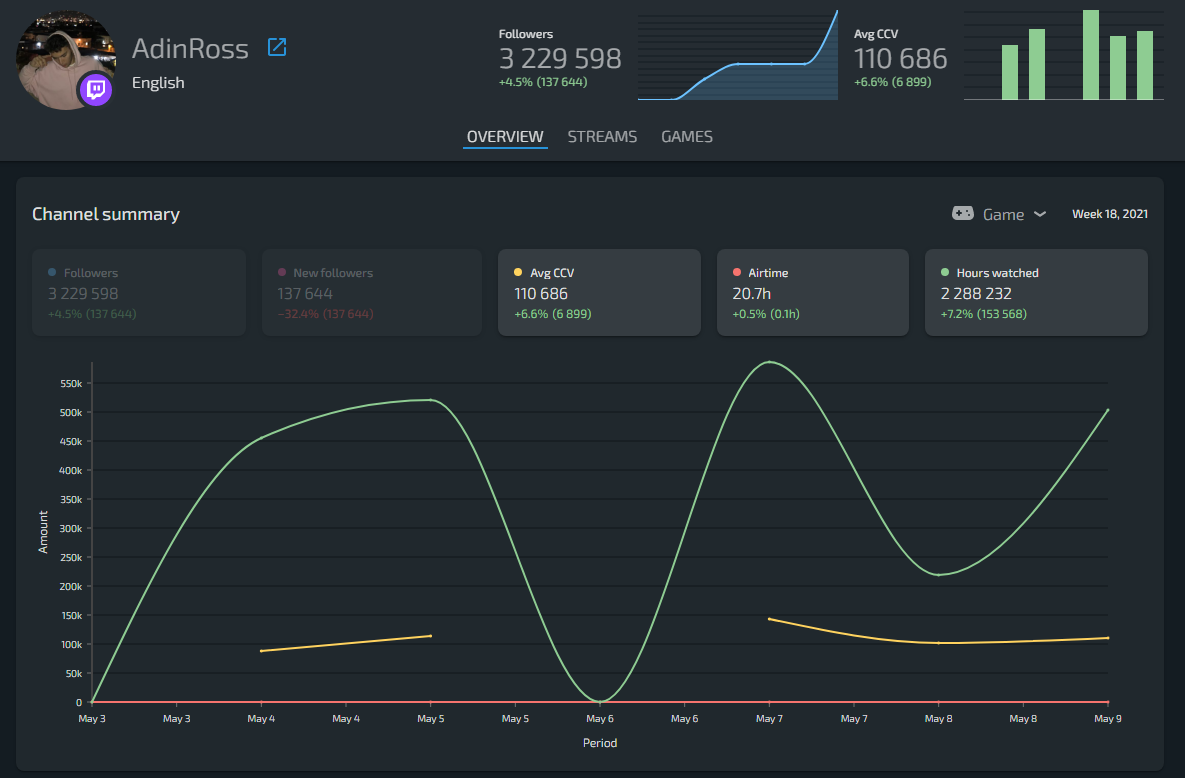 Overall, his numbers are relatively stable, with a solid 7% increase in both Hours Watched and Average CCV. However, the main thing to note is his Airtime, which is the lowest of the top 10 at just 20 hours.
AdinRoss is actually pulling in some of the strongest viewership on the platform, ranking in #3 in Average CCV and #2 in Peak CCV, and if he was able to match xQc in amount of content, there could be a real fight at the top.