Gaming influencers
Top Twitch gaming streamers of the week: May 17 - May 23
Check out the top Twitch gaming streamers for the week of May 17, 2021.
---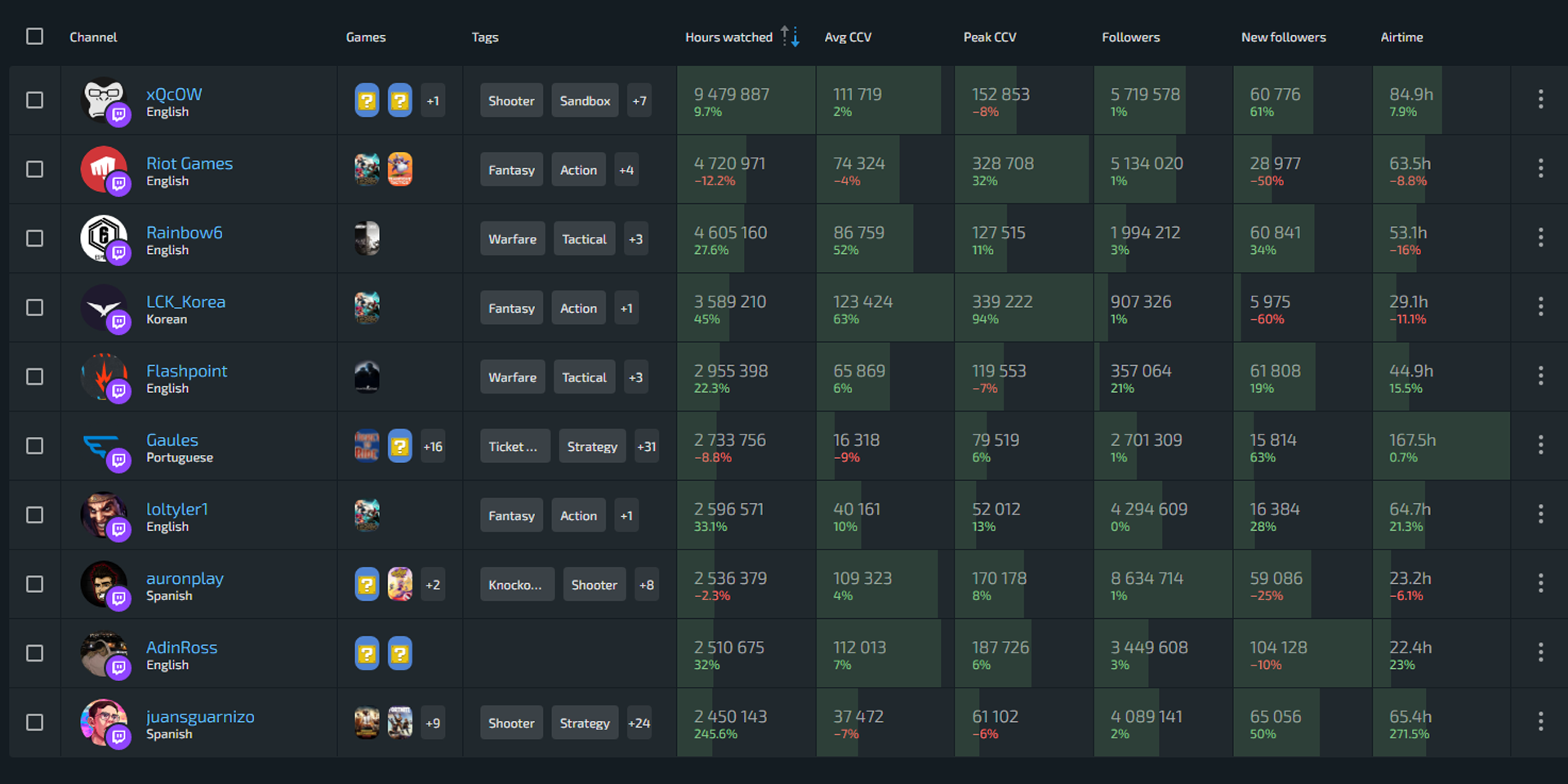 Twitch's top 10 remained fairly stable this week, with only a couple of fresh faces entering the list. There was, however, a small shift in rankings, as esports claimed most of the top spots, losing out only to xQc.
Let's take a look at some of the most interesting numbers behind the week's top streamers.
xQc continues steady growth at the top
It's no surprise that xQc was once again the most-watched streamer on Twitch, with the Canadian once again dominating the Hours Watched rankings. He overall saw some steady growth, as his viewership rose a fair amount from the previous week.
Let's take a look at some of xQc's numbers:
9.4 Million Hours Watched
111,719 Average CCV
152,853 Peak CCV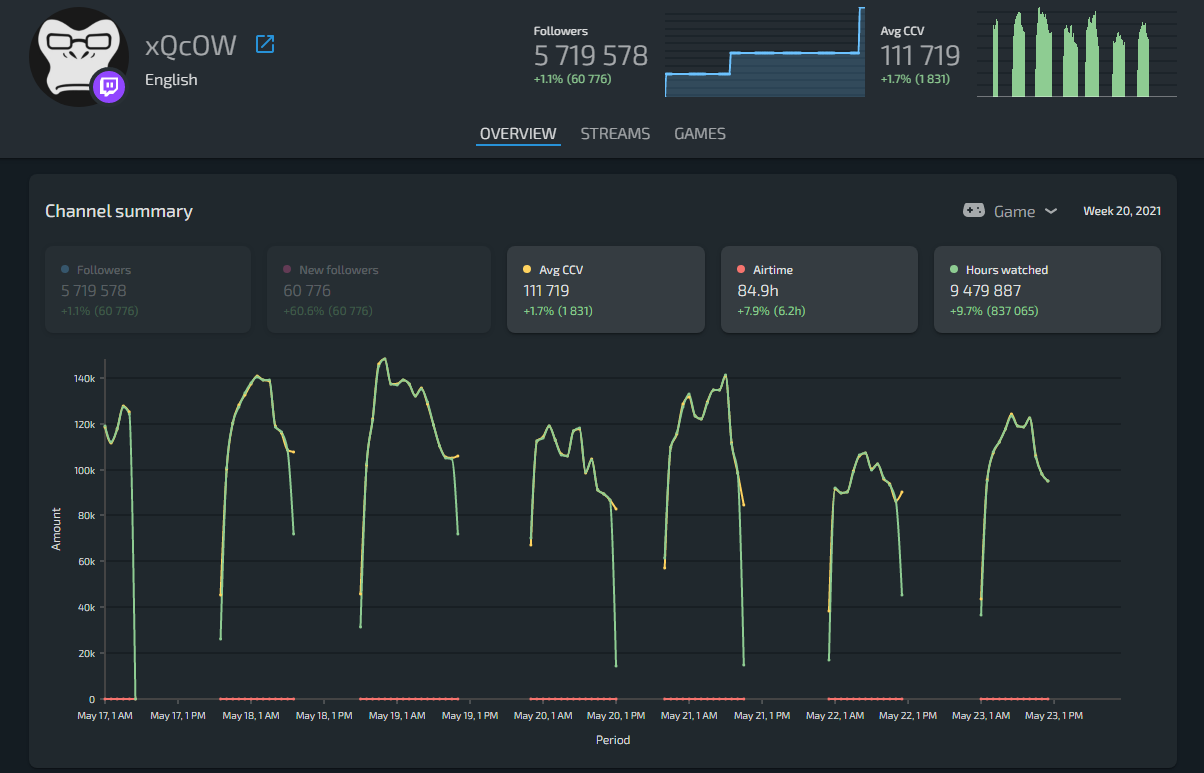 The most impressive increase for xQc was his Hours Watched, which rose by a solid 9.7% last week. Meanwhile, his Average CCV also rose by 2%, signifying an overall small increase in viewership, while Peak CCV fell by 8%.
Overall, all signs point to continued success for the Canadian, and it's difficult to imagine anyone will knock him off his top spot anytime soon.
Esports sees another very strong week
Esports as a whole saw an incredibly strong week, claiming four of the top five spots on Twitch and raking in a ton of overall viewership. Here are some of the biggest esports numbers:
4.7 Million Hours Watched on Riot Games (#2 overall)
4.6 Million Hours Watched on Rainbow6
2.9 Million Hours Watched on Flashpoint
123,424 Average CCV on LCK_Korea (#1 overall)
339,222 Peak CCV on LCK_Korea (#1 overall)
15.7 Million Hours Watched across top 5 esports overall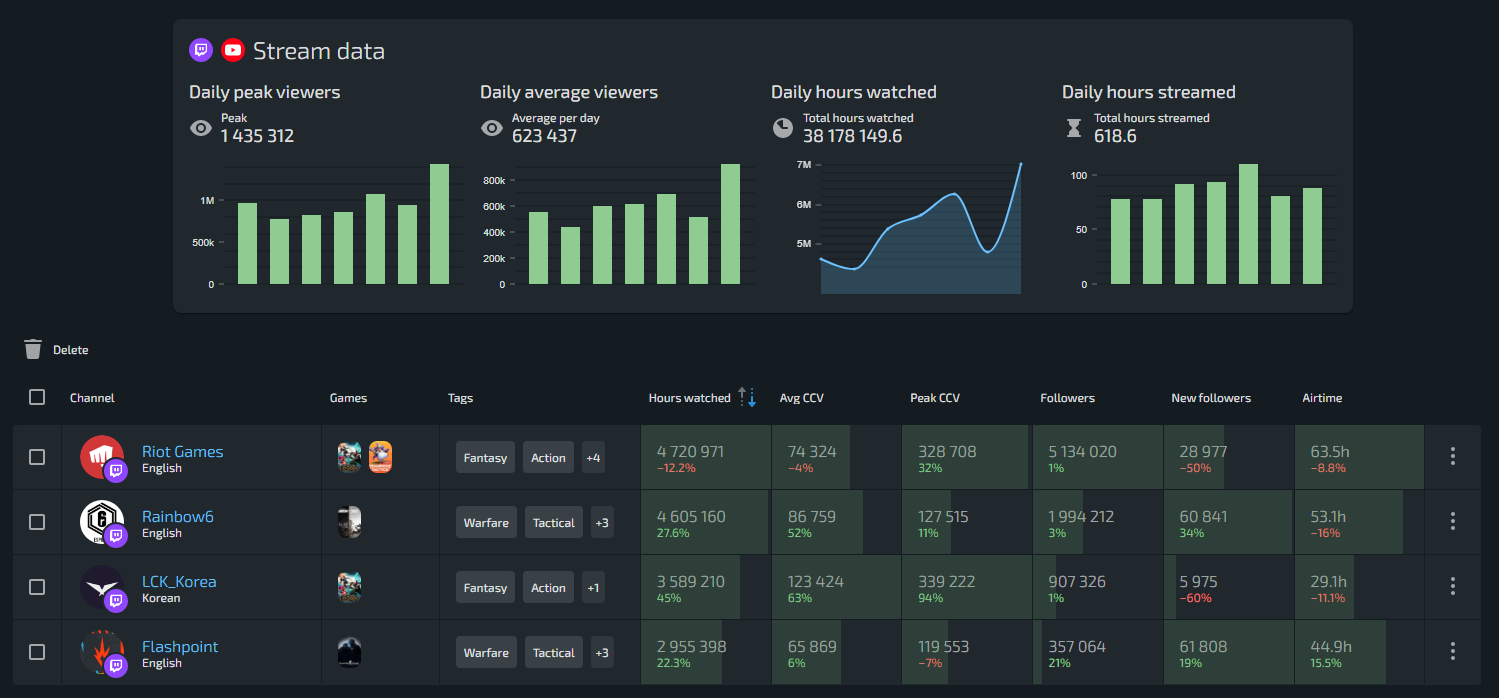 League of Legends looks to be the most popular esport game for two weeks running, topping both Hours Watched of esports, as well as the overall Average and Peak CCV. Interestingly enough, both Average and Peak CCV came from the Korean broadcast, which could indicate a massive Korean viewer base on Twitch.
Meanwhile, Rainbow Six Siege and Counter-Strike: Global Offensive both also shined, with the former taking third place in Hours Watched, while the latter topped out at a solid midpoint in fifth.
Overall, esports viewership continues to thrive as big events are taking place, with Twitch solidifying itself as the place to watch esports.
Tyler1 returns to the top 10
Last but not least, we see the return of an old favorite to the top 10, with Tyler1 seeing an impressive rise in viewership as he claims the seventh most-watched spot.
Let's take a look at some of his numbers:
2.5 Million Hours Watched
40,161 Average CCV
52,012 Peak CCV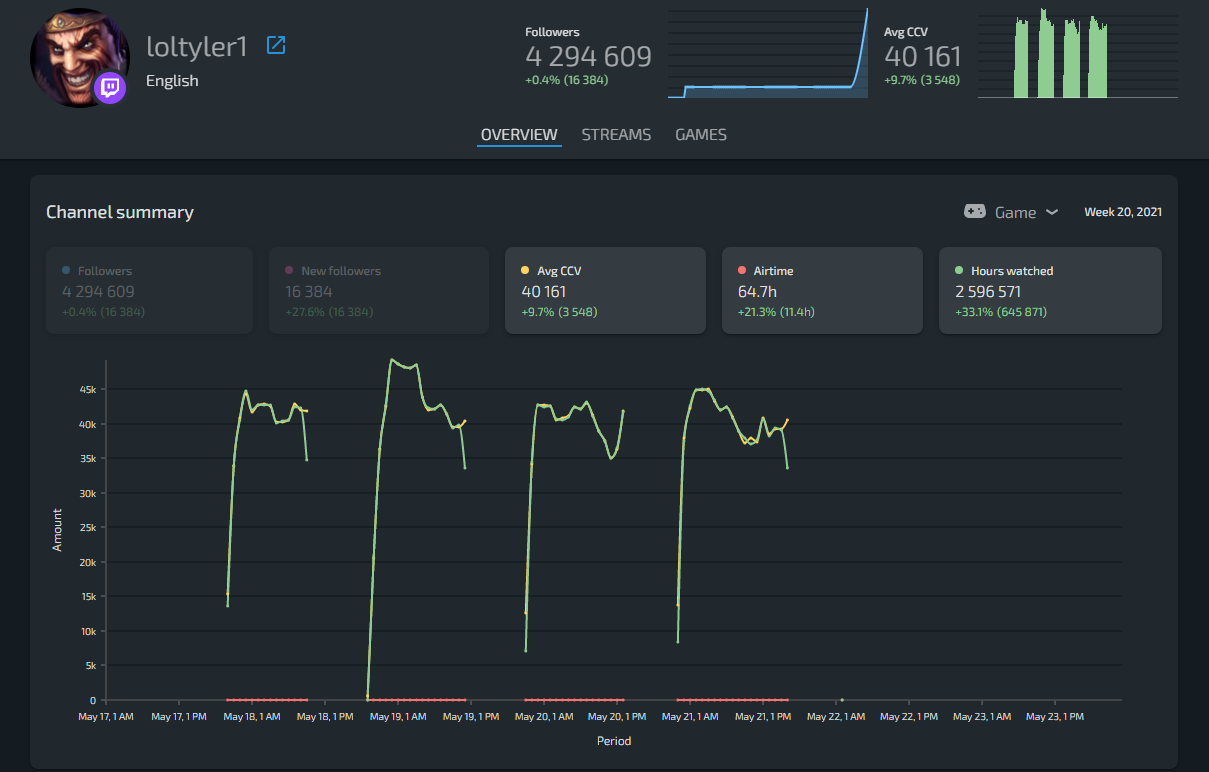 Overall, Tyler1's numbers may look a bit weak, especially when compared to someone like xQc. However, his increase in viewership is actually very impressive. Tyler1 saw one of the biggest increases of Hours Watched in the top 10, growing by 33.1% from the previous week.
His viewership increased across the board, with 10% more Average CCV and 13% more Peak CCV. There was also a sizable increase in Airtime, which rose by 21.3%, but we can see that doesn't account for all of his increased Hours Watched, so there's a clear increased interest in his content.