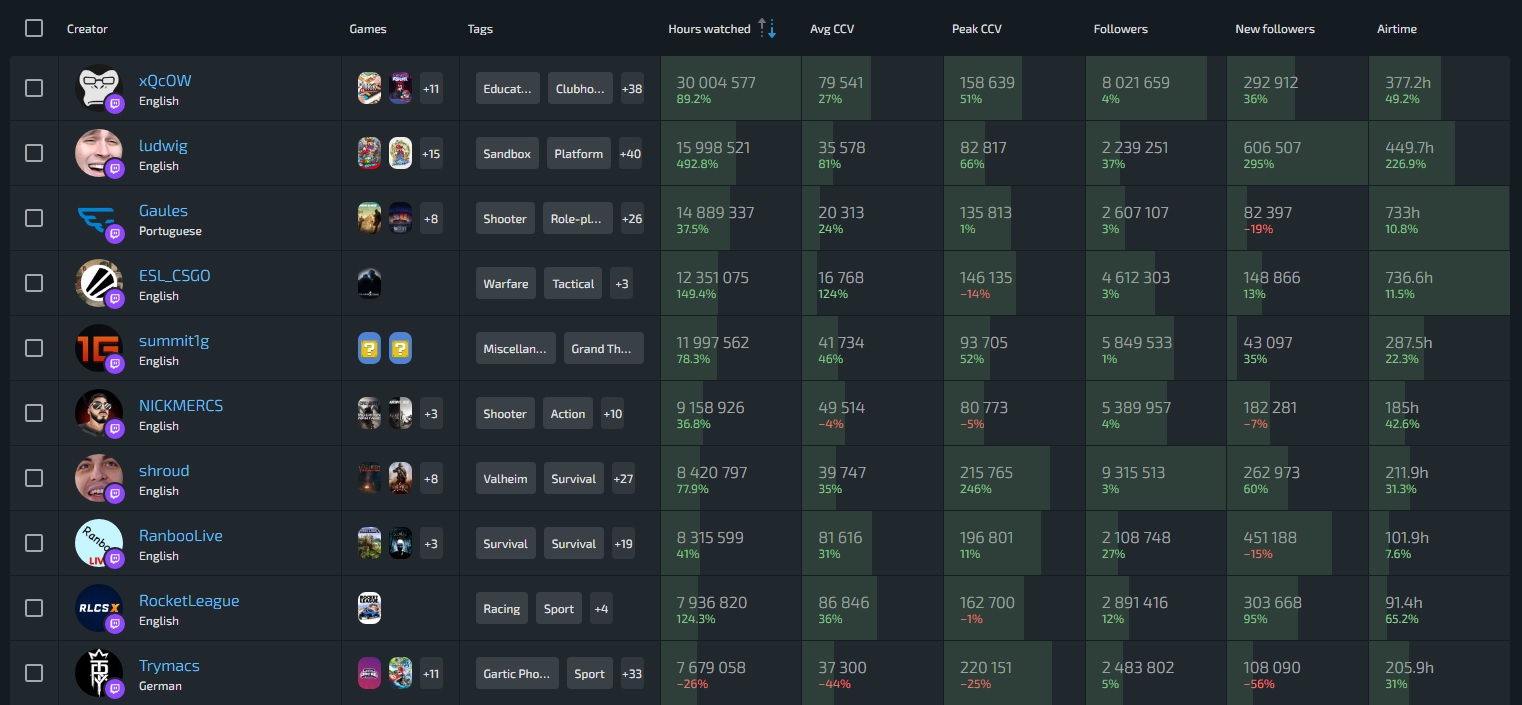 March was an exciting month for Twitch, with Esports making a return, the old guard holding strong, and streamers rising. The content was as plentiful as ever, and we saw a rise in viewership across the board for streamers both new and old.
Let's take a look at some of the most impressive streamers of March and the numbers that highlight their success.
xQc maintains top spot with massive growth
It's impossible to talk about the numbers behind Twitch without mentioning the undisputed "king of Twitch", xQc. The Canadian streamer has been making waves and consistently topping Twitch viewership, resulting in him once again being the most-watched streamer on the platform.
This month, xQc rose to a tough challenge of 24/7 broadcasts and dominated February's viewership. Let's take a look at his impressive March numbers:
Over 30 Million Hours Watched - 89.2% more than February!
78,656 Average CCV - 27% more than February
158,539 Peak CCV - 51% more than February
292,912 Followers Gained - 36% more than February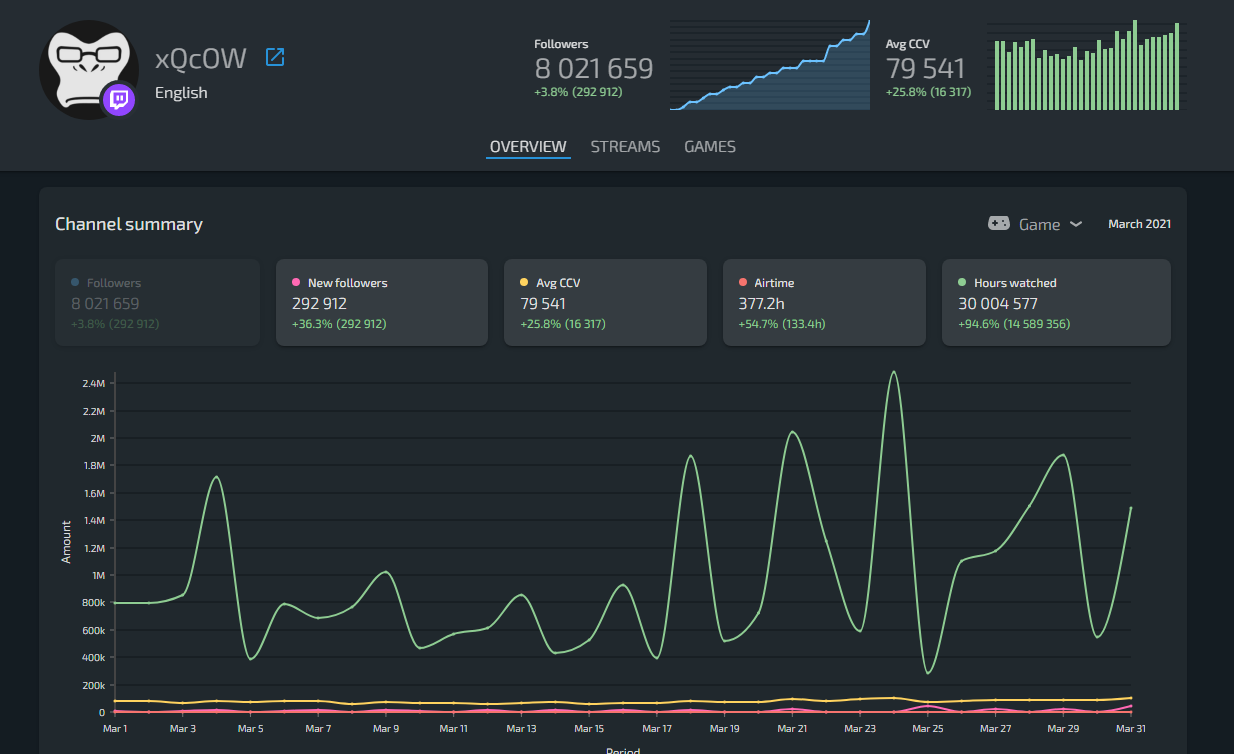 It's easy to see just how much xQc's numbers improved this month as he continues to grow and dominate on Twitch. The most impressive stat is his increase in hours watched, which reached 89.2%, not too far off of doubling his viewership in just one month!
It is important to note he did stream 49.2% more hours, but the gap between that and his hours watched, as well as the increase in CCV, shows his amazing progress.
Ludwig storms viewership rankings with 24/7 streams
Taking down xQc and becoming the most-watched streamer on Twitch is not going to be an easy task for anyone. However, Ludwig may have cracked it with a unique take by launching 24/7 streams.
The American broadcasted every hour of every day for the last two weeks of March and stormed up the Twitch rankings to become the second most-watched streamer of the month.
Here are some of his key numbers:
Over 15 Million Hours Watched - 492.8% more than February!
34,983 Average CCV - 81% more than February
82,110 Peak CCV - 66% more than February
606,507 Followers Gained - 295% more than February!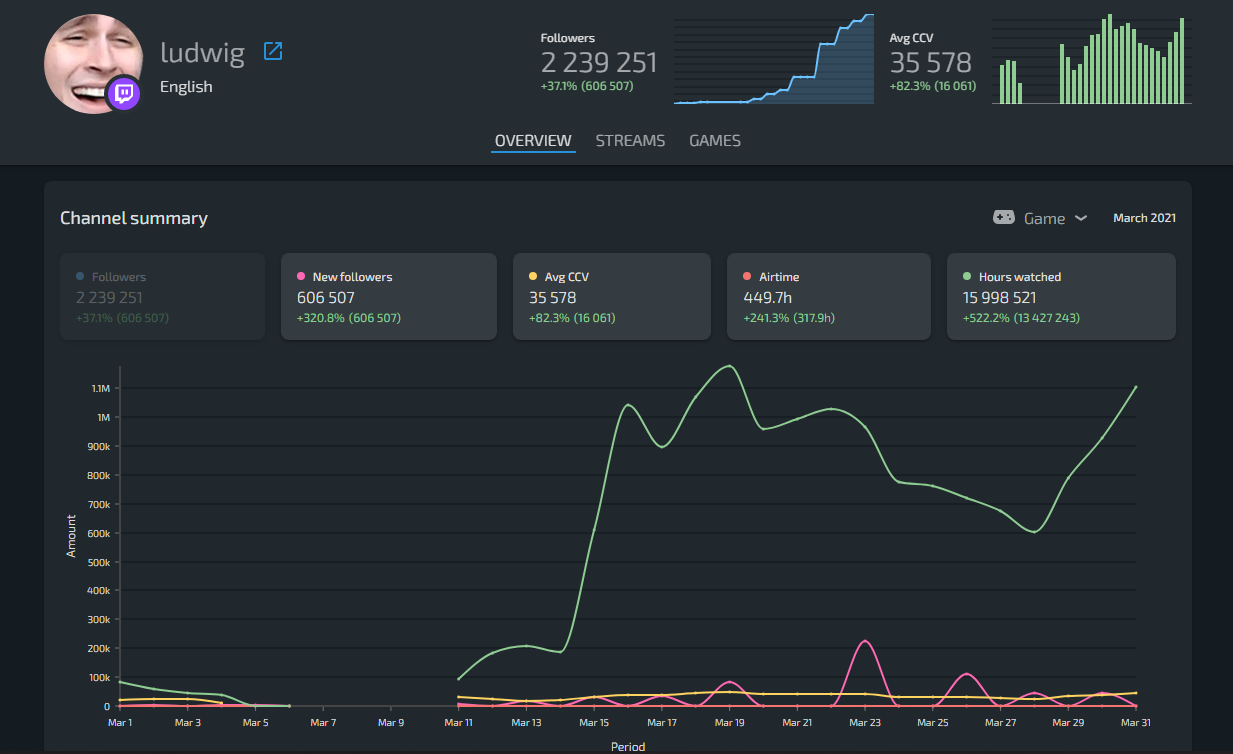 As we can see, Ludwig's numbers are massive. He gained 492.8% more hours watched and attracted almost an entire new audience with his unique 24/7 streams. Of course, his hours broadcast are also sky-high at 449.7, but if he kept this up for an entire month he'd dethrone xQc, barely.
Esports makes huge return
With the competitive season returning in most Esports titles, the competitive gaming world has once again taken its place at the upper echelons of Twitch viewership. CSGO, League of Legends, and, surprisingly, Rocket League take up the top few spots in hours watched, while other titles also linger in the top 30 or so.
Let's take a look at some of the most impressive Esports viewership in March:
ESL_CSGO comes in fourth most-watched with over 12 Million Hours Watched
Rocket League comes in ninth with over 7.9 Million Hours Watched
League of Legends European League generates 5.7 Million Hours Watched

These three streams displayed the most solid numbers, with CSGO especially topping the charts. However, the brightest star was undoubtedly Rocket League, which broadcasted for just 91 hours and generated over 7.9 Million hours watched.
For reference, this is around 12% of ESL_CSGO's broadcast time, and almost 75% of the views. Clearly, Rocket League is one to watch going forward.
Old favorites continue to grow
Some of the "old favorites" on Twitch, like Summit1g, Shroud, and Tyler1, all took a break or reduced their streaming hours coming into 2021. However, March has proved to be a successful month for these streamers, all of which place highly on hours watched.
Here are some of their most impressive numbers:
Summit1g
Over 11 Million Hours Watched - 56.2% more than February
41,762 Average CCV - 41% more than February
93,705 Peak CCV - 44% more than February
Shroud
Over 8.4 Million Hours Watched - 77.6% more than February
39.747 Average CCV - 35% more than February
215,765 Peak CCV - 246% more than February!
Tyler1
Over 6.7 Million Hours Watched - 8.4% more than February
27.470 Average CCV - 5% fewer than February
57,977 Peak CCV - 18% fewer than February

As we can see it's mostly positive for the old favorites, all of who gained hours watched this month. Suimmit1g and Shroud were the two key performers, both making huge gains across the board, most notably gaining over half of their hours watched.
Tyler1 remained somewhat stale but still maintained a top spot overall on Twitch. His slight fall in average viewership can be explained by the fact that he mostly streams League of Legends and his viewership would have been impacted by the Esports playoffs taking place during his stream hours.
Overall though, the old favorites are looking strong and all signs point to another successful month in April.